The Nor'easter winter storm Juno has descended upon much of the Northeastern part of the U.S. and our headquarters here in Vermont. In conjunction with the blizzard, this series of images have been waiting in the archives for just this sort of snowfall. Left-to-right above are a 1928 Chevrolet Landau Coupe, a 1928-29 Model A Ford Roadster pickup, and a 1930-31 Model A closed car, and all are equipped with a snowmobileonversion kit.
Other than the conversions above, most of the Motor Sleighs that follow below were only useable in light snow, on cleared or compacted snow-covered roads, or on ice.

Frank B. Willis, the manager of the Studebaker Indianapolis Branch, is seen above behind the wheel of his 1910 Flanders 20 Skeeter that was his own invention. It was made up of a complete car with another Flanders frame, and front axle joined to it back-to-back in the middle. The back half was also equipped with a steering gear for the rear sled.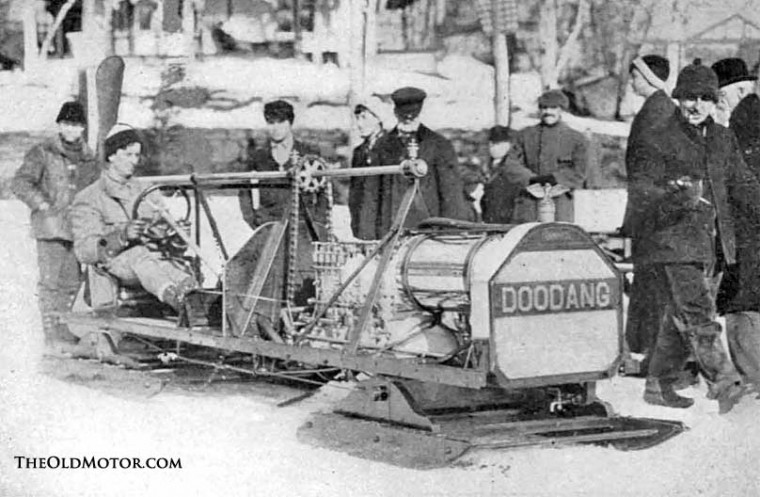 Pictured above in 1911 on Saranac lake in upstate New York is the Doodang ice-boat, designed by Charles James Swain Sr. a member of the Quaker City Motor Club in Philadelphia, Pennsylvania. It used an automobile engine and radiator in a special chassis. The drive was by an overhead shaft to a propellor. Another photo of it with a different engine can be seen at the Shelley Tool Company garage. Swain's family founded of the Baltimore Sun and the Philadelphia Public Ledger.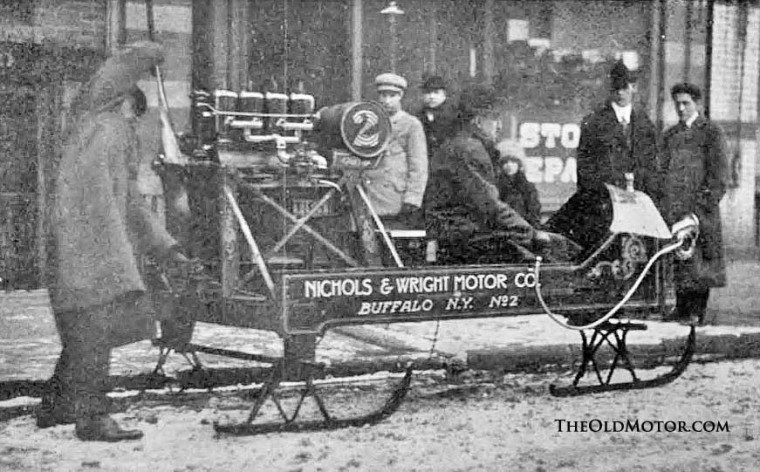 This motor sled was built by the Nichols & Wright  Motor Co. that manufactured Valveless two-stroke gasoline engines, marine engines and electric lighting plants of all sizes. It is assumed this three-runner propeller-driven machine was used for promotional purposes on the streets of Buffalo, New York.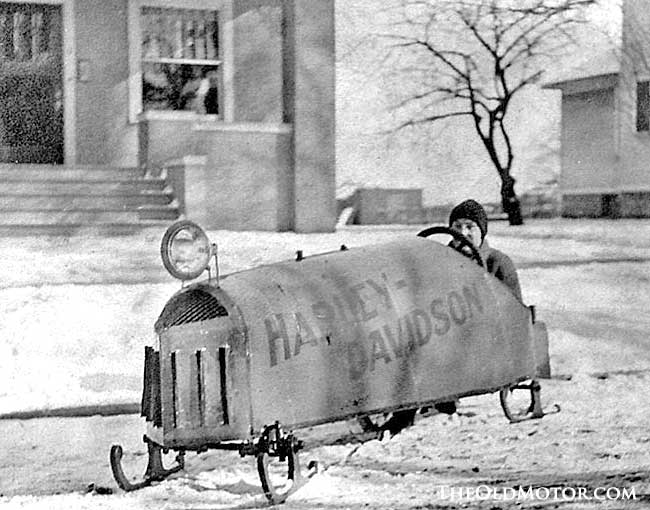 A pair of Indian-powered snow and ice sleds have been featured here in the past, but this streamlined Harley-Davidson-powered sled is one of the nicest period machines we have seen. This type of unit, usually contained the frame, gas tanks and complete running-gear of the motorcycle minus the front wheel and often the front fork. The assembly usually was hinged, so that rear tire and chain had enough weight on it for traction.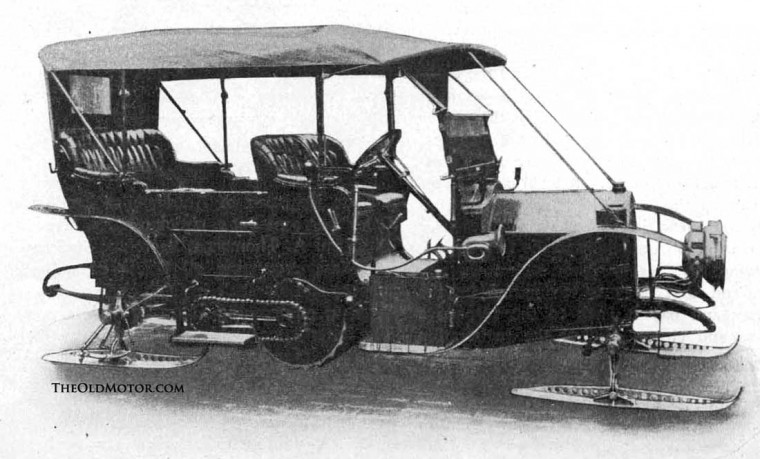 Our last machine is the Besse Motor Sleigh that won a contest against others of this type in Chamonix, located in the French Alps. It is a standard automobile equipped with four skis that take the place of the wheels along with an added chain-driven toothed drum placed underneath in the middle. The position of the drum could be adjusted up or down for traction by a crank seen to the right of the steering wheel that operated a small gearbox. The maker of the automobile is unknown. You can view many other motor sleighs here on The Old Motor.