This early 1920s photo courtesy of Fred Carlton shows two armed representatives of the Anti-Automobile Thief Association of America in a Stutz Touring Car in Dallas, Texas; it gets the message across that they meant business. If rifle did not, its newspaper advertising campaign would as it stated: If you have a hankering for a sentence behind prison bars STEAL A CAR belonging to a member of the AATA. For we know you methods and you don't know ours! We never stop until WE GET YOU!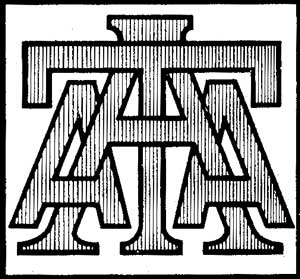 The Anti-Automobile Thief Association of America (AATA) was first formed in Wichita, Kansas, probably in 1918, the year its name was copyrighted. An article in The Insurance Press December 7, 1921 issue about the Union Insurance Company of Wichita, an automobile underwriter, states that the AATA was also a Wichita product. The Company also required its insured to be a member of the AATA which cost the car owner $15.00 per year.
References were found to the AATA being a parallel organization to the Anti-Horse Thief Association first formed in 1854. The illustration above shows a drawing of the ornamental design logo by Edward F. McIntyre patented in 1920.