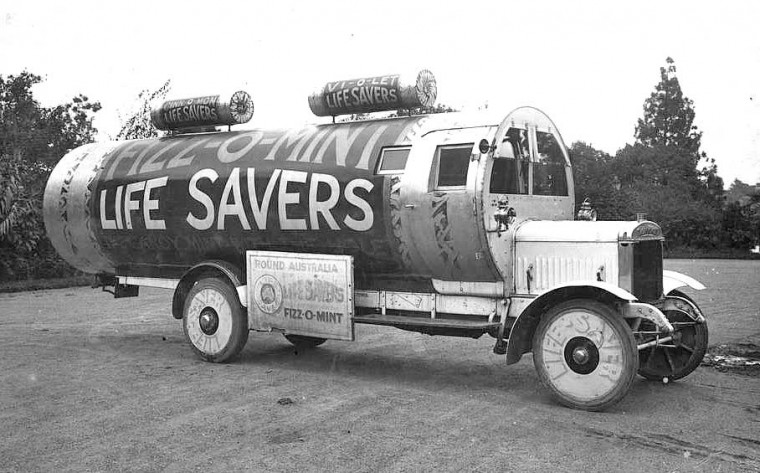 According to the State Library of Queensland, "John Macpherson Robertson, born in the Australian state of Victoria in 1859, was apprenticed to a confectionery company as a young man. He bought a controlling interest in Life Savers Ltd. in 1926" that covered: Australia, New Zealand, the island of New Guinea, and neighboring islands.
"Robertson had a flair for product innovation, eye-catching packaging and skillful promotion reflecting the period when he worked in the United States of America. This truck was customized to look like a packet of Life Savers and the wheel covers on the vehicle also resemble a Life Saver". We hope our readers Down Under will be able to tell us more about this truck. The photo is courtesy of the State Library of Queensland.
And closer to home, is the "Pipe Car" at Sartor & Spears Pipe Shop located at 306 C-Street in San Diego, California. The early black radiator Model "T" Ford chassis with an open commercial body, was outfitted with a giant smoking pipe. In addition to selling pipes, the shop had a pipe hospital for repairs. The photo is via Auto Puzzles.