Today we have an interesting set of photos taken at an automobile trade show in the Vancouver, British Columbia, Canada area in the early-1920s. The image above shows a booth at the show used by the McAllister Spring Company Ltd. The supplier was displaying the Warford accessory Model "T" Ford transmission, A-C Brakes for the Ford, bumpers made by the Superior Bumper Co., and a line of replacement leaf springs.
The lightweight aluminum-cased Warford transmission seen above was installed on the back of the Ford transmission along with a shortened torque tube and radius rod changes. The three-speed sliding gear unit only weighed 35 pounds and could be used by itself, or in conjunction with the Ford transmission, resulting in six speeds. The three ratios in the gearbox offered: an overdrive, a 1 to 1 direct, and an underdrive.
By using the standard Ford low gear and the Warford, the first three speeds can be used. With the transmission in high gear, the second set of three speeds can be used in the gearbox. It gave the driver of a car or truck much more flexibility than the standard two speed Ford. The Warford became available as early as 1922, and you can view the patent for the design here. More versions were added by the company in time.
McAllister Spring also offered the accessory A-C Brakes for the Model "T" Ford seen above. The standard Ford foot brake is located in the transmission and runs in oil. It was small and prone to burn out if not used with respect. The A-C Brakes operated on a larger set of drums added to the rear wheels. This type of stopping device is a necessity with a transmission like a Warford or when using a Ruxtell axle. With either if the operator gets stuck between two gears and cannot engage one, the Ford foot brake is out of action.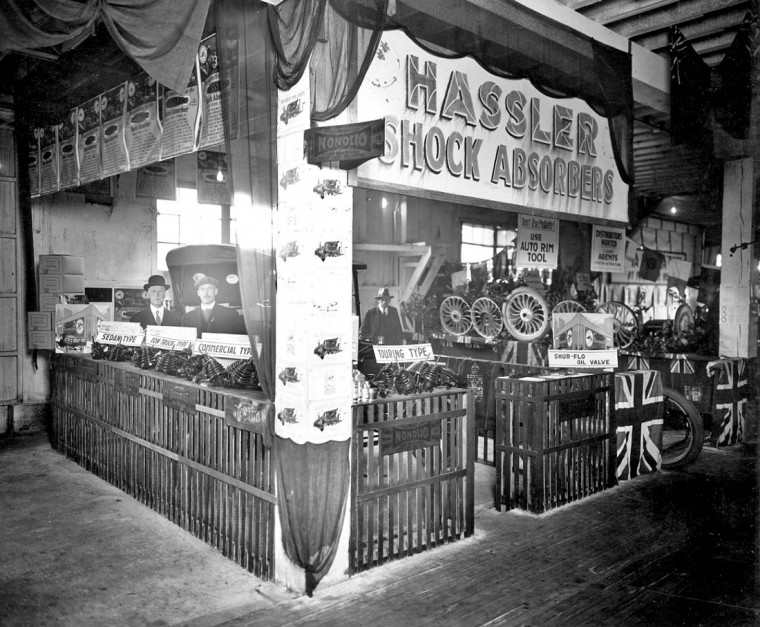 The Hassler Shock Absorber also had exposure at the Vancouver show with a display containing a Model "T" Ford Touring car and four different model of the shocks. Robert H. Hassler began manufacturing and selling them as early as 1914 for the Ford. Within a few years, a number of different types were added including a two-coil and heavy duty model for the Ford One Ton Truck. The advertisement from the September 1914 Motor below shows the first offering of the new device.
The booth located to the right of the Hassler space was decorated with Union Jack flags from the United Kingdom. Accessory resilient wheels and an Auto Rim Tool were on display. View many fascinating images and learn the story behind the resilient wheel here in our earlier coverage. The photos are courtesy of the City of Vancouver.