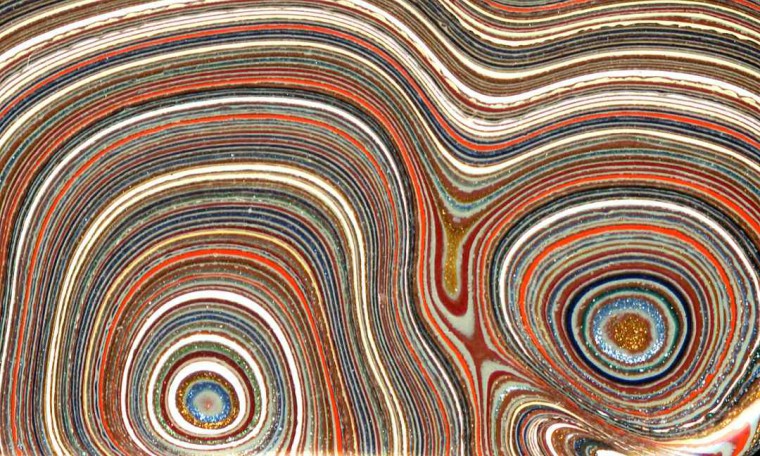 By Jennifer Strong:  Fordite or Detroit Agate is highly sought after by collectors, but it is not actually a stone; it's a piece of automobile history.
Henry Ford may have said you can have any color car so long as it is black, although paint color choices have long been important to car lovers. Lacquer replaced the slow hand brushing process by being able to be sprayed on during the production process. In time enamel paints were introduced that were both hand sprayed and baked on a car body or pieces on the paint line. Acrylic paints in vibrant colors used this same process and followed.
As a result of the painting process it would build upon the skids and racks used for transporting them down the paint line. Many layers of different color overspray would build up and get repeatedly baked, forming a hardened slag. Over time, the residue became too thick and had to be removed from the fixtures because it ended up interfering with the painting process.
Soon it was realized that this material could be cut and polished like gemstones into artistic works suitable for jewelry settings, and factory workers began taking pieces home as colorful souvenirs for their families. Fordite is now a general term for a material made up of paint layers formed during the hand spraying years in auto plants.
Like the naturally formed rings of agate, the colorful layers in each piece of Fordite tell a story. The earliest pieces are comprised of mostly blacks and browns, the common paint colors of the time, but most Fordite available today reflects a wild array of paint colors. Some pieces have gray primer layers between the colorful ribbons, and others contain shiny flakes of metallic paint. The most coveted appear to be older pieces from the Ford River Rouge Plant that might include bright greens and oranges and also metallic colors.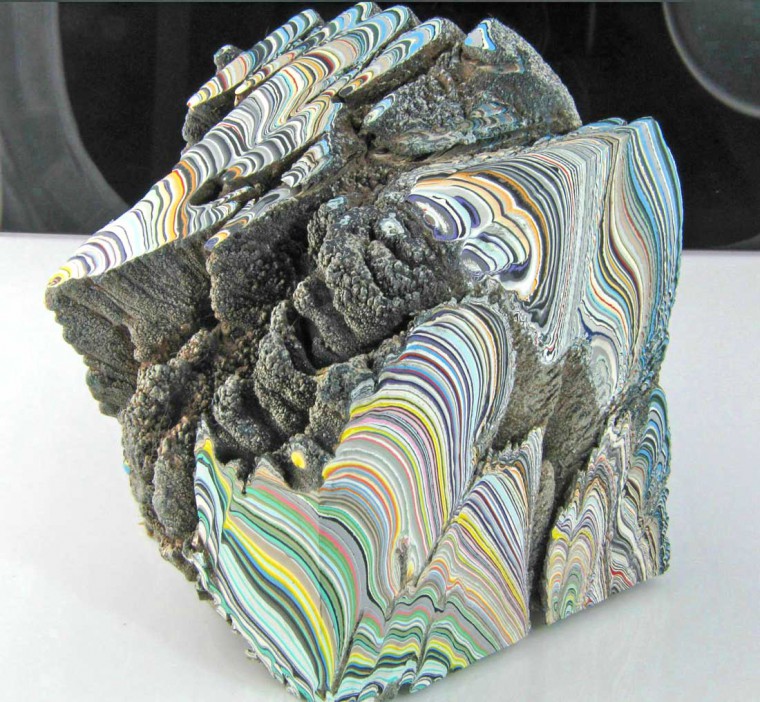 The phasing out of hand spraying on the assembly line began in the 1970s and was replaced by robots and electrostatic painting processes. The paint residue used to create Fordite is no longer found in auto factories because of new painting technology. Jewelry makers today search for raw material from retired autoworkers. The nostalgia of Fordite created as a byproduct of the assembly line is as important to most collectors as the beauty of the piece itself.
An excellent video below by Alex Atwell covers how Fordite is cut and made into jewelry and art, and tells more about this uncommon 20th century industrial artifact. 
Share with us what you find of interest these photos via Reddit Pics.
Editors note: This article was written by Jennifer Strong a long-time contributor from San Francisco, California, she has a great eye for finding and photographing vintage automotive treasure.