* Updated * Thanks to reader TinIndian and his research work, we now know that the young man in our photograph above is 15-year old Alex Pabst. He won both the Junior Vanderbilt and the Grand Prix cycle car races for boys held at the Ascot Park race track in Los Angeles early in May of 1914.
Pabst can be seen here in photos from the Motor Age May 7, 1914, issue that reported on his double victories. Both races were held on consecutive days on the one-mile Ascot Park race track in Los Angeles. He was in 2nd place on lap thirteen in the Vanderbilt and went on to win the fifteen lap race when the leader's car was forced to stop due to a mechanical problem.
The following day he won the 25-mile Grand Prix race at an average speed of 45 m.p.h. with his fastest lap clocked at 51 m.p.h. Pabst set a world's record and finished ahead of the twelve other cars in the race. The car was owned by Walter M. Brown the Los Angeles Stutz dealer and a sponsor of famous racing driver Earl Cooper and his number eight Stutz. The racer was powered by a V-twin Flying Merkel 6 h.p. motorcycle engine. Can any of our readers connect Alex with the Pabst Brewing Co. family?
Original text: It is odd how things happen at times, but four years ago to the day, our photo of this young man in his baby Stutz was purchased at a sale of old racing photos and was posted here on The Old Motor. Exactly four years later Isabelle Bracquemond found the image below of the same car and driver in the photograph collection at the Los Angeles Public Library.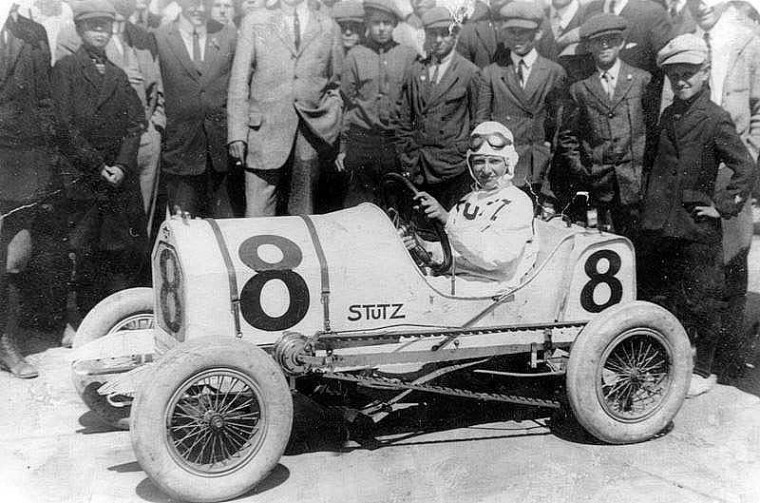 In the last four years, little more has been learned about this little Stutz racing car, but now we are fortunate see the left-hand side of the car. The view tells us more about its construction and shows the belt drive; the front pulley appears to contain some type of a clutch that is controlled by a linkage and a lever on the outside of the seat. If you can add anything more to the story please let us know.
Don't miss the video below that shows the Art Smith troupe of baby cars racing at an event. Smith's racers were built at about the same time with the help of Dudley Perkins of the Dudley Perkins Company, a San Francisco Harley-Davidson dealership.