Updated – Barney Oldfield and his exploits with the Peerless Green Dragon Racing car was one of the big news stories on the sports page of the nation's newspapers in 1904. Oldfield no longer drove Winton's Racing cars and started driving the first of the three or four Green Dragons. Engineer Louis P. Mooers, who worked for the Peerless Motor Car Company in Cleveland, Ohio, designed the cars.
This excellent photo above from the Toronto Public Library was posted recently showing Oldfield with one of the earliest Peerless Green Dragon Racers built. This image has inspired us to research these cars to find out more technical information about them and assemble as many good period photographs of the cars as possible.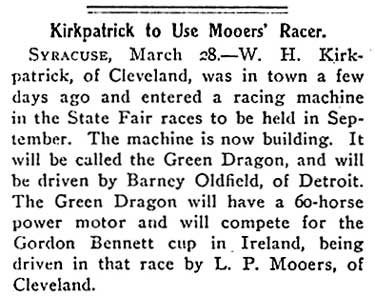 The first item found about the car in the trade press (above) was published in The Automobile April 4, 1903 issue. The text is somewhat unclear and referrers to only one car (The machine) driven both by Oldfield and Mooers. It seems to indicate that both the Gordon Bennett Race car and Oldfield's car were of the same type and referred to as Green Dragons.
Another likely possibility is two of the 60-h.p. cars were initially built. We do know that a car was at the Gordon Bennett Race held in Ireland on July 2, 1903. Oldfield is also reported to have started driving his car at about the same time midway through the year in the U.S. Hopefully when we get farther into the story more will be learned about these early cars.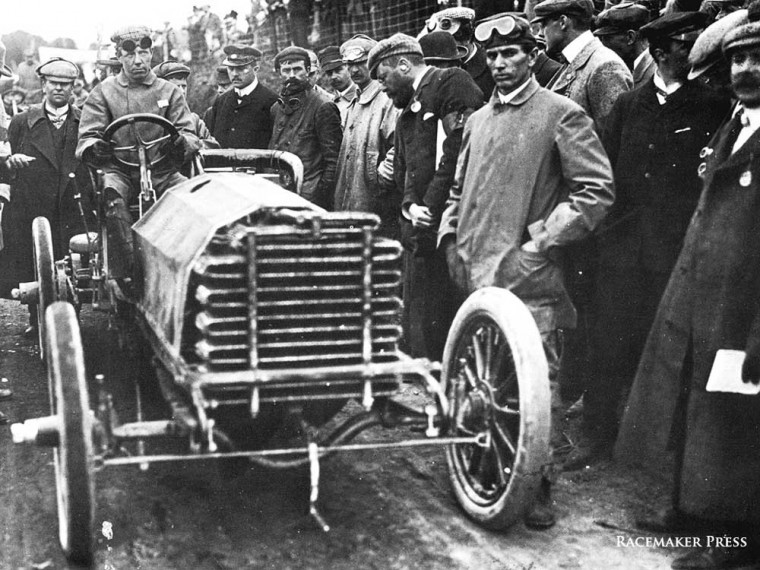 L.P. Mooers with the Peerless at the Gordon Bennett Race held on July 2, 1903 in Ireland.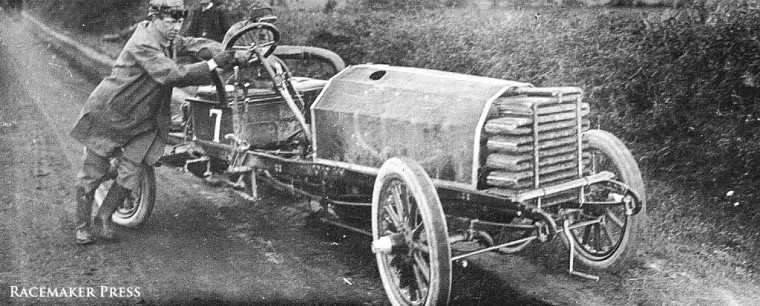 The two photos above from the Peter Helck Collection courtesy of Racemaker Press, show L.P. Mooers at the starting point of the Gordon Bennett Race, and out on the course. In the race the car went out early with overheating problems. This set of images does show that the Gordon Bennett car had a different frame (narrower section and widens in the center) than the car seen with Oldfield above.
We will be back with more of the continuing story of the Peerless Racing cars soon. In the meantime enjoy one of the best photos of an early Green Dragon Racer at the top of the post and the enlargements of it below. If you can add any information or good photos to the Green Dragon story, please send us a comment.