After the Goodyear Tire Company had proven that coast-to-coast truck trips with its pneumatic tires were possible, the next goal was to make the transport of goods take less time. To test its own smaller diameter tire designs, Goodyear built six-wheel trucks that not only sped up truck transport, but also allowed for carrying a heavier payload.
According to period press reports Goodyear developed the tandem-drive rear axle for its six-wheel trucks to provide better traction. Following this development the Six-Wheel Truck Company was formed.
Which brings us to the unique Goodyear four-wheel-steer-four-wheel-drive transit bus in the lead image photographed on June 21, 1922. The first six-wheeled bus was constructed in 1921, photos of this machine and three Six-Wheeled trucks can be viewed below.
The eight-wheel bus was then designed and constructed. It has been reported that this machine was used by the Rubber Company to transport workers to the Akron tire plants from the Goodyear Heights housing development in the City.
The coachwork used for this bus is a modified street car body that was designed by Peter Witt and constructed by a coachbilder. More details about the bus are covered in the June 8, 1922, Automotive Industries. In the September 1920, Electric Traction, is an article with photos covering one of the first six-wheeled buses.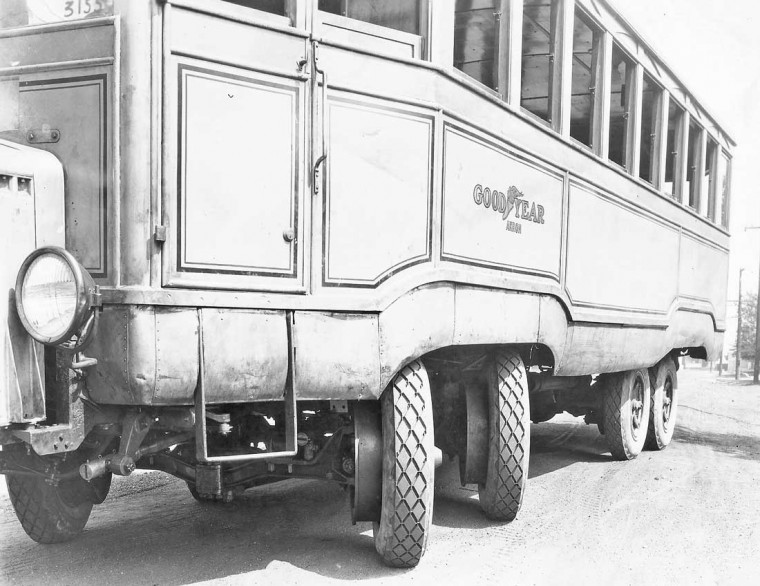 A photo of the lower half of the Bus equipped with four-wheel steer, four-wheel drive and four-wheel brakes in 1922.

The Goodyear Six-wheeled Bus and three Six-Wheel Cargo trucks, photographed on August 17, 1921. At this time it is not known if this fleet was used for local testing or for a long-distance campaign.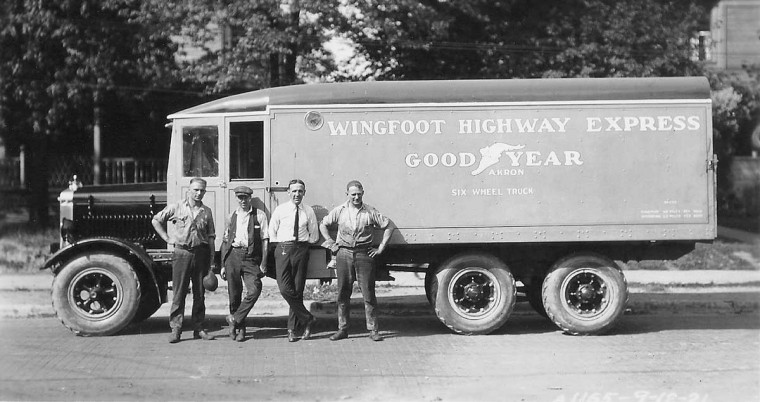 An image of a Six-Wheeled Truck with updated wheels and tires dated September 12, 1921.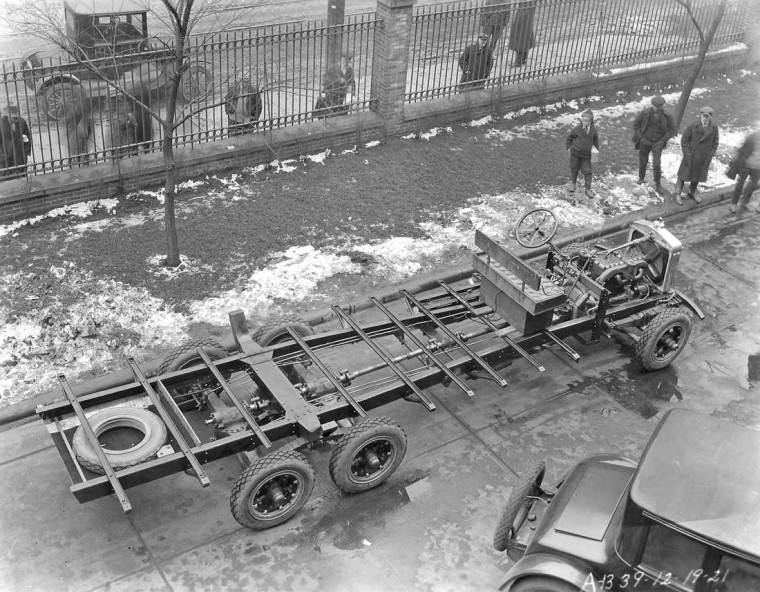 A Six-Wheeled truck chassis displaying the shaft-driven tandem-drive rear axles dated December 19, 1921.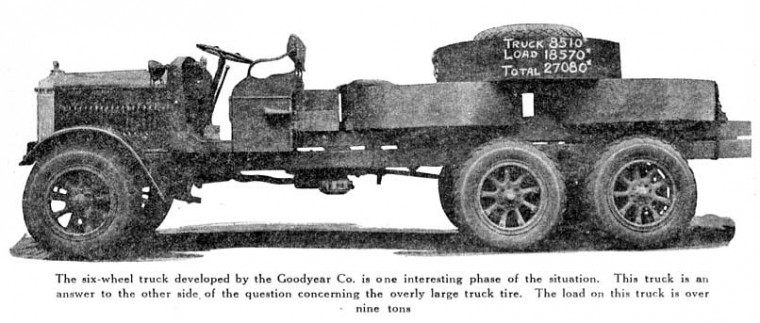 This truck and its load was the feature image in a four page article: "The Pneumatic Truck Tire." It was published in the "Motor Age" April 29, 1920, issue covering the six-wheeled developments.