Updated – In 1925, Gus Petzel made a San Francisco to Washington, D.C. run in this charming little baby car. The postcard description tells more about it: "The smallest automobile in the world – Designed and built by Gus Petzel of Alameda, California. The car has a 4-cylinder air cooled motor, 3-speeds, electric lights and starter, 60 inch wheelbase, 21″ x 4″ airplane tires, and weighs 560 pounds. It makes 52 miles per gallon and has a speed of 65 miles on the road and 80 miles on the track. Cost $2,000 to build".
A number of stories turned up about Petzel's run, and the February 1926 issue of Popular Science has a short article along with a photo and gives the same basic details. The book Alameda tells us that he lived at 1207 Grand Street, on the small island city next to Oakland and across the Bay from San Francisco.
This car is without a doubt is related to the Art Smith Baby Cars, built ten years earlier in San Francisco. The little racer is slightly modernized and powered by an in-line four-cylinder Henderson motorcycle engine. We found some additional interesting info about Petzel below. The image above is courtesy of historian Alden Jewell.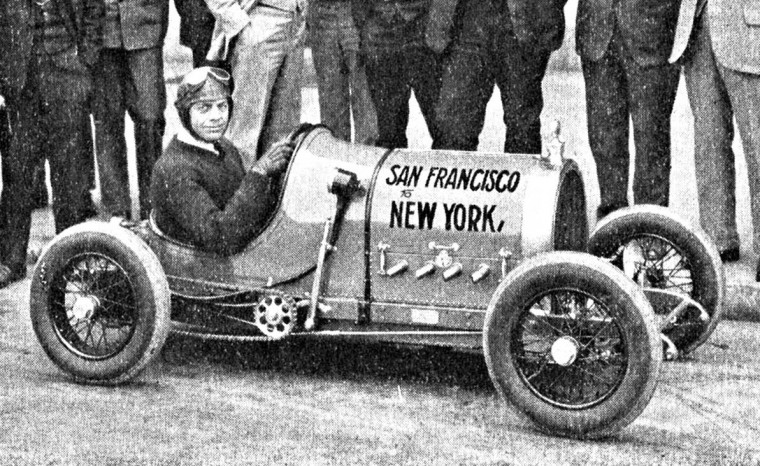 Update – Historian Robert Cunningham has added the following: "His trip was from San Francisco through Yosemite National Park to New York City. Petzel financed his trip across the Lincoln Highway by peddling picture postcards of himself in his racer. Later, in October 1926, Petzel drove the racer over the Ascot Speedway where he was clocked at a record-setting speed of 92 miles per hour".
"Later, Petzel sold his car to Edmond "Hoot Owl" Gibson. Gibson had become an accomplished rodeo champion in 1910 when silent film director Francis Boggs cast him as an extra in a Hollywood cowboy feature." The photo below courtesty of The Silent Movie Blog shows Hoot in the car with his Cunningham Roadster behind it. Read the rest of Roberts comment below for more information.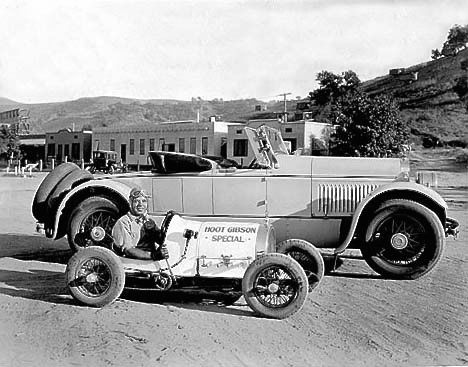 An issue of the 1914 Technical World Magazine contains the short story below about a Gus Petzel setting out from San Francisco on a trip to push a four foot six-inch 180-pound steel ball across the country. Other information that was found included a listing in the 1904 Iron Molders' Journal of a Gus Petzel, who  belonged to a foundry workers organization in the City by the Bay.
The Ford Times March 1952 issue told of a 75-year old Gus Petzel, who lived in his 1930 Model "A" Ford Tudor Sedan in Palm Springs, California. He was described as an ex-foundry worker from Ohio that traveled to the sunny and warm climate for health reasons. He converted the interior of the Ford into his own full time one room mobile home. It was completely enclosed with an bed, cooking area, and a gasoline stove all located inside.
Driving the Baby Car cross country, the rolling of a ball across the country scheme, converting one's car into a house and being a foundry worker with a San Francisco connection all could be a coincidence. On the other hand, these acts are all so bizarre and connected that these things may have all been done by the same Gus Petzel.