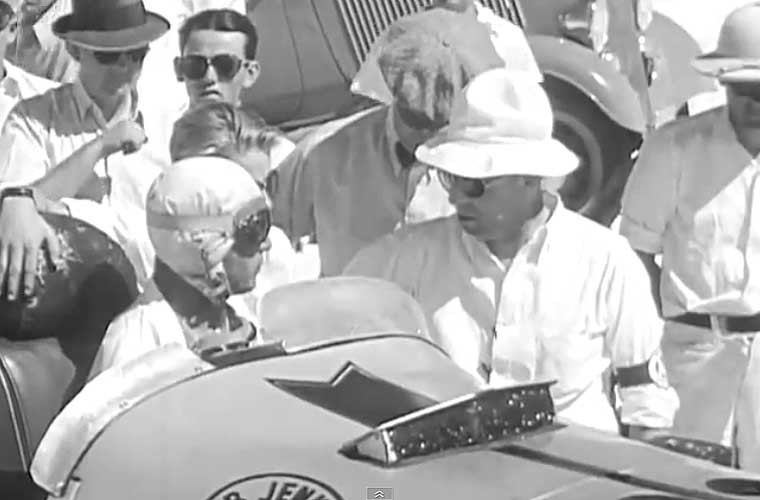 Farther Faster Safer is a promotional film that was produced for Pennzoil Motor Oil in 1935, and close to half of it shows rare footage covering Ab Jenkins 24-hour run on the Bonneville Salt Flats in Utah. On August 17, 1934, Jenkins and his Pierce-Arrow finished the grueling run and set a new world's 24-hour record.
Jenkins' car used a standard Pierce-Arrow chassis on which was built a handcrafted aluminum racing body. According to the Automobile Trade Journal, the Pierce-Arrow V-12 engine used higher compression heads and special intake manifold for six individual carburetors. With this package, he set the world's 24-hour record at 127.208 m.p.h. and covered 3053 miles. Most of his laps in the run were at least 25 m.p.h. faster than the track record at Indianapolis.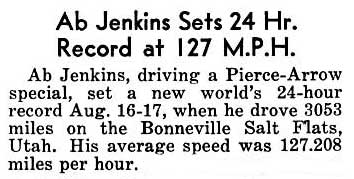 "Automobile Trade Journal", August 28, 1934.                                           
The video below Farther Faster Safer covers the entire 24-hour run after Ab first sets an entertaining "New World's Record" for his sponsor Pennzoil at a speed of 65 m.p.h with a farm tractor. After the Salt Flats run, the coverage moves to Los Angeles for a Union Pacific Streamlined Train powered by a Winton twelve-cylinder diesel that sets out to New York City on a 56-hour record run.
Finally you can view an interesting run of a Boeing Monoplane with Pratt and Witney Wasp engines from San Francisco to New York City – Followed by the test of a Sikorsky 32-passenger amphibious Airliner with four-Pratt and Witney engines producing 3000 h.p. All of it shows great footage of fast and powerful machinery of the period.