The AACA Library & Research Center in Hershey, PA, has announced a year-long exhibit of the Francis G. Clax Collection of radiator-mounted temperature gauges in its lobby. Contained in the public display is a treasure trove of the temperature gauges and information about them.
More commonly referred to as the Motometer, that name only applies to the Boyce Moto-Meter that was invented by Harrison Hurlbert Boyce. He filed the first patent for his gauge on October 18th, 1912 that was granted on March 13th, 1913. The unit was designed for mounting on a radiator cap with a hole drilled through its center. Contrary to popular belief, it does not measure coolant temperature, but instead that of the air just above it in the radiator.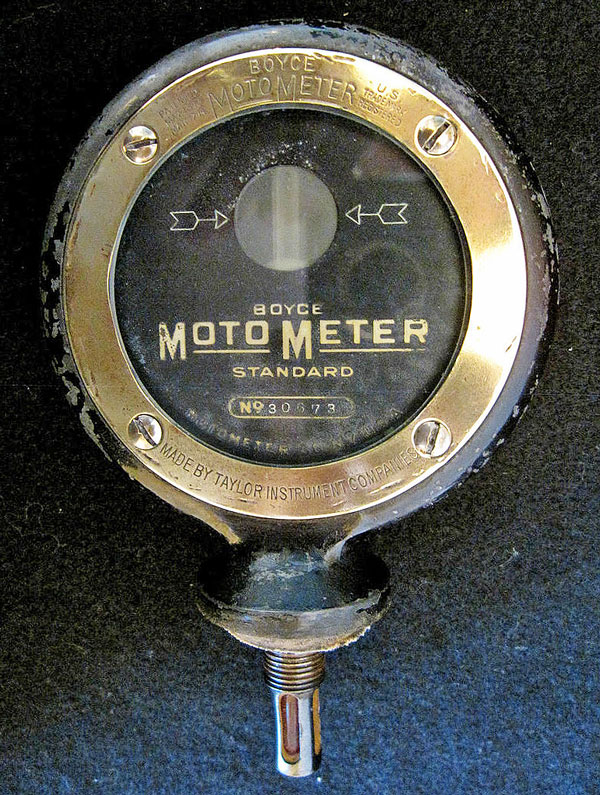 The oldest known surviving 1914 Boyce Standard Moto-Meter from the Francis G. Clax Collection.
The Boyce Moto-Meter made its public debut at the 1912 New York Auto Show. Soon the Stewart-Warner Speedometer Co. and over a dozen other firms around the world would follow suit and design and manufacture similar devices. Millions of the temperature gauges in many different styles would be produced up until the pre-World War II years.
           L to R: Heat-Ometer – Auto-Con-Den-So Meter – Anco Chief Mototector – Arrowmeter.
The Clax Motometer Collection containing many of these devices will be on display at the AACA Library & Research Center at the Club Headquarters located at 501 West Governor Road, Hershey, PA. for the next year. The facility is open daily during normal business hours, and you will also be able to see the exhibit next fall during the AACA Hershey Meet. You can learn more about the Library at the AACA Library & Research Center here.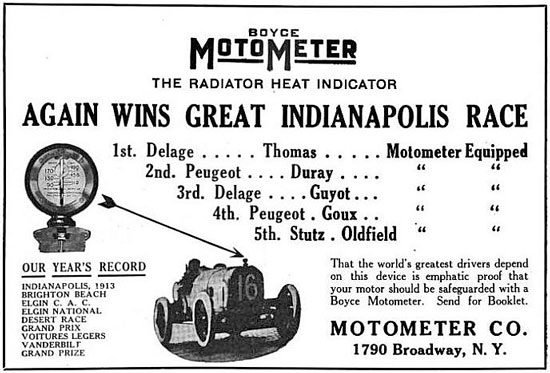 "The Automobile" June 4th 1914  ad showing a Moto-Meter win and use at Indianapolis.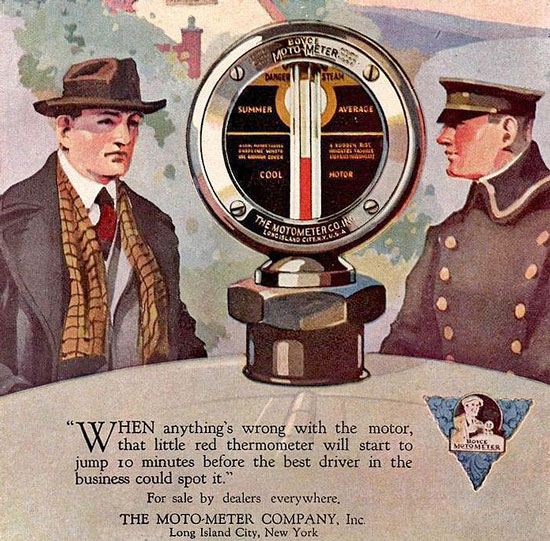 1921 Boyce Moto-Meter advertisement showing a motorist and his chauffeur.
In the display are many early automobile radiator-mounted engine temperature indicating gauges, including the oldest known surviving unit. The exhibit also includes other unique and rare related items, such as original company documents, catalogs, and manuals. You can learn more about the subject at Francis Clax's excellent website Motometer Central and here at The Old Motor. All photos are courtesy of the AACA Library and Motometer Central.
      The Francis A. Clax Motometer Collection on display with an early Mitchell at the AACA Library.