In our last post: The Harley J. Earl Story Part III: The Don Lee Coach Works, the custom body shop of Los Angeles Cadillac dealer Don Lee was featured after he had bought the Earl Automotive Works and appointed Harley Earl as the Director and Chief Designer. In Part IV of this series, we will tell the story of how Harley ended up in Detroit working for Cadillac to design the styling of new new LaSalle.
The Fischer Brothers of the famous Body Company named after them, first sold a partial stake in the Company to General Motors in 1919. In 1926, the Fisher brothers sold the remaining eighteen percent of Fisher Body stock to GM for two-hundred and eight-million dollars. Previous to that time, Alfred P. Sloan the head of GM and Fisher had been working on ways to make its products stand out in the marketplace.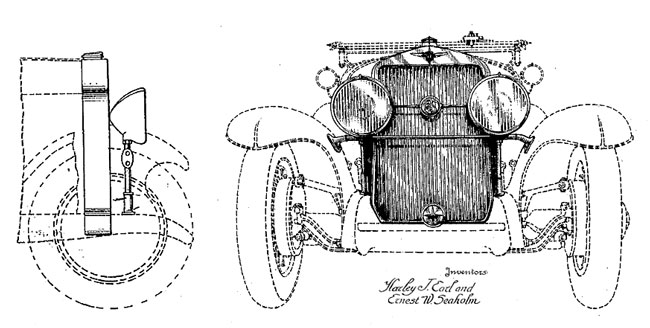 1927 LaSalle patent application drawing filed on Nov. 15th 1926 – granted Sept. 25th 1928.
One of Sloan and Fisher's first moves in 1925 was to offer a wide range of color choices, and with the adoption of fast-drying lacquer paint at the Cadillac Division. The automaker was able to offer customers 100s of color combinations at a time when drab and conservative colors were the norm. Next, late in 1925 Lawrence P. Fisher, who at the time was the head of Cadillac noticed a large order of 100 Cadillac chassis' without coachwork slated for delivery to Don Lee. Fischer who, had a home in the Hollywood, California area and knew Lee and had met Harley earlier on the golf course there, decided to investigate.
Fisher met Earl again at Lee's custom body shop and observed the contemporary artist's work. Fisher, whose automotive career began in the body building trade, was impressed with Earl's designs, methods, keen sense of color, and use of modeling clay to develop the forms of his designs. He was doing things in a way that Mr. Fisher had never seen before. Harley was designing the complete automobile's appearance by shaping the body, hood, fenders, headlights, running boards and blending them together into a good-looking automobile.

The lead photo in the post shows silent film star Clara Bow in a LaSalle Roadster courtesy of The Henry Ford. The colored drawing (above) courtesy of Alden Jewell was used in a magazine advertisement.
   1927 and 28 LaSalle Models L to R: Phaeton – Landau Cabriolet – 5-Pass. Coupe – 2-Pass. Coupe.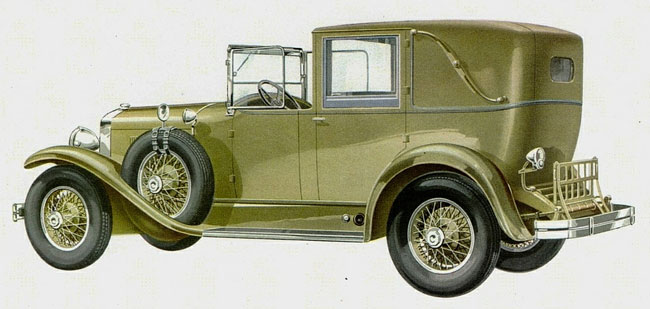 1928 LaSalle Town Cabriolet with a leather-covered top.
Fisher was so impressed he commissioned Earl under contract to design the 1927 LaSalle for Cadillac's new companion marque. When he arrived in Detroit, Harley worked with Cadillac Chief Engineer Ernest W. Seaholm on the project. The new LaSalle was inspired by Harley's fondness for the tasteful Hispano-Suiza H6B and the design and shape of its radiator, hood, and headlamps. It was first introduced at the Boston Automobile Show at the Copley-Plaza Hotel on March 5th, 1927.
The LaSalle was the first American production car completely designed from bumper to bumper by a new kind of car architect entering Detroit's auto world, a man who was equal parts artist and body engineer. Delighted by his work, on June 23rd, 1927, Sloan selected Earl to head the Art & Colour Section, a new in-house GM auto design studio.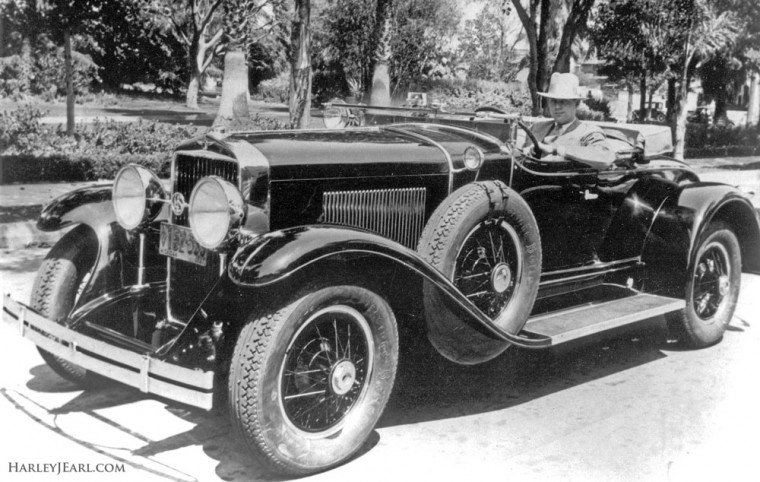 Harley J. Earl in his own personal 1927 LaSalle Roadster.
Earl was soon famous in the automotive world, but that was quickly followed by a family tragedy. In 1927, Harley and Sue Earl's (Harley married Sue his high school sweetheart in 1917) two-year-old son Billy died suddenly after a botched medical procedure during a routine exam for a bad head cold. "To deal with it, he threw himself into his work," said Richard Earl Harley's grandson of HarleyJEarl.com, with whom we are collaborating on this series "It left him terrified of being a father."
           Susan Earl, Harley J. Earl's wife their first born son, Billy in her LaSalle Convertible Coupe.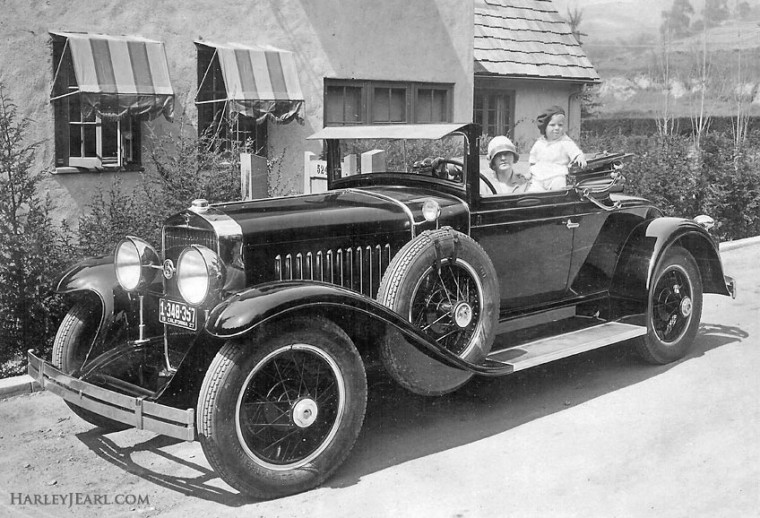 Editors Note: I have long been a fan of this first series LaSalle and would be interested in a good unrestored and useable 1927 to 1929 LaSalle Roadster with wire wheels to add to my own small collection of two cars. If you know of a Roadster without wood rot or rust that needs a good home and can be purchased at a reasonable price, please send in a comment with your contact info or that of the owner.