We just visited the Windy City the other day to watch a film showing Harry Hartz and the Oldfield Hell Drivers on the track at the Chrysler exhibit at the 1933-1934 Century of Progress World's Fair. This time we are back to view three street scenes taken about three or four years later.
The lead photo shows an intersection that the UIC Library, the source of the images identifies as Sheridan Road and Broadway. The circa 1937 photograph is filled with a number of coupes and sedans the oldest of which appears to date to about 1930.
The image below identified as Sheridan Road and Hollywood has a view looking out towards a beach on Lake Michigan. Once again the photo was taken in the later-1930s and the oldest car in the photo is a late-1920s sedan on the far-left with drum headlights. Check out the interesting advertising tire cover on the back of the Model A Sedan for five-cent Bunte Tangos Candy Bars and the Auburn Sedan two cars behind it.
The bottom photo dates to the late-1930s and shows the intersection of Oakley Boulevard and Lake Street. This scene is not filled with cars, but it was chosen because of the interesting perspective the photographer used. Overhead are the L tracks (a now-official name that was originally short for elevated) that have survived to this day; below it are the streetcar tracks.
Tell us what you find interesting in the photos and anything you can add about the locations. Many more Street Scenes can be found here. The IDOT photos were found thanks to Dan Strohl of Hemmings Motor News.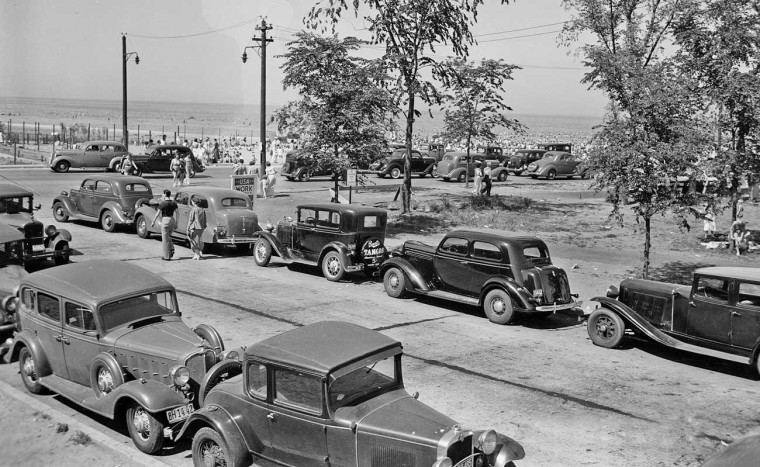 Sheridan Road and Hollywood Ave. (above) – Oakley Boulevard and Lake Street (below).