The Graham-Paige automobile was first introduced in 1927 by the three Graham brothers: Joseph, Robert and Ray. Their first involvement with motor vehicles was building truck bodies and conversion kits that would turn a Model "T" Ford into a truck in the late teens. In the early twenties, the brothers introduced and began to manufacture their own Graham Brothers Truck. After a period of time and following an agreement with the Dodge brothers, the Truck ended up being powered by Dodge engines.
Dodge bought out the Graham brothers in 1925 and the three took high-level management positions with the automaker. Two years later the Graham's left Dodge and purchased the Paige-Detroit Motor Company that manufactured the Paige and Jewett automobiles.
                Images above and below shows a 1928 or 1929 Graham-Paige Coupe and a biplane.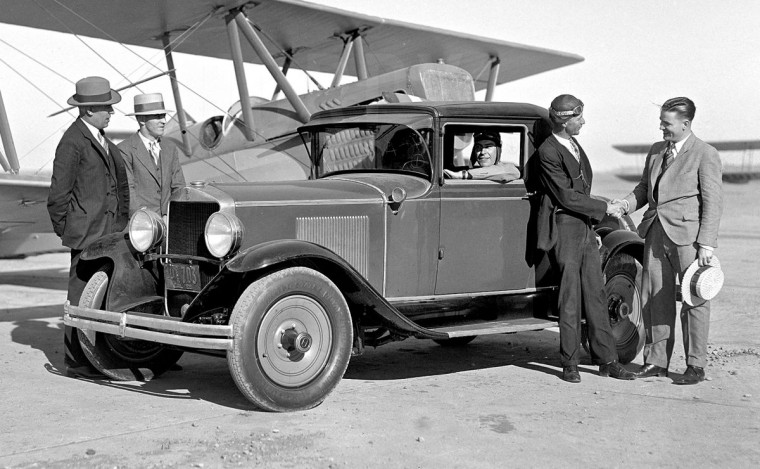 The resulting newly designed 1927 offering was named the Graham-Paige. It's styling was much like other automobiles of the time and used a radiator shell with a frontal shape much like that of the Packard. The 1928 and 1929 machines shared styling that was similar to the 1927 LaSalle and other GM cars, but with a unique rounded-front radiator shell. The well-made lower to mid-priced six and eight-cylinder models were popular and sold well.
Which brings us to the feature image (above) courtesy of the photo archive Shorpy, showing one of the 1928 or 1929 Graham-Paige Coupes posing with a group of gentleman and a biplane at Mills Field in San Francisco, California in 1929. The Airport opened on May 7th, 1927, on a 150 acre plot of land leased from Ogden L. Mills. It was named after him until 1931 when it became the San Francisco Municipal Airport. Photos of the Field (below) are courtesy of the SFO Museum & Library.
                                   

Photos (below) of Mills Field shorty after it first opened in 1927.