This press photo has been in our files for a decade and has been posted here on The Old Motor since early in 2011. Glued on the back of it is a separate piece of paper with the following press caption typed on it: "This photo was taken in Windom, Minnesota, of a Peerless Racer, the crew is Tim Ott and Ted Moore". Processed with newer equipment, the photo (and enlargeable sections below) give much better detail.
Thanks to reader and researcher Tin Indian, more is now known about this early racing car image. He found the same photo at the Minnesota Digital Library and discovered the following: "I believe that this is probably pioneer aviator Otto Timm (1893-1978) who gave Charles Lindberg his first airplane ride. Timm is reported to have constructed his first airplane in Windom during 1909, and first flew it in 1911 at Cicero, Illinois. He is listed at the Minnesota Aviation Hall of Fame which states that Timm raced automobiles as a teenager".
View and read about his 1917 Robinson-Powered Timm Looping Tractor airplane here. You can also learn all about Timm's career in aviation here.
We are now certain that it is a large and early Peerless Racing car after comparing the photo (below) with the photo (below it) from the recent Peerless Green Dragon posts. The location of the steering box and the appearance of the pitman arm, drag link, and the strap-type rear motor mount are all identical. The wheel hubs and caps, rims, and sheet metal wheel covers with the exception of the access holes for the valve stems, are also identical to one of the two early Green Dragons.
Armed with this information, a further search about Timm and the number three Peerless or any racing results in newspapers and automotive press came up blank. Can any of our readers add more to this story or find any additional information in regional publications?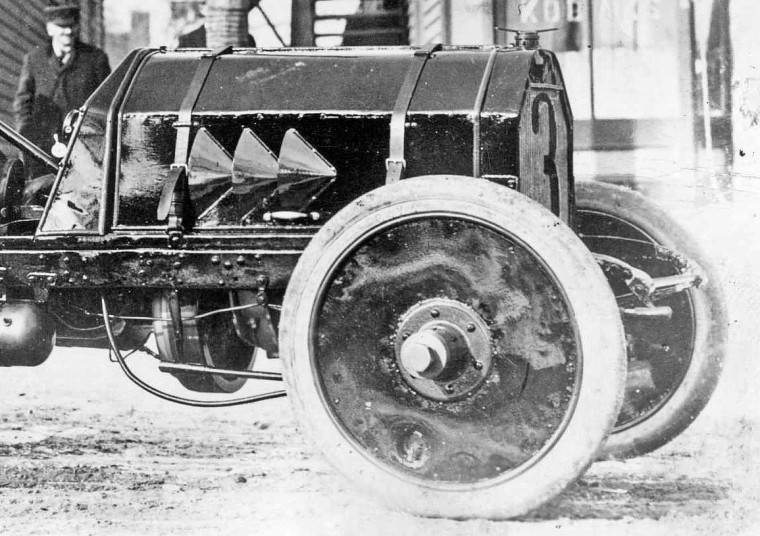 Many similarites can be found in the mechanical details of the Timm Peerless Racing Car and the 1904 Gordon Bennet Racer (below) including the steering box location and the appearance of the pitman arm, drag link and the strap-type rear motor mount. The photo (below) from the Peter Helck Collection is courtesy of Racemaker Press.