Updated – Last December the experimental Packard Straight Twelve was covered here on The Old Motor with as much information as could be found about it at the time. Quite a bit was learned about the silver and orange Convertible Victoria with coachwork by Dietrich that was referred to as the Easter Egg by the Packard family due to its bright color combination.
Charles Milne Atkinson of King's Cliff, Peterborough, England sent along this interesting photo and the following to say about it:
"Warren Packard was the only son of William Doud Packard and Anna Storer Packard. He was born on October 5, 1892 and died in a plane crash in 1929. My Godfather W T S Digby-Seymour was married to Rosalie Packard. After he had died, I was collecting some items from his flat in London and came across a photograph I remember well as it hung on the wall in their bedroom."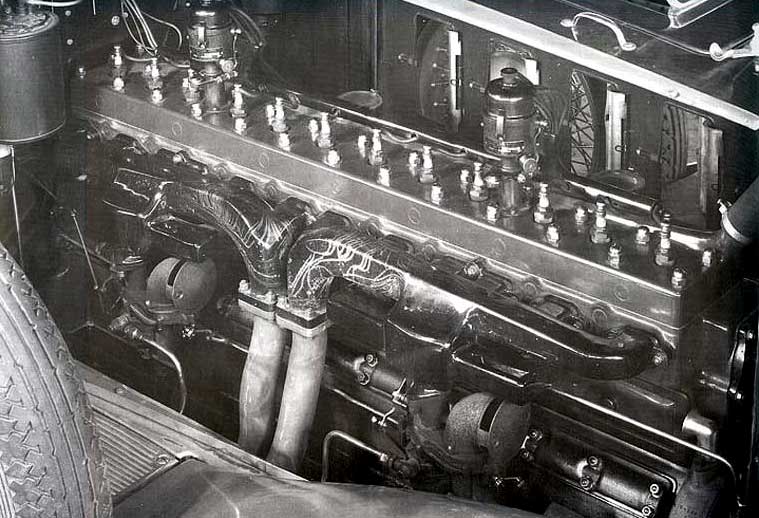 Factory photo of the experimental straight twelve courtesy of Dave Mitchell.

 
"The photograph had been placed in a pile to go to the charity shop. The picture I believe is of Warren Packard standing next to the Packard Twelve balancing a model boat on the front wing. It seems it was taken outside a building that looks like an aeroplane hangar. I stayed with Warren Packard III during 1984 in Detroit. He was still in the automotive industry at that time but has since died."
*Update* Thanks go out to reader tinindian, who appears to have determined what boat is depicted by the model Warren Packard is holding in the photo. Pictured (below) is the 1903 Matthews Day Cruiser Warren Packard's father James Ward Packard had custom-built by the Matthews Boat Company.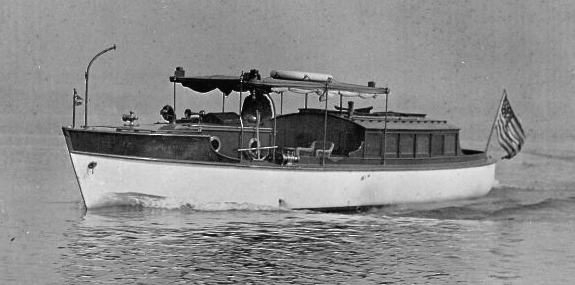 The opulent yacht has survived, is restored and is now on the market for one-million dollars. It was used by Packard on Chautauqua Lake in Lakewood, New York where he built an elaborate 32 room mansion in 1905. See an earlier photo of  J.W. and his wife Elizabeth at the lake with a 1904 Packard.
We assume the boat model was of a yacht that Packard had commissioned. Part of an announcement after his death is seen (below) from the October, 1929 Lehigh Alumni Bulletin, published by his alma mater. We are still looking to find out more information about W T S Digby-Seymour and Rosalie Packard, who was a writer. Let us know if you can turn up any anything more about the Straight Twelve. Learn more here about The Long-Lost Experimental Packard Straight Twelve.