By Michael Lamm:  Is the Auburn Cabin Speedster America's earliest factory concept car? I doubt it, but it did arrive nine years before the Buick Y-Job, the car that usually takes that title.
The original Auburn Cabin Speedster was built by the Griswold Body Co., a medium-sized bodymaker based in Detroit. Griswold produced low-volume bodies for manufacturers who didn't want to slow their production lines with special jobs like towncars, victorias and semi-convertibles. Griswold's customers included Willys-Knight, Chrysler, Jordan, Jewett and Graham-Paige. (Griswold built most of Willys-Knight's plaidside roadsters and phaetons.)
Dated Dec. 1928, these first four photos show the newly completed Auburn Cabin Speedster outside the Griswold plant in Detroit and without its Woodlites. All period photos Courtesy of the ACD Museum, Alan H. Leamy Collection.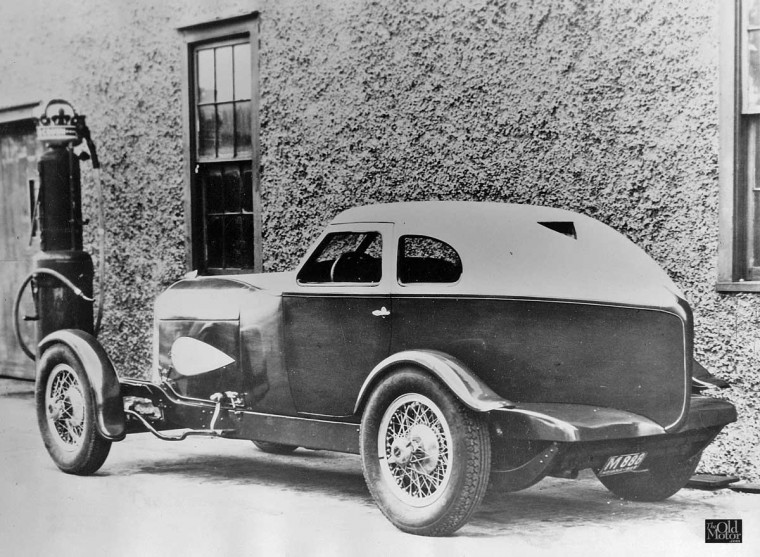 Cycle fenders turned with the front wheels. Tiny, hidden rear window made backing up precarious. Borrowing styling cues from aircraft, the Cabin Speedster's body stood atop frame rails that were lowered with kickups over the front axle and underslung beneath the rear axle.
Considerable mystery surrounds the Auburn Cabin Speedster. No one knows, for instance, who designed it. Some say that Auburn-Cord-Duesenberg (ACD) staged a contest and asked various body suppliers, including Griswold, to submit designs. There's no evidence, though, that such a contest actually took place.
Others attribute the Cabin Speedster to Alan Leamy, ACD's chief designer. Leamy did sketch a four-door cabin speedster, but that seems to have been after Griswold built the Auburn show car.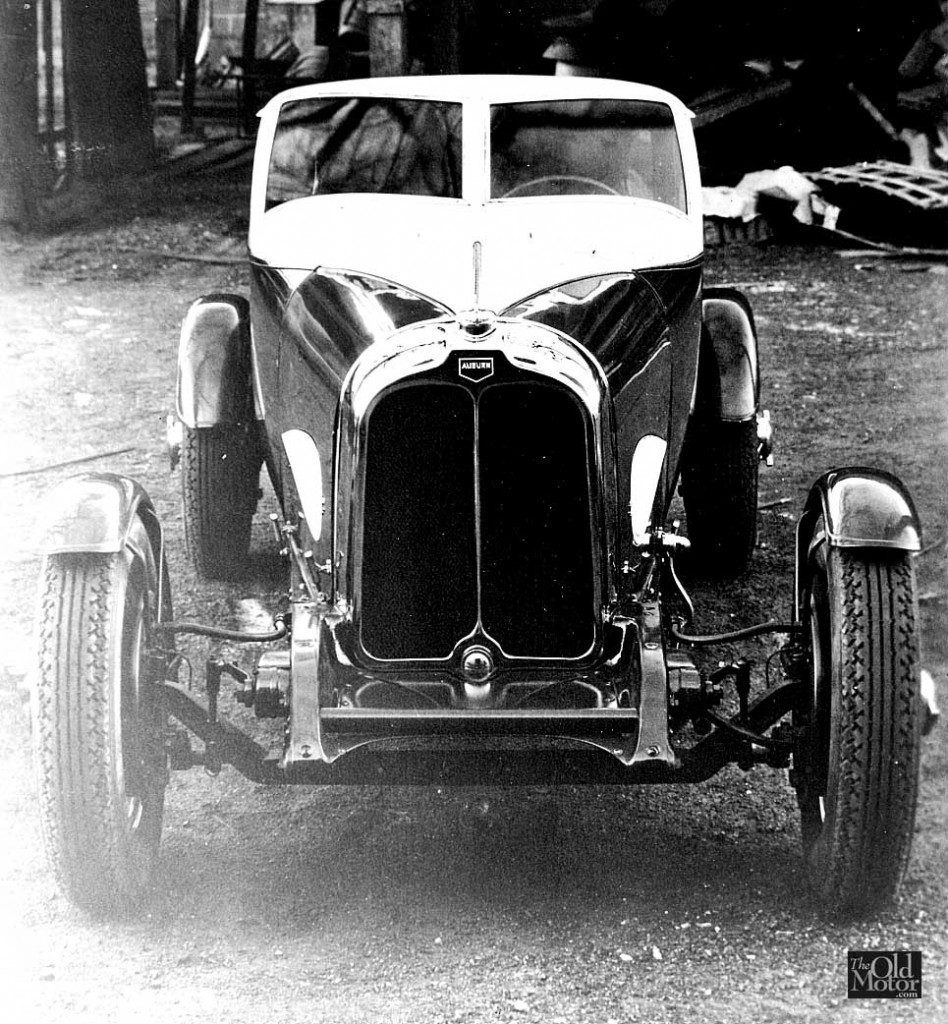 The hood carried the traditional Auburn arrowhead that blended into the sides of the cowl, and screened "airfoils" in hood sides implied wing sections.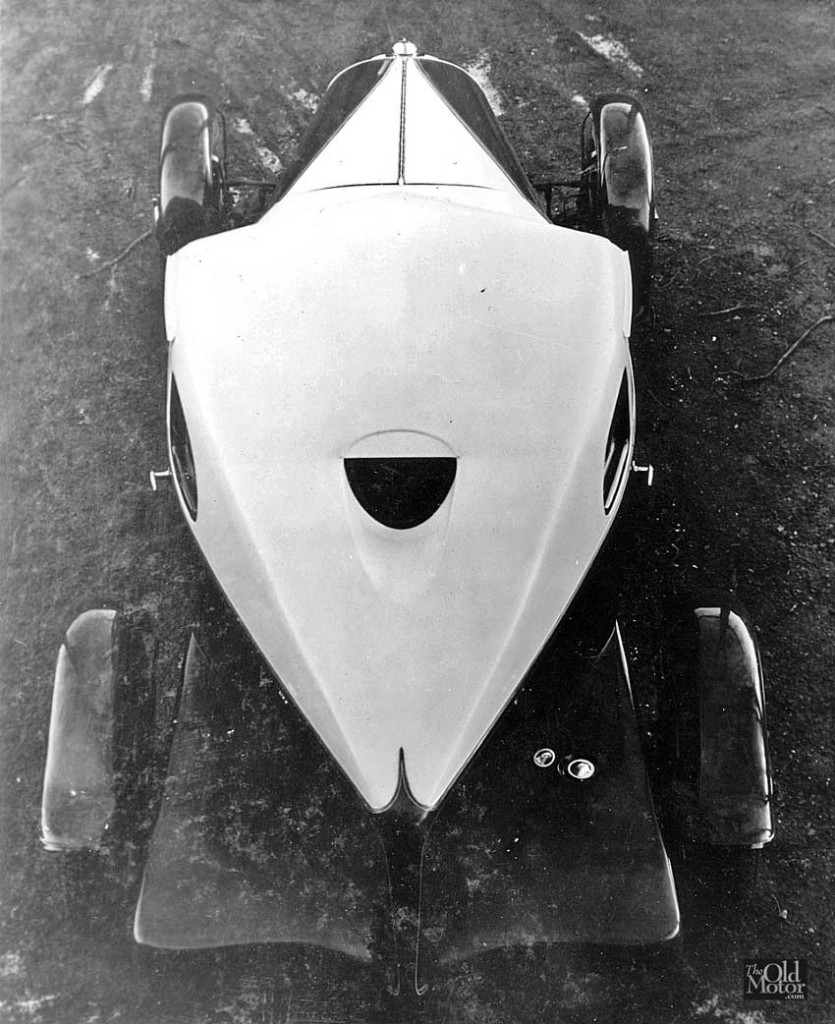 A sturdy, vertical brass rib blended into the aluminum boat tail to serve as the rear bumper.
Another candidate was race driver Wade Morton, who worked at Auburn and whose name appears on the Cabin Speedster's design patent (see below). But Morton was a racer, not a designer, and Auburn used him more for publicity than anything else. Publicity, of course, was the Auburn Cabin Speedster's main purpose.
A third possibility was Robert Grimshaw, Griswold's in-house body designer. Grimshaw's grandson, Paul, showed sketches of a similar Duesenberg-based Cabin Speedster to Lee Beck of the ACD museum. Paul Grimshaw felt that the Duesenberg design morphed into body drafts that Griswold used to build the Auburn-based Speedster.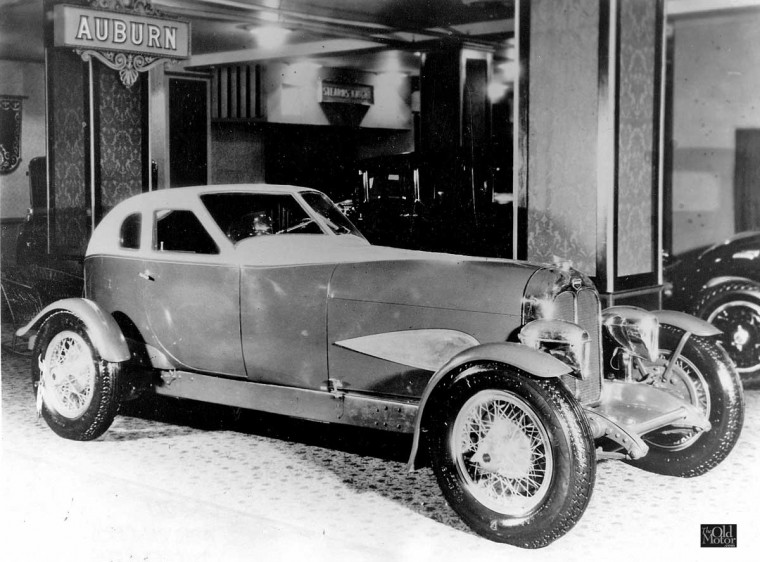 The finished Cabin Speedster toured the East Coast show circuit. This photo was probably taken in New York. The car caused a sensation wherever it went.
And R.H. Robinson, who worked with Gordon Buehrig on the 810 Cord, claimed in Road & Track, Nov. 1955, that he designed the Auburn Cabin Speedster. Could be.
Strother MacMinn, in a 1993 note, told me, "…the body was probably built…from a hand-waved description and maybe some reference to the (Duesenberg design)". (Auburn-Cord Duesenberg historian) Randy Ema has a full-scale drawing that looks like a shop layout adequate to frame up the job – no grace in the window profiles and no attempt at all to match the windshield to the side windows. Somebody said, 'Great idea; let's build it, and they did". Griswold most likely wanted to bring Auburn in as a new customer and saw the Cabin Speedster as an opportunity.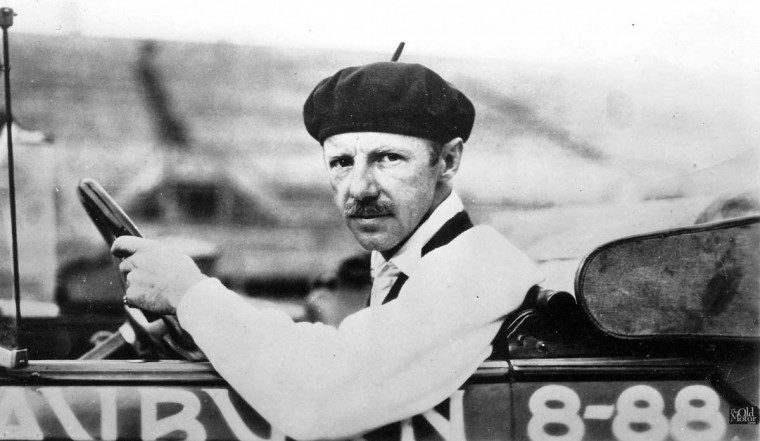 Auburn hired race driver Wade Morton to publicize its cars by setting speed records, which he did. His name appears on the Cabin Speedster's design patents, but it's doubtful that he had much to do with its actual creation.
What makes the Speedster so interesting is its aircraft theme. Griswold finished it in January 1929, just 18 months after Lindbergh landed in Paris. Lindy's triumph still resonated worldwide, and we shouldn't forget that E.L. Cord was himself an avid pilot and aircraft manufacturer (Corman 3000, and he later bought Stinson). It was natural, then, for Auburn to capitalize on the future of air travel.
The two-passenger Auburn Cabin Speedster used an aluminum body, cycle fenders, Woodlites, raked/veed windshield and airfoil hood vents where an airplane's wings might attach. The interior included wicker seats, an altimeter, and a compass. The car stood 58 inches high – very low for the day – thanks to its frame being kicked up over the front axle and underslung beneath the rear axle. The car weighed about 3000 pounds; wheelbase was 120 inches; it used Lycoming's 299-cid, 125-bhp in-line, eight-cylinder, side-valve engine and hydraulic brakes.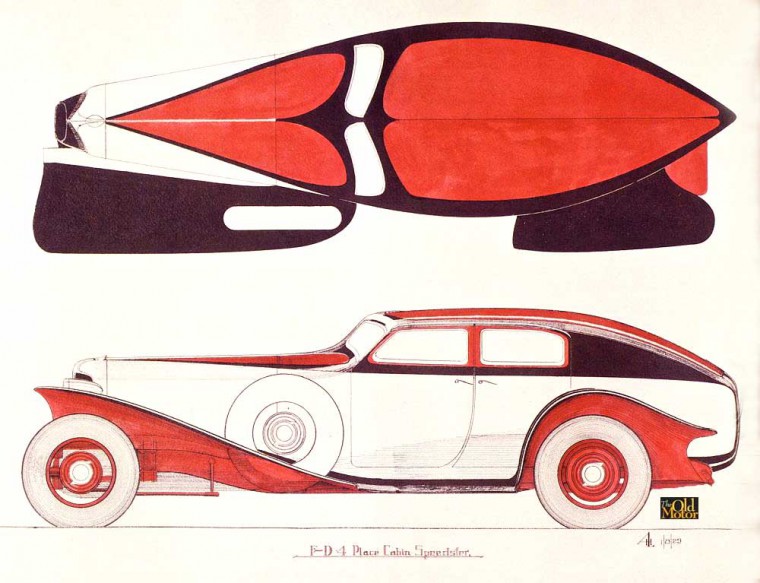 Controversy still surrounds the design's origin. This sketch by ACD designer Alan Leamy shows a 4-door cabin speedster on an unspecified chassis with an L29 Cord style radiator, but it seems to postdate the Auburn concept. Leamy did provide accurate sketches for the Auburn Cabin Speedster's show literature.
After Griswold had finished the Speedster, it toured the East Coast show circuit, including the big auto shows in Boston, New York, Philadelphia, and Chicago. The car created a sensation wherever it went, and from a publicity standpoint it proved to be a tremendous success.
In February 1929, the car got trucked to a dealer show in Los Angeles. There, on Tuesday, March 5, after hours, an electrical short set the whole exhibit on fire, and the Auburn Cabin Speedster, along with some 320 other cars, was totally destroyed.

Fire swept through the outdoor Los Angeles dealer show in March 1929, destroying some 320 cars, including the original Cabin Speedster.
Fifty-four years later, Dr. Peter C. Kesling, an Indiana manufacturer of orthodontic equipment, had two replicas of the Speedster built, one a faithful copy and the other with fabric T-tops. Dr. Kesling was kind enough to let me drive the T-top car, and I had to agree with his assessment in Automobile Quarterly that the Speedster wasn't suitable for production. The roof stood too low, seats felt cramped and uncomfortable, sightlines were poor, the cabin was noisy, and the performance didn't at all match the rakish, exciting look.
But despite its untimely end, the Auburn Cabin Speedster did fulfill its destiny as a concept car. It helped put aerodynamics into the public consciousness and encouraged car companies to innovate with streamlining, both real and ornamental.
Be sure to check out A Century of Automotive Style here – a SAH Cugnot Award winner authored by Michael Lamm and Dave Holls.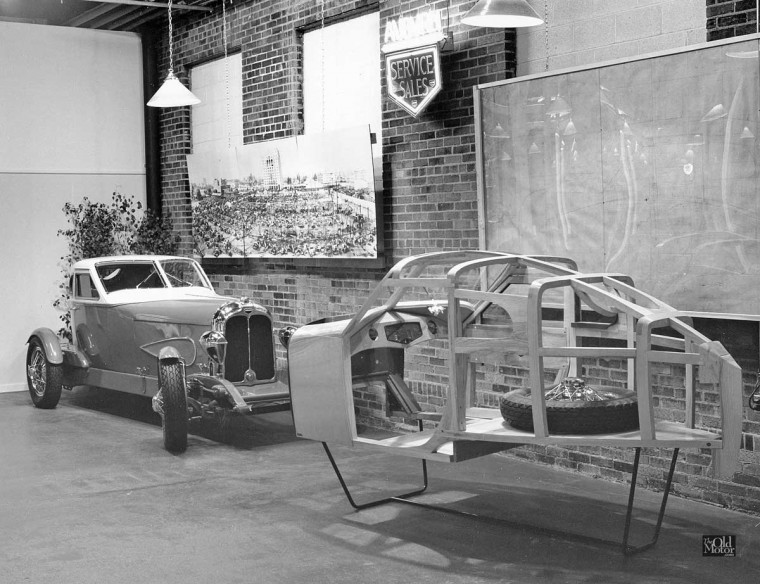 Indiana Auburn enthusiast Peter Kesling had two replicas of the Cabin Speedster built in the 1980s. This is the non-T-top version at the ACD museum. To the right is a wooden body frame, and that's the L.A. fire scene on the wall. Nicky Wright photo.
Editors Note' To add to the mystery, the patent application and drawings (below) appear to have been assigned to Wade D. Morton by Manning & Co. of Chicago, Illinois. That firm is listed in the application as an Illinois Corporation of Design.