The attractive little Willys 77 was first placed on the market in 1933 by Willys-Overland as a replacement for the Whippet. Introduced during one of the hardest years of the Great Depression, Willys struggled along building the 77 while in receivership until 1936. During that period, production was limited to 10,000 unit runs by the bankruptcy court.
The small economy car had a tread width of only 51-inches and a short 100-inch wheelbase. The 145 c.i.d. 48 h.p. four-cylinder engine with a 3.125 X 4.375-inch bore and stroke produced its full power at 3200 r.p.m. The 77 featured an angled and aerodynamic front end and could be pushed to 75 mph in well-tuned form, yet return up to 30 m.p.g. when driven with economy in mind.
This 1936 Willys 77 is posed in front of the City of San Francisco Streamliner that made its initial run between Chicago, Ill, and Oakland, CA, followed by a ferry connection to San Francisco on June 14, 1936. The train's motive power consisted of the aerodynamic 1,200 h.p. diesel-electric locomotive followed by a second 1,200 h.p. power unit. It was capable of covering the distance in as little as 39 hours and 45 minutes.
The two-unit locomotive pulled eleven articulated streamlined cars produced by the Pullman Company. It was replaced by a more modern train in 1938 that was involved in a catastrophic derailment on Aug. 12, 1939 in which 24 passengers died and 121 were injured. Sabotage was the verdict by the Railroads that owned it but the train was behind schedule and the Engineer was speeding at the time of the accident. The photo is via AmeriCar.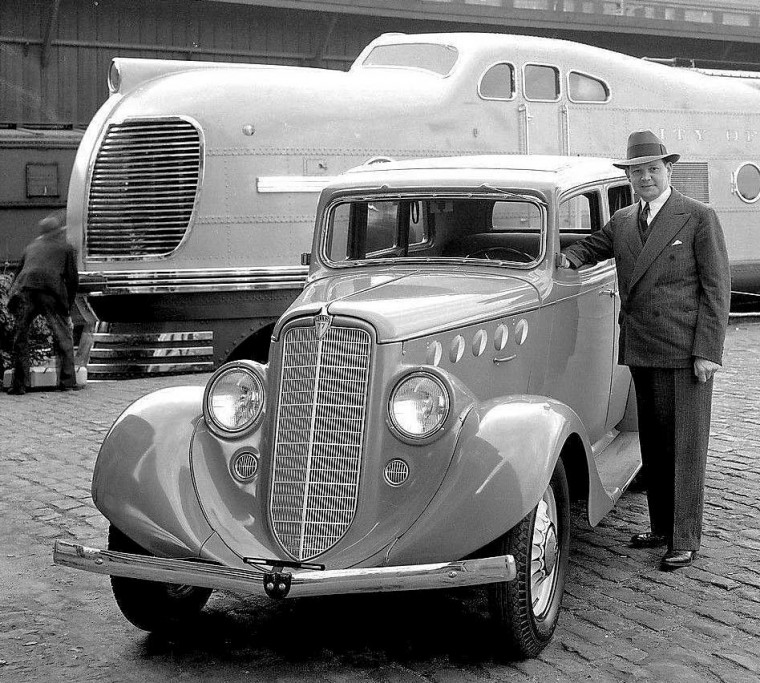 It appears that the original City of San Francisco Streamliner was popular for posing with cars and for trips involving cars. The photo (below) taken on Oct. 8, 1936, shows a group of Crack Salesman and their wives from H.O. Harrison Pontiac in San Francisco, ready to go on a journey of some sort. The photo is courtesy of the photo archive Shorpy.