Automotive writer Michael Lamm told the story of a very special show car in the recent article: The Sensational Auburn 1929 Cabin Speedster. It covered the sleek vehicle the automaker had custom coachwork fitted to, late in 1928. The Cabin Speedster was destroyed in the 1929 Los Angeles Auto Show blaze only a couple of months later. The tragic fire is an interesting story in itself and is covered here.
The fire occurred on March 5, 1929, and Automotive Industries had the brief story (below) in its March 9, 1929, issue. The Los Angeles Times reported on March 5th that four firefighters and an electrician were injured during the blaze. It reported that "the $1,200,000 display" was completely destroyed.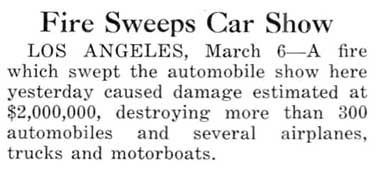 A number of important cars like the Auburn were consumed in the blaze that also included manufacturer and dealer displays. The fire destroyed the four tents and fixtures located at the corner of Washington and Hill Streets in the City.
As many as 2,500 spectators escaped to safety, and several newspaper accounts reported that amazingly the band played on during the fire. There are conflicting reports of the time it started and the cause, but the LA Times reported it began at 4:10 PM, started out small and was caused by a smoldering cigarette. 
Fireman were not able to extinguish it with hand-held fire extinguishers and within a half hour the flames had jumped from tent-to-tent fanned by high winds and destroyed everything. The smoldering cars were all that was left by then, and the fireman eventually managed to bring the fire under control with a battery of pumpers and a maze of water hoses.
All photos at the scene are courtesy of the UCLA Library.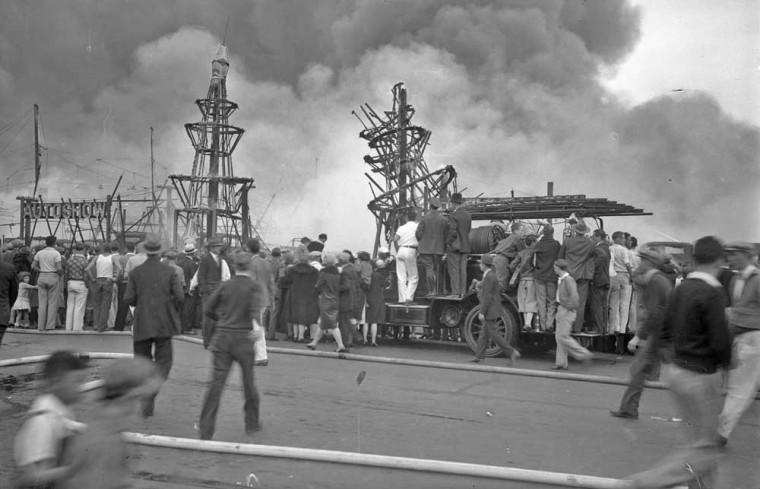 A chain-driven pumper in the midst of a crowd of spectators at the fire near one of the gates.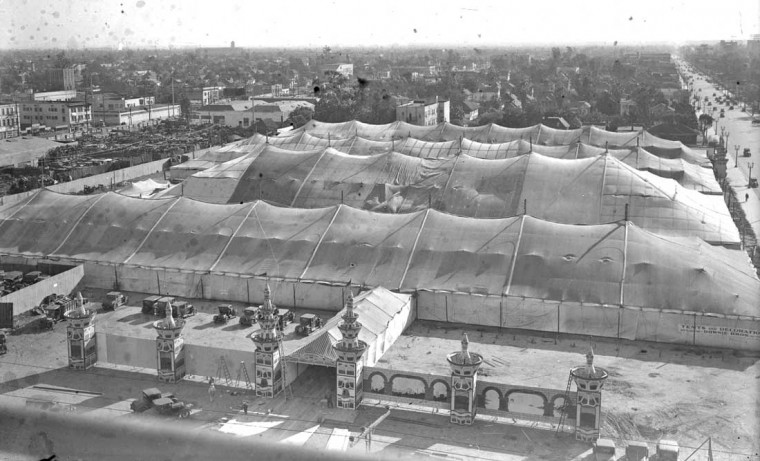 The four tents that were consumed can be seen during set up for the show.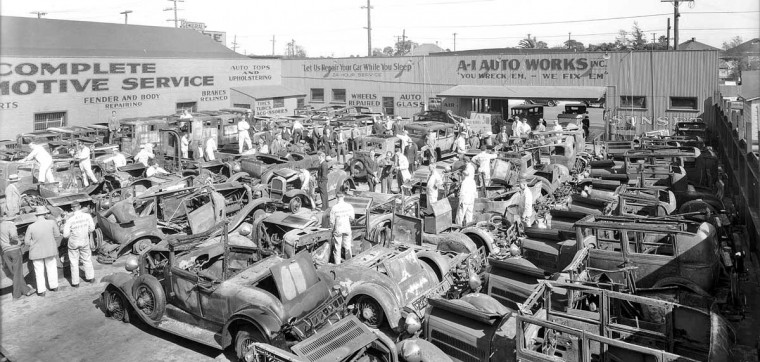 Some of the destroyed cars on display at A-1 Auto Works Inc. that might have been sold at a salvage sale there. An insurance company wrote a blanket policy covering the entire event, including the cars, displays, and tents. Photo courtesy of the USC Libraries.