Reader Mark Gmelin sent in this image of his grandfather Billy Woolf and movie star Buck Jones, who is behind the wheel of a Duesenberg. The location is the Beverly Hills Board Track located in Beverly Hills, CA. The photo is dated July 2, 1921 and notes that Solly Halperin was the cameraman for the movie.
Like some of old photos, it appears that the date listed on it is incorrect. At about the same time in 1921 four Duesenberg 183 c.i. straight eight team cars were on the way to France for the French Grand Prix at Le Mans that was held on July 21, 1921. Jimmy Murphy went on to claim the victory and became the first American to win a European Grand Prix race in his Duesenberg.
    British Pathe film of the 1921 French Grand Prix that Jimmy Murphy won with his 183 Duesenberg.
Six other Duesenberg racing cars also took part in the 250-mile Montamarathon race in Tacoma, WA, on July 4th, 1921. With ten Duesenbergs either at a race or on the way to France for the 1921 Grand Prix, it rules out the possibility of three other cars being at the Beverly Hills track that July to film Skid Proof at the same time.
Murphy won the 1922 Indianapolis 500 with his car and later the 1922 AAA Championship after he had a Miller 183 c.i. straight eight engine installed in it. The Skid Proof photo apparently was taken on July 3, 1923. The Number 16 Dorado-8 appears to be Jimmy Murphy's car with a Duesenberg engine but back into it, and that happened at some point after the 1922 racing season was over.
The Miller engine that was removed from the car was put in Murphy's 1923 Durant Miller. The Duesenberg had a 183 re-installed in it before it was eventually sold to Art Bartold in Rochester, NY. Thanks to Duesenberg racing historian Joesph Freeman of Racemaker Press for his help in unraveling this mystery.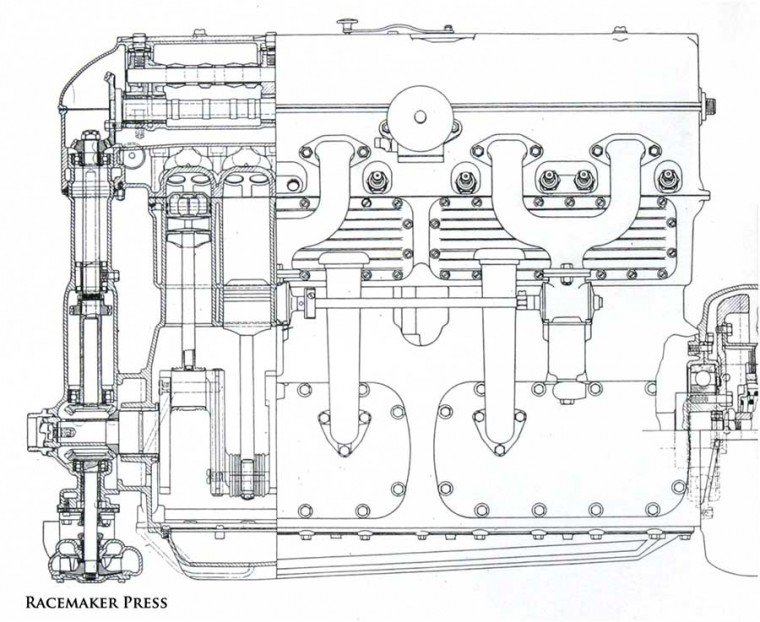 183 c.i. Duesenberg s.o.h.c. straight eight engine with two exhaust valves and one intake per cylinder.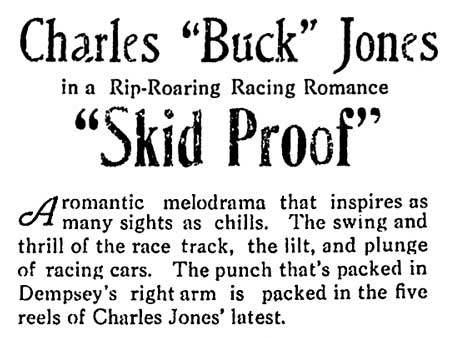 The Nevada Daily Mail Nov. 13, 1923.
Skid Proof was first released on July 22, 1923, was directed by Scott R. Dunlap, and featured Buck Jones and Laura Anson as the stars. Actors Fred Eric, Jacqueline Gadsden, Peggy Shaw and Earl Metcalfe also had roles in the film. Three Duesenbergs were used in the film, and the enlargement below shows one of them on the far-right being used to as the camera car.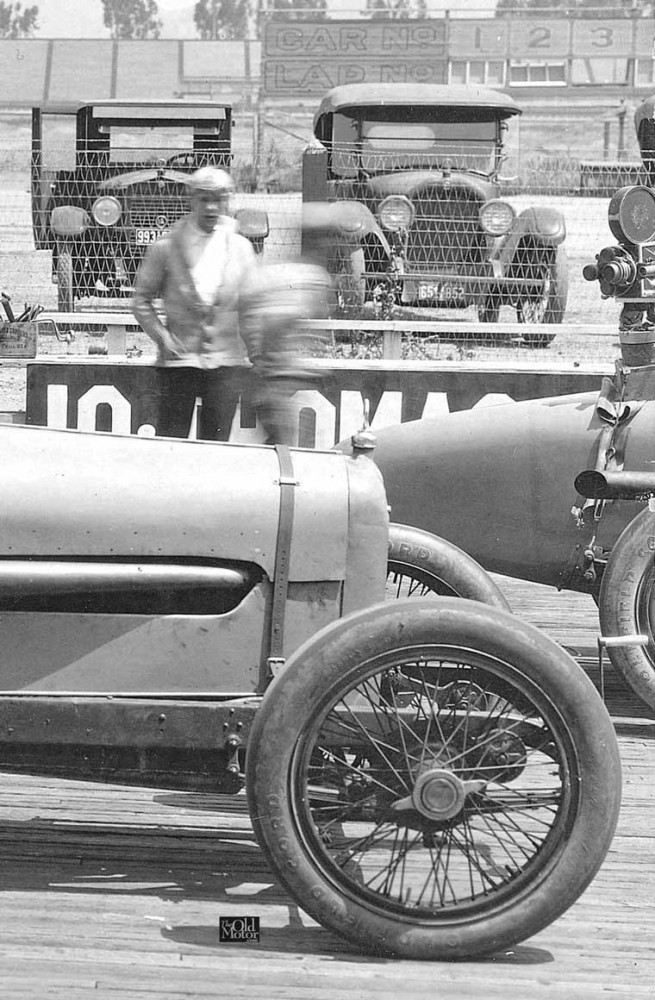 Buck Jones and Billy Woolf (below) are seen in the Number 16 Duesenberg. The Number 14 on the far-left is also a Duesenberg 183 with earlier bodywork.