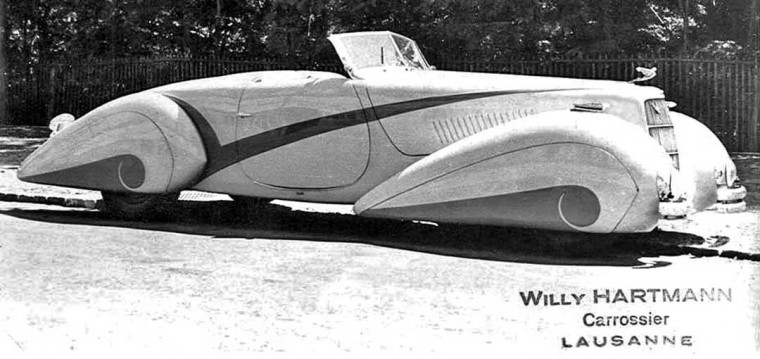 With the start of the Great Depression late in 1929, the production of custom coachwork on high-quality chassis worldwide would soon slow down to a mere fraction of its previous output. In the US, it caused the majority of coachbuilders to either fold their tents or go bankrupt. In Europe, the situation was a bit brighter, especially in France where the tradition lived on.
The famous French design and coachbuilding firm Figoni & Falaschi, located in Paris, France first unveiled the design that this Cadillac was later based on at the 1936 Paris Auto Salon. It was very well received and immediately became the new benchmark for a streamlined two-seat roadster in Europe.
The Cadillac Database, which is a part of the Cadillac & LaSalle Club, is the source of the photos and information about this eye-catching one-off coachwork that was constructed on a Cadillac V-16 chassis. Yann Saunders of Switzerland, who originally compiled and published the Database, included the story of this car and the images in it.

       Big car, little dog – Philippe Barraud and his Jack Russell Terrier pose with the car upon delivery.
Philippe Barraud, who commissioned the coachwork for this creation was the son of a wealthy supplier of masonry products. He wanted a custom car constructed on a grand scale and in late 1936 ordered a 154-inch w.b. Cadillac V-16 chassis through the Edelweiss Garage in Lausanne, Switzerland. The Garage was located near Lake Geneva in the area that is referred to as the Swiss Rivera.
For a designer and coachbuilder for his Cadillac, he chose Willy Hartmann, who also was located in Lausanne. Yann Saunders interviewed Hartmann in 1987, who told him of producing several drawings for Barraud to consider. In the end, the Figoni & Falaschi likeness he penned with an added tail fin was chosen. The project moved along quickly, and the three black and white photos show the car upon delivery to him in mid-1937.

Philippe Barraud kept the car until the 1960s, and it was found abandoned in a Swiss field in 1968 in poor condition. Saunders followed the car for over two decades during which time it has had six owners and was restored at least three or more times. At some point in time, it was misattributed as being a Figoni & Falaschi design and was restored with applied brightwork that mimics its original two-tone paint scheme. It has resided in the Blackhawk Collection in Danville, CA since 1990. The photo (below) is courtesy of Richard Michael Owen.