Today we will take a look at automobiles that made the 4,289-foot climb up the Mount Washington Auto Road between the years of 1899 t0 1955. The lead image shows photographer Winston Pote atop his 1940 Chevrolet sedan on the Auto Road.
It all began after the Summit house was built at the top of the Mountain in 1852 which was followed by construction of the Mount Washington Carriage Road. After eight or nine years of construction and delays, the road was finally finished and opened to the public in 1861.
The first car to make the climb to the summit in 1899 was a Locomobile steam car driven by F.O. Stanley. He and his brother F.E. Stanley designed and built the first Stanley steam-powered car in 1897. After constructing and selling over one-hundred of them between 1898 and 1899, the brothers sold the company, and the car was renamed the Locomobile.
Several more steamers are reported to have made the climb in the next few years. Finally, in 1903, a Pope-Toledo became the first gasoline-powered car to make the climb to the top of the mountain.
The first "Climb To The Clouds" auto race to the summit was held in 1904. The second image (below) by F.W. Spooner, courtesy of the Roadsters Club of Massachusetts shows Harry Harkness, about to finish his 1904 run in a 60 h.p. Mercedes. All the other photos are courtesy of the Mount Washington Auto Road.
An earlier post titled Ralph Mulford Smashes Records covers how "Smiling Ralph"smashed the stock car record in the 1923 Auto Road "Climb To The Clouds" behind the wheel of a stock Chandler Touring Car.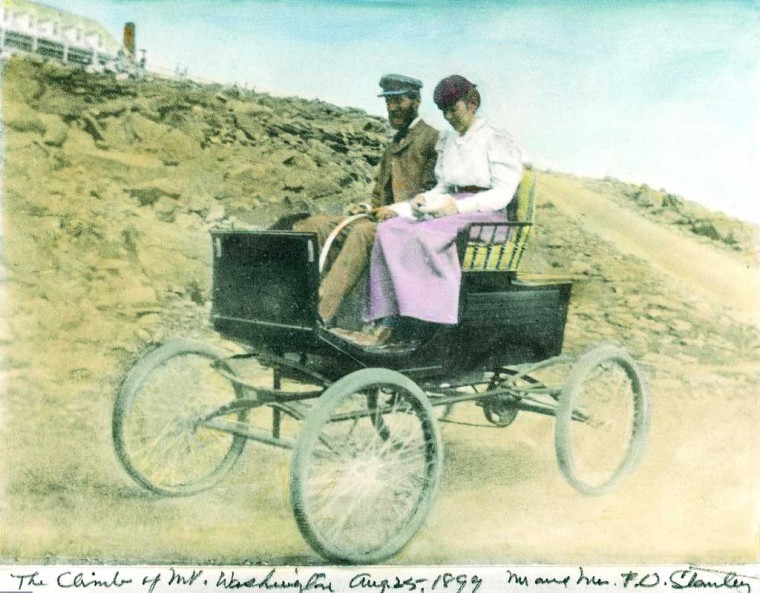 F.O. Stanley and his Wife Flora making a 1899 climb in a Locomobile Steam Car.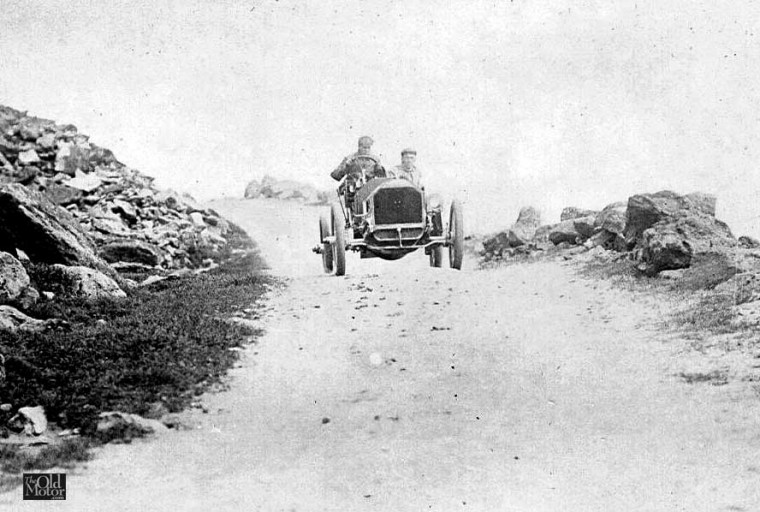 Harry Harkness in his a 60 h.p. Mercedes finishing his climb in the 1904 auto race.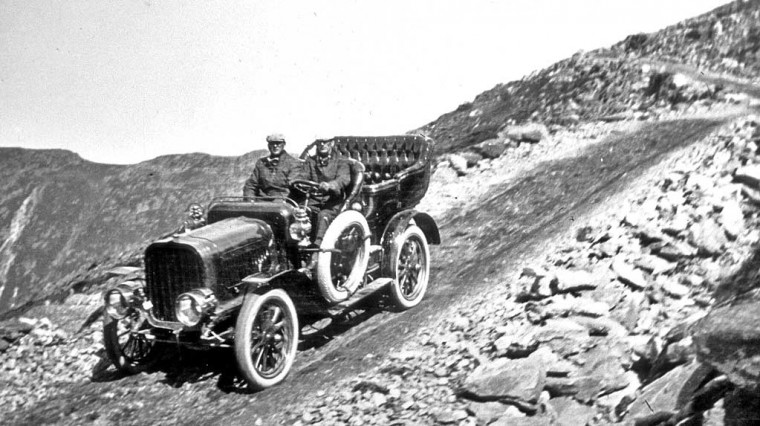 A circa 1905 to '06 Pope Toledo Touring car descending the mountain.
A fleet of eight Pierce-Arrow Auto Stage cars at the mountain.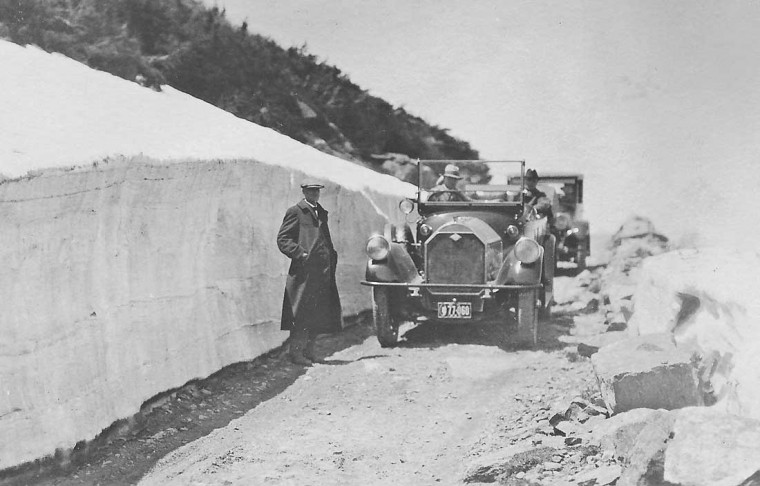 Charles Libby one of the owners of the Auto Road to the left of one of the Pierce-Arrow Stages on June 23, 1926.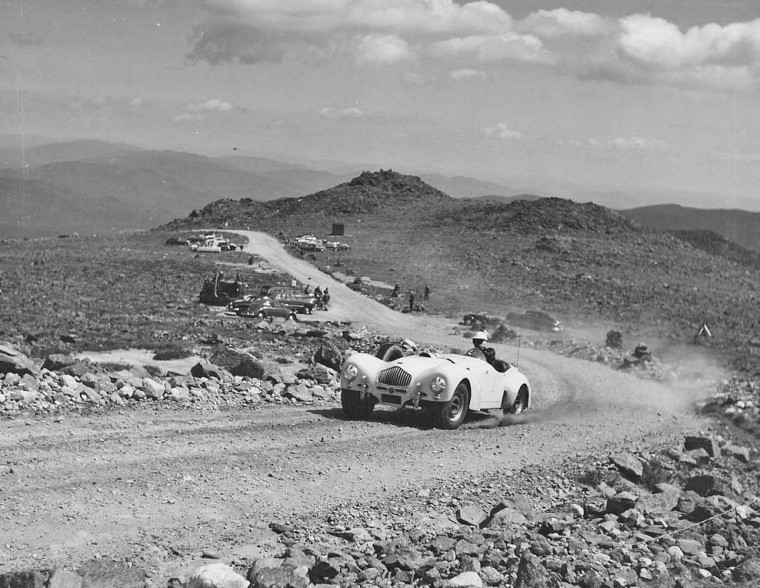 Stuart Rutherford a competitor in the "Climb to the Clouds" driving an Allard in the 1950s.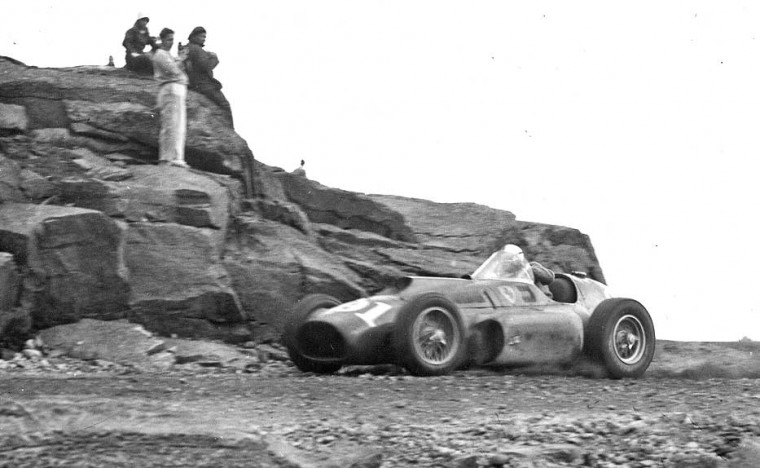 Carroll Shelby in his Ferrari at the Craigway turn during the 1956 "Climb to the Clouds."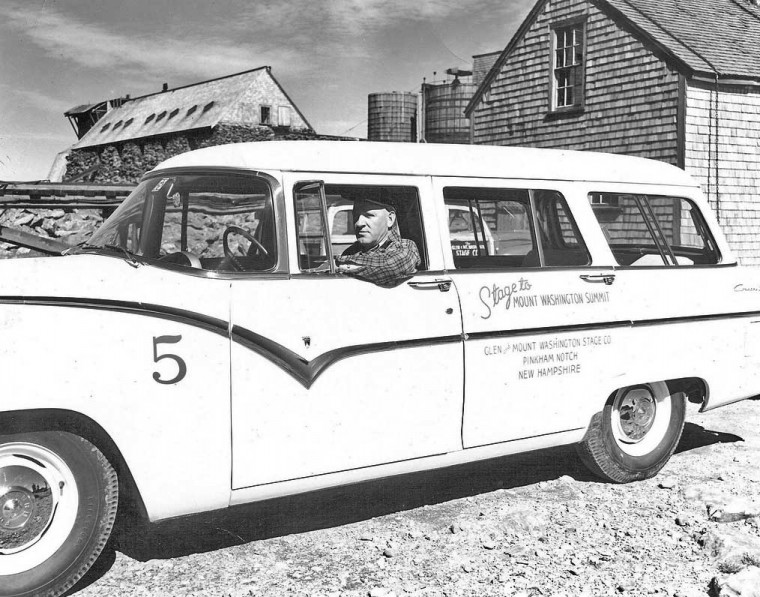 Stage driver Earl Libby waits for passengers to take down from the summit in a 1955 Ford Wagon.