Someone has to do the dirty laundry, and this Miami operation (above), apparently located in the large southeastern Florida city did just that. The facility had a large pickup and delivery fleet, and its drivers posed with their vehicles to take this publicity photo out in front of the operation on August 6, 1939.
Left-to-right in the image are three vehicles we can identify that include an American Bantam Boulevard Delivery, a Willys Model 77 and a Dodge with the latter two relegated to diaper services. If you can tell us more about any of these vehicles, the other delivery vans or the Miami Laundry, please send us a comment.
Moving on, Thomas Alva Edison not only invented the light bulb, but an advertisement (below) tells us he also invented the alkaline storage battery. After that electrical storage device became practical to manufacture, it soon became a simple matter to recharge these batteries with a generator driven by a small gasoline engine and Edison marketed it as a Home Lighting Plant. One of these devices is seen (below) with a salesman from the West Coast Specialty Co. of Portland, OR in 1916.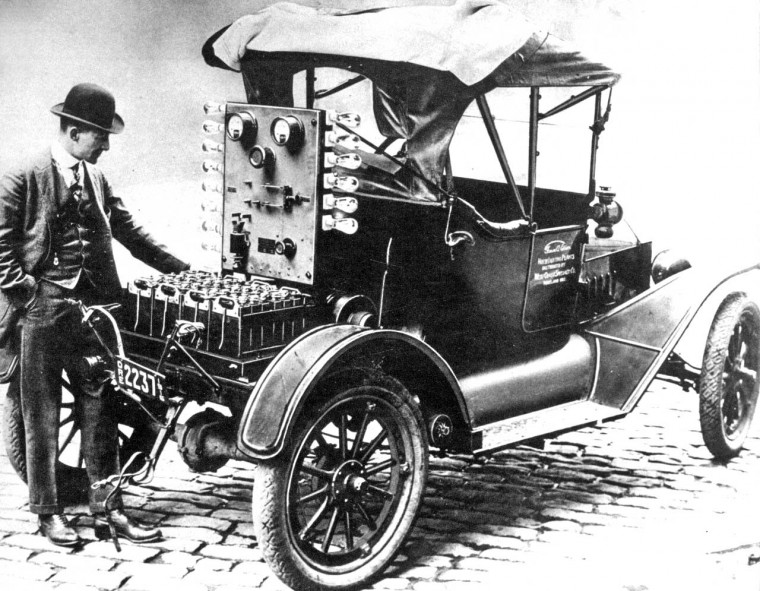 An Edison Home Lighting Plant setup mounted on and powered by a Model "T" Ford.
A Model "T" Ford Roadster (above) can be seen outfitted with a salesman's Edison demonstrating unit that consists of: a bank of batteries, a control board, over a dozen light bulbs and a generator mounted just in front of it. That unit, in this case appears to be driven by a flat belt and pulley that is powered by another shaft below it. The second shaft appears to be moveable by a lever on the right-hand-side of the Plant. By moving the shaft backward, it could be driven by the tire and pulley that can be seen just in front of the rear wheel.
Many Model "T" Ford cars were started in high gear during cold weather by jacking up one of the rear wheels and then chocking the others so it could not move. The jacked up rear wheel then turned into a flywheel of sorts, which helped one to spin the engine fast enough so the flywheel magneto could put out a hot enough spark so the engine would start. The generating part of the plant could have been demonstrated in this way to a potential prospect – it is also possible the batteries could be recharged while driving the car between demonstrations. The photos above are courtesy of the AACA Library & Research Center.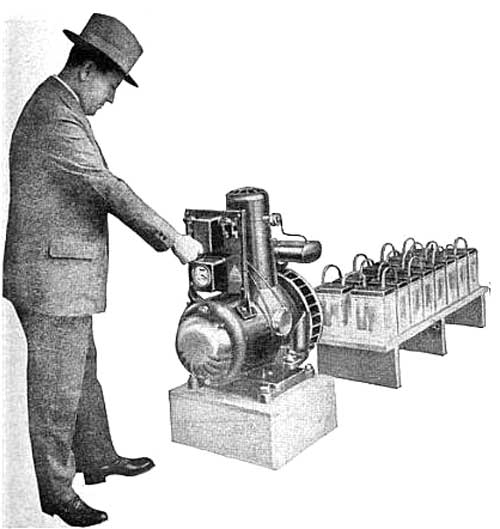 An illustration from a 1918 issue of the Farm Boys and Girls Leader shows a complete unit (above) made by an unknown competitor of Edisons. J.S. Goolsby of Oxford, Mississippi is seen with his engine powered lighting plant that shut down automatically after the batteries were recharged.
The advertisement (below) was in a Tractor and Gas Engine Review dated 1918. It tells us how on the farm one could use an existing stationary engine to charge the batteries for practically nothing with an Edison Home Lighting Plant.