By Michael Lamm:  Gilbert E. Porter helped found the Globe Motor Truck & Body Co., of Ypsilanti, Michigan, in 1916. His title was director, and he remained a director of Globe's successor company, Ypsilanti Truck Body Co. Porter obviously had some interest in trucks, but his dream was to someday create a sports car.
Around 1925, Porter moved to Glendale, California, and helped start a similar truck business called Transport Body Co. Porter incorporated an offshoot of Transport that he initially called Hollywood Motor Bodies but then renamed Hollywood Coach Co., also in Glendale.
At Hollywood Coach, Porter hired a 22-year-old independent auto and truck designer named Wellington Everett Miller. Miller had recently left the Walter M. Murphy coachbuilding operation in Pasadena and had struck out on his own.
Porter hired Miller to design both truck and automobile bodies and, more importantly, to help him conceive his sports car. Miller, with much input from Porter, promptly drew up a low-slung, two-passenger roadster on a 98-inch wheelbase, powered by a proprietary six-cylinder engine. Porter would name the car the Sequoia.
The 1927 Sequoia roadster had the hallmarks of a shortened Auburn boattail speedster, but it came out a year earlier. Designed by W.E. Miller, two prototypes were built in 1926-27 at Hollywood Coach Co. in Glendale, California. Unusual touches included the integral sunvisor, peekaboo windows in the top and kicked-up rear fenders.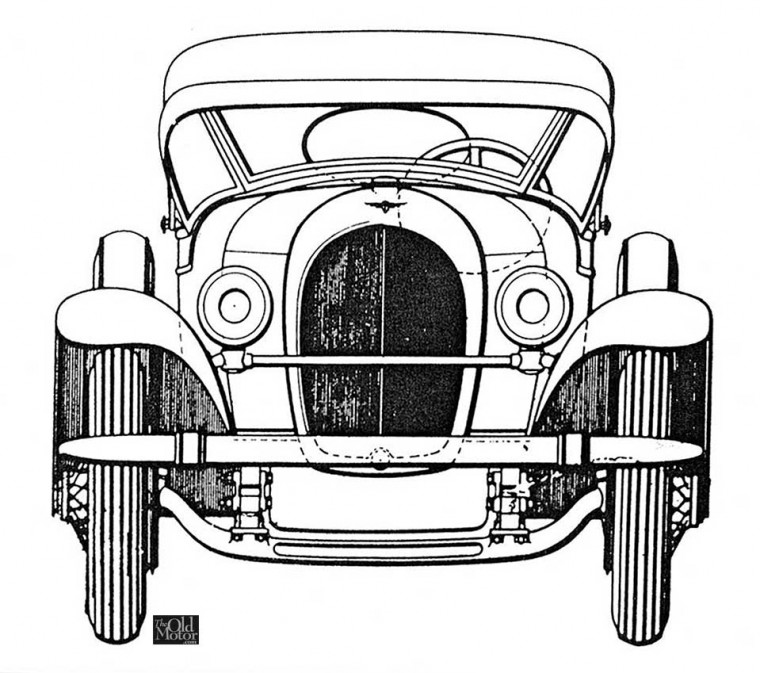 Looking like a radically shortened version of a 1928 Auburn boattail speedster, two Sequoia roadster prototypes actually got built in late 1926 and early '27. Miller's design incorporated the hood pennant made famous by Auburn, with a beltline molding that continued beneath the doors and onto the stubby boattail section. The canted, three-piece windshield had curved A-pillars that swept up into the header, and the header itself doubled as a shallow sunvisor.
And the Sequoia had at least three more unusual features. First, the rear fenders kicked up slightly at their trailing ends; second, the convertible top incorporated peekaboo windows on each side; and finally, sidemounted spares graced both front fenders.
Gilbert Porter intended to sell Sequoia roadsters for about $3000, but problems with suppliers soon forced him into bankruptcy. He folded his California operations and moved back to Michigan. Copyright © 2015 Michael Lamm.