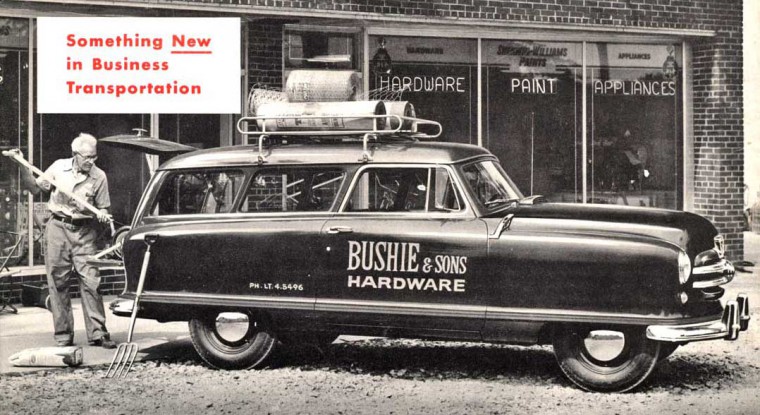 We have had a 8 x 10 press photo of the Bushie & Sons Nash two-door station wagon in our files for years and thought it might have been for use in newspaper ads. The AACA Library & Research Center recently posted this two-page brochure showing the same image in a Nash Rambler brochure on the AACA Forum. 
The exact year that this Nash Rambler "Deliveryman" was built is not known but it was possibly offered during years of 195o and '53 when this body style was in production. During that period, the automaker also offered a more upscale version of the economy car that it called the "Custom Station Wagon". Both models are small cars on a 100-inch w.b. chassis that was powered by a 173 c.i. flathead six that produced 82 h.p. and returned up to 30 m.p.g.

While this bare bones offering with bathtub styling was aimed both at craftsman as a work vehicle and small businesses to use for deliveries, it leaves it ranking quite low on the list of exciting automobiles. It appears the two-door station wagon type of production delivery vehicle probably dates back to the Model "A" Ford sedan delivery and possibly earlier?
Can ours readers tell us what was the first economy based two-door vehicle of its type with a glassed in rear section to be produced? Was it in the 1930s or earlier or was it first offered in the years just after World War II.
Take a moment to visit the AACA Library & Research Center here where you can learn about what the facility has to offer.