Thanks to reader Richard Laible, who sent in the images featured today we now know some of the background information about the construction of the six Packard Pan American show cars coachwork and the coachbuilder. A video at the end of this post features the new 1953 Packard Carribbean convertible, the luxury production car that followed the Pan American. The lead photo was taken when Laible was only ten years old, an exciting time for him as he explains:
"My father was one of the craftsmen who built the first of the six Packard Pan American concept cars. The Henney Motor Company in Freeport, Ill constructed them in 1952 under contract with Packard. Henney had been building special cars for the automaker for many years. I joined my dad to see the first Pan American car shipped".
"In addition to the Pan American, Henney built hearses, ambulances, and limousines for Packard including a series of limos for President Truman. In the photo (below) John Henney is standing on the left, my father is on the far-right, and another worker is in front of a limousine under construction on a body jig. Some of the sheet metal came from Packard, but the rest of body sections were hammered out by hand on forms".
"My father went on to night school and became a manufacturing engineer and worked for a division of Honeywell. His days of working at Henney held his most cherished memories."
You can read an interesting account by H. Reid Horne, who was the director of personnel at Henney, he was employed there between the years of 1928 and '54 when production ended at the Company. The end of the road followed when the coachbuilder was liquidated in 1955.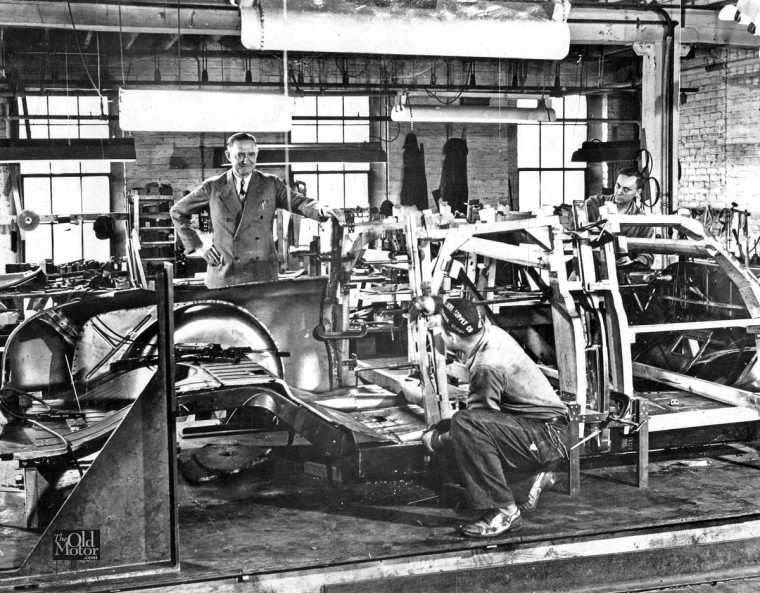 A body jig set up on top of an one inch-thick piece of steel mounted on top of I-beams. Note the large moveable square on the left side of the table.
The video (below) features the new 1953 Packard Carribbean convertible which followed the Pan American.