By Michael Lamm:  His friends all called him Ev. I met him once in the early 1960s, and he seemed rather formal to me, so I addressed him as Mr. Miller. I wish now that I'd gotten to know him better.
Ev Miller was one of those peripatetic car designers who flitted from company to company, tossed about by the winds of economics. No sooner had he taken a job at GM or Packard when another downturn would come along, and he'd be out freelancing again.
And yet, looking back, Miller turns out to be highly competent, richly talented, imaginative and, probably to his greatest advantage, marvelously resilient.
Miller

designed a number of cars for film stars, among them (above) Clark Gable's 1935 Duesenberg roadster. Other movie clients included Mae West, Tom Mix, Mary Pickford and Douglas Fairbanks. Courtesy National Automotive History Collection, Detroit Public Library.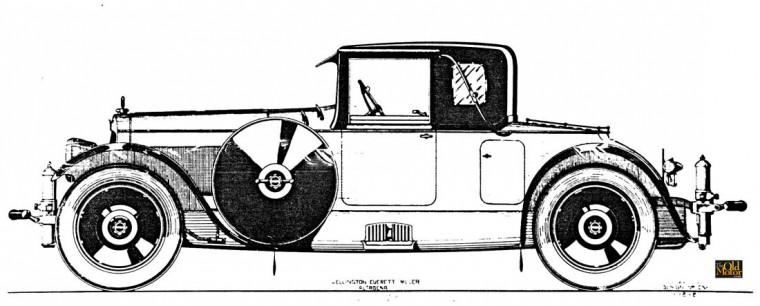 One of W.E. Miller's earliest formal designs, done in 1921 at Walter M. Murphy's but probably not for a Murphy customer, this coupe has an odd rear deck and lacks running boards-fairly unusual for the day. Courtesy Blackhawk Automotive Museum.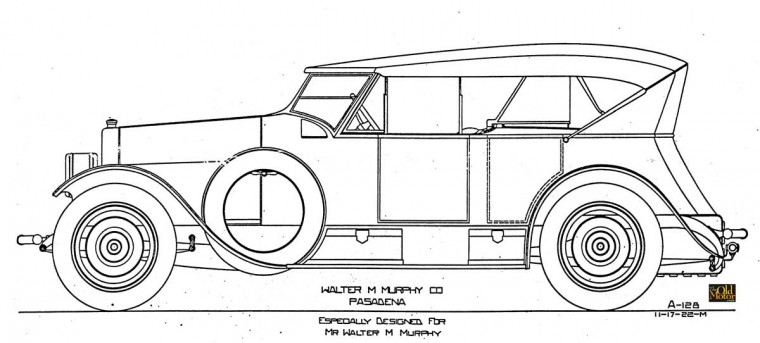 Walter Murphy himself would have been the client for this Doble dual-cowl phaeton. Drawing dates from Nov. 1922. The car was probably never built, but it's one of Miller's more radical concepts, particularly the canted, veed windshield and sloping rear deck. Courtesy Blackhawk Automotive Museum.
Wellington Everett Miller was born in Los Angeles in November 1904 and, at age 14, worked as a mechanic's helper in a repair garage. He was subsequently hired by an L.A. company that built car and truck bodies, Reim-Thompson, where his boss encouraged him to take Andrew Johnson's correspondence course in auto design and drafting. While still studying with Johnson, Ev Miller, now all of 16, got hired by the Walter M. Murphy Co., the Pasadena coachbuilder. Among Miller's colleagues at Murphy's was another talented, peripatetic auto designer and engineer, John Tjaarda.
Miller began designing cars in 1921 and stayed with Murphy for four years. He developed a very precise, blueprintish style, always drawing cars in sideview, the prevalent layout of that day.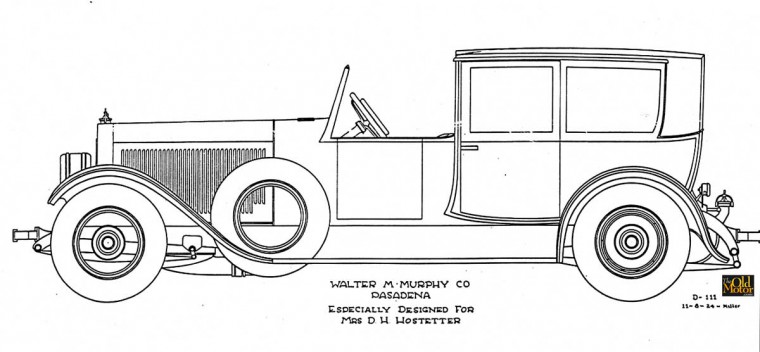 Miller designed and Murphy built this 1924 Doble towncar for D.H. Hostetter, a Los Angeles developer. This car did get built and was later converted into a roadster. Courtesy Blackhawk Automotive Museum.
He left Murphy in 1925 and became involved with a series of unusual freelance assignments – designing a roadable airplane, helping Harry Miller and Leo Goossen design a fwd passenger car, then moving East to join John Tjaarda at Locke & Co., the New York coachbuilder. At Locke, Ev Miller and Tjaarda laid out Tjaarda's rear-engined dreamcar, the Sterkenburg. And just before his job at Locke ended, he married Martha Gibson. Together, they moved back to L.A. and eventually had three sons.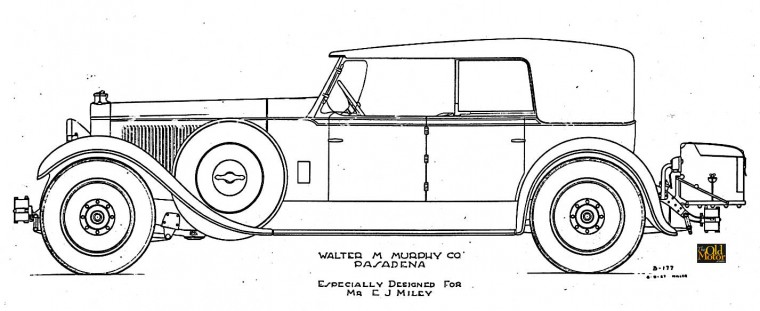 Miller drew this 1927 Packard convertible sedan at Murphy's. What's interesting is the inclusion of details like spring hangers, trunk hardware, hinges and even an oil drain plug. Courtesy Blackhawk Automotive Museum.
In L.A., Miller picked up work at a number of small companies, including Ludelius & Eccleston, Vickers, Hollywood Motor Bodies, then back to Murphy's for a short stint and finally, on a cold January day in 1928, off to Detroit and General Motors Art and Colour, under Harley Earl. GM reunited Miller with Tjaarda, but both were let go again after 13 months.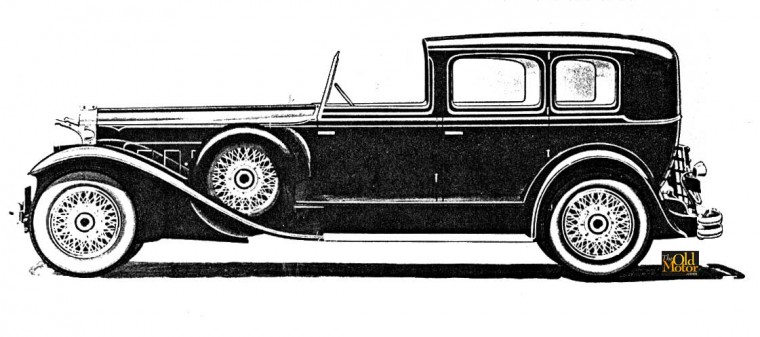 Packard towncar proposal show Miller's skill in adding perspective to his sideview renderings. He now included passenger-side tires, inner sail panels and shadows beneath his sketches. Miller probably learned this technique working with Werner Gubitz at Packard. Courtesy Blackhawk Automotive Museum.
Thence on to Packard in February 1929, where Ev Miller's co-designers included Werner Gubitz and Count Alexis de Sakhnoffsky. At Packard, Miller worked on the company's 1932 fwd prototype, a car with an in-line, 12-cylinder engine. Due to Depression cutbacks, Miller left Packard in June 1933 and, according to his youngest son, Marc Edsel Miller, worked briefly for Ford. I couldn't find a record of Ev Miller ever working at Ford, but it's certainly possible, given his connection with John Tjaarda, who was now at Ford's major body supplier, Briggs Manufacturing. Edsel Ford took an intense interest in Tjaarda's rear-engined prototype, successor to the Sterkenburg, the car Briggs showed at the 1933-34 Chicago World's Fair. Marc Edsel Miller, now 85, says his middle name came from his father's friendship with Edsel Ford.

Miller freelanced for Bohman & Schwartz after Murphy's demise, and among his proposals was this 1934 Lincoln convertible sedan. Courtesy Blackhawk Automotive Museum.
Bidding his Detroit goodbye, Ev Miller took his family back to Los Angeles in 1933 and began his freelance career in earnest. He was soon doing work for Bohman & Schwartz and designed a special custom Duesenberg roadster for Clark Gable in 1935.
When we return with Part II of Wellington Everett Miller, Coachwork Designer and Engineer his interesting streamlined truck designs will be featured. Copyright © 2015 Michael Lamm.
Note: Author Michael Lamm wishes to thank Mark Theobold and his website www.CoachBuilt.com for much of the information in this article. Thanks, too, to W.E. Miller's son, Marc Edsel Miller, and his grandson, Eddie Miller, for fact checking the final draft.