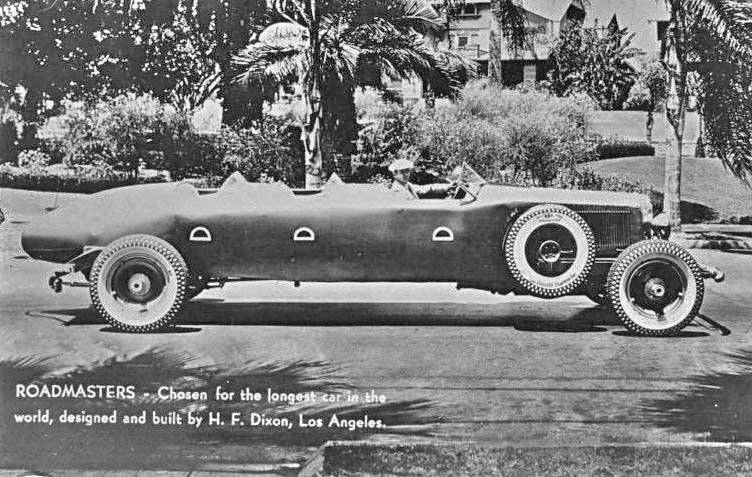 Updated – This image of H.F. Dixon was posted over four years ago and at that time we were unable to find any other information about Dixon, the car or the unusual "Roadmaster" tires. Since that time we have posted an article about Vogue tires on two L29 Cords with what appears to be the same sidewall pattern (possibly as early as 1929). You can also view an image of bandleader Paul Whiteman and his L29 Cord with the same Vogue tires here. 
Researcher Ace Zenek took on the task to try to learn more about Dixion, the car, and the tires. After a long search, he found the newspaper photo (below) of him and the car with a bevy of beauties.
By Ace Zenek:  From the angle of the Standard Union photo (below) it appears that Dixon's car was built on a Packard chassis, and its trademark radiator shape is visible. It is likely the car with a stretched chassis and a custom built body was based on a late-1920s or 1930-'31 chassis from the automaker. In the original photo, note that the spare tire has lettering on the sidewall, but, unfortunately, it is not legible. The spare tires and rims are held by brackets and you can view the body and hood (above) behind the right side assembly.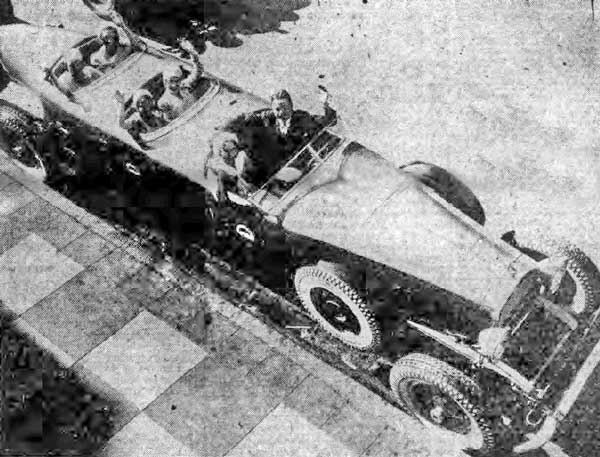 This photo is from the Standard Union (Brooklyn, NY), August 30, 1930.
The Standard Union caption mentions the car was built by H. F. Dixon and called him a "noted racing car designer," but no evidence of this was found in any of my searches. An H. F. Dixon received patents for a wheel assembly, a hub brake, and a brake mechanism, but has been found as of yet to connect his work (intended for aircraft use) and the car in the photos. The full name on the patents is Howard F. Dixon, who was working for the Kelsey-Hayes Wheel Corporation at that time.
The "Roadmaster" (Road Master) tire was made by The Falls Rubber Company, Cuyahoga Falls, Ohio, which merged with Cooper Corporation (Cooper Tires) in 1930.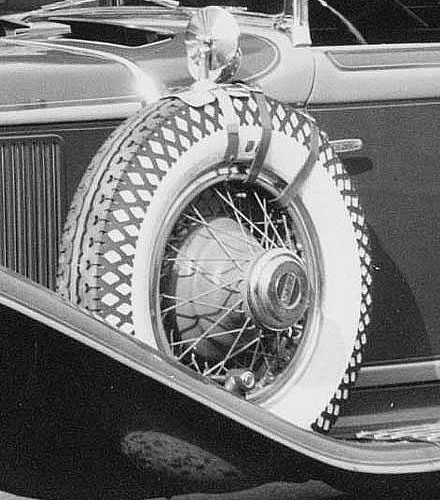 A Falls tire on a L29 Cord at the MacDonald-Dodson Tire Co. in Los Angeles, CA.
Editors note: It appears that both of these tires were introduced at about the same time. This leaves us wondering, which tire company used this pattern first, and could one of the tire makers have purchased rebranded tires made by the other company? Could this "Roadmaster" tire have been sold by an independent in Los Angeles, CA?  Both the "Roadmaster" tires and the Vogue tires were being promoted in Los Angeles, CA, at the same time.