By Michael Lamm:  After Ev Miller's return to Los Angeles in 1933 from Detroit at the end of Part I, the talented designer quickly established himself as a freelancer. Miller's clientele included: Advance Auto-Body Works, Auburn California, Gilmore Oil and Crown Body & Coach (among many others). Next year, he took a semi-permanent position with Advance Auto-Body and created the Arrowhead Spring Water Car, a three-wheeled teardropper that drew national attention as The Shape of 1936.
By that time, Miller was thoroughly taken with "streamlining," the industrial artform that replaced the angularity of the early 1930s. At Advance, Miller's truck designs became more radical, with bold, sweeping shapes, one-piece windshields, fender skirts, chromed disc wheels and integrated headlights.
The lead photo (above) shows the classical lines that grace one of Miller's proposals to Gilmore. All photos courtesy Blackhawk Automotive Museum unless noted otherwise.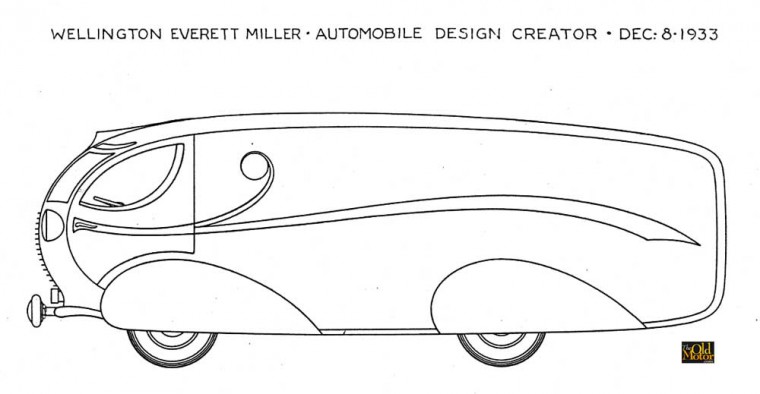 One of Miller's earlier streamlined truck designs was this Dec. 1933 proposal for an unknown customer. He freelanced during this period, having recently been laid off by Packard.
Because Ev Miller was constantly looking for work throughout most of his career, he left a series of resumes in his wake that detailed his previous employers and projects. We're fortunate to have, in these resumes, a chronology of his activities from 1921 through 1974. During his 50-plus-year career, Miller designed not just custom cars and truck bodies but also aircraft, vehicle interiors, motorcycles (including one with hydraulic drive), movie-prop vehicles (he did the chariots for Ben Hur), motorscooters (for Salsbury), garden tractors, housecars, trailers, race cars (for Harlan Fengler), plastic model kits (for Revell) and road rollers. And that's only a fraction of Miller's design and engineering achievements.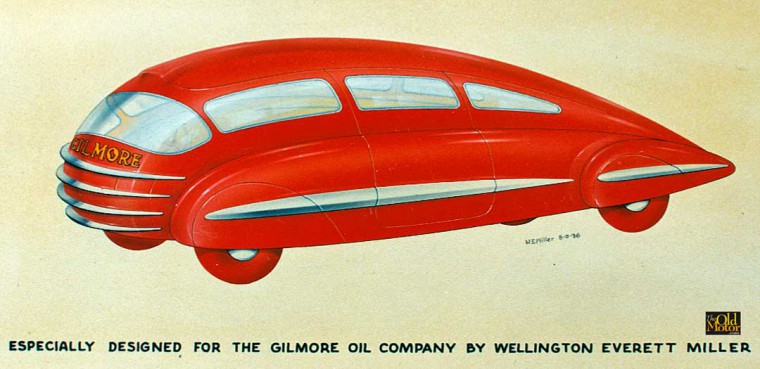 One of Advance Auto-Body's more important customers was Gilmore, the L.A.-based oil company. Owner Earl B. Gilmore was a car enthusiast who, among other things, sponsored Indy race cars, built Gilmore Speedway (a midget race track) and developed the L.A. Farmers Market. In 1935, Gilmore commissioned Ev Miller to design a series of streamlined tank trucks, and Advance built them on White chassis. This 1936 design for the company was for a streamlined car.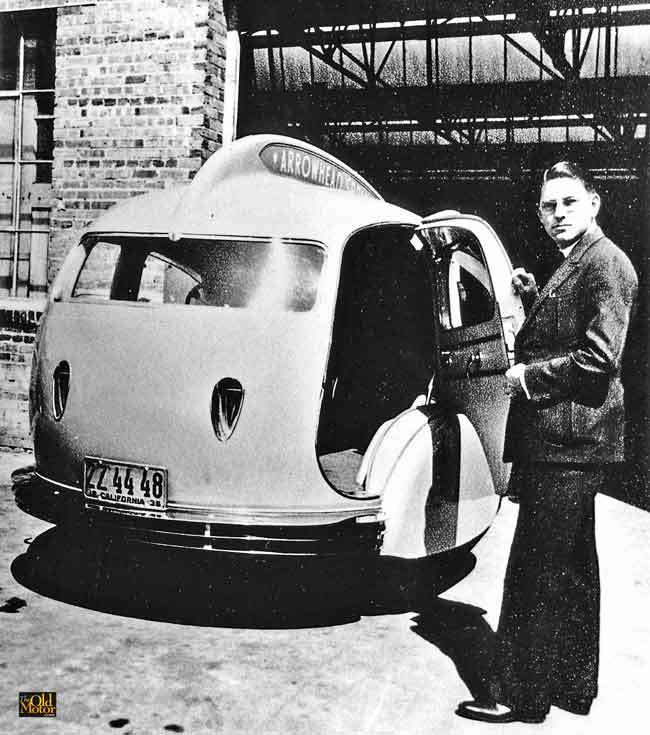 Miller's most famous design was the 1936 Arrowhead Spring Water three-wheeler. Built at Advance, it had an aluminum body, a Ford V8 mounted backwards in the rear, fwd and rear-wheel steering. Arrowhead, the Los Angeles water purveyor, showed this car for many years, but no one seems to know what ever happened to it.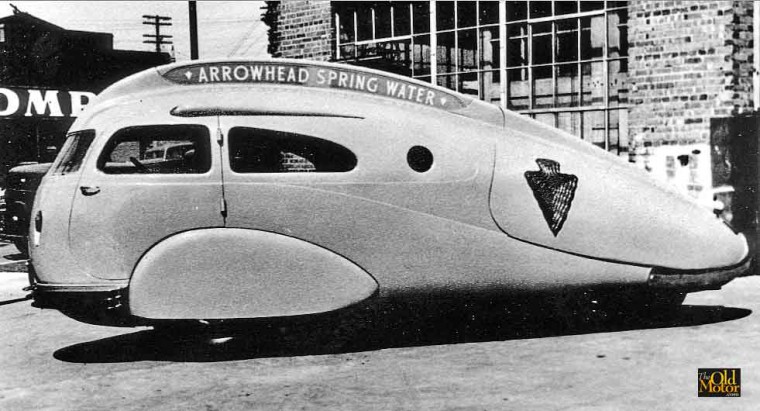 From childhood, he'd been an avid collector of automotive literature, especially dealer brochures and coachbuilder catalogues. His interest in automotive history led him to help found the Horseless Carriage Club of America in 1937. He subsequently became editor of the club's magazine, The Horseless Carriage Gazette, and later edited The Classic Car for the Classic Car Club of America. He was Road & Track's historical editor from 1950 through 1953, wrote numerous articles for other car magazines plus two books.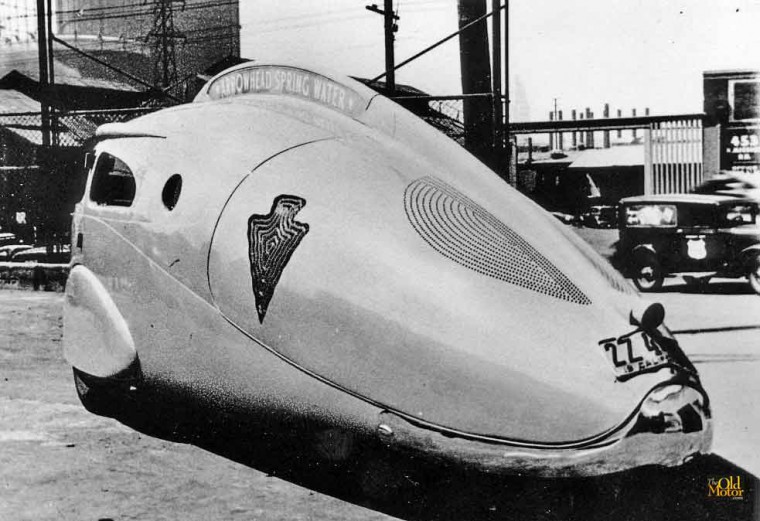 Miller was one of those people who never threw anything away, and his personal library ultimately grew to about 15 tons. After Miller's death in 1983, his library went to the Blackhawk Automotive Museum in Danville, California, which subsequently sold it to the Nethercutt Collection in Sylmar, California, where it remains today. Copyright © 2015 Michael Lamm.
Note: Author Michael Lamm wishes to thank Mark Theobold and his website www.CoachBuilt.com for much of the information in this article. Thanks, too, to W.E. Miller's son, Marc Edsel Miller, and his grandson, Eddie Miller, for fact checking the final draft.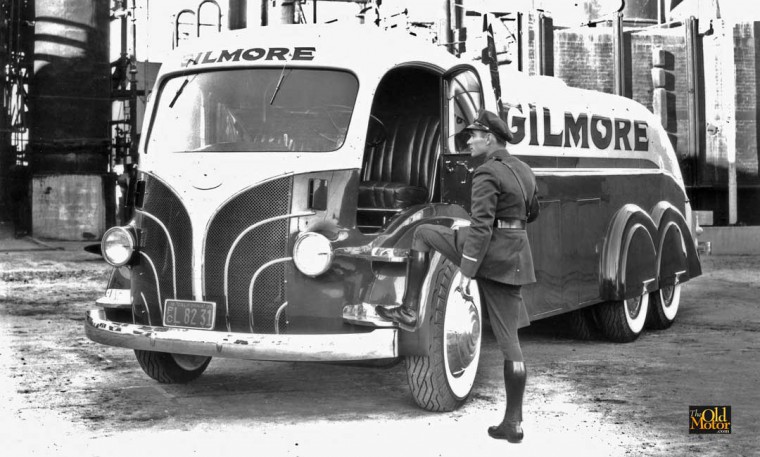 Miller designed this streamlined oil tank truck for the Gilmore Oil Company in 1935. It was built by Advance on a White chassis, learn more about it here. Courtesy American Truck Historical Society.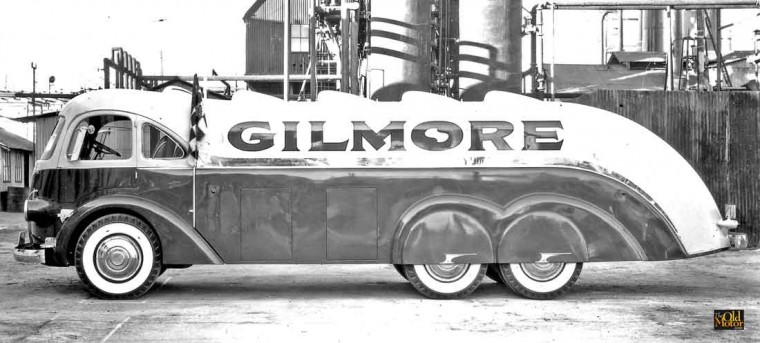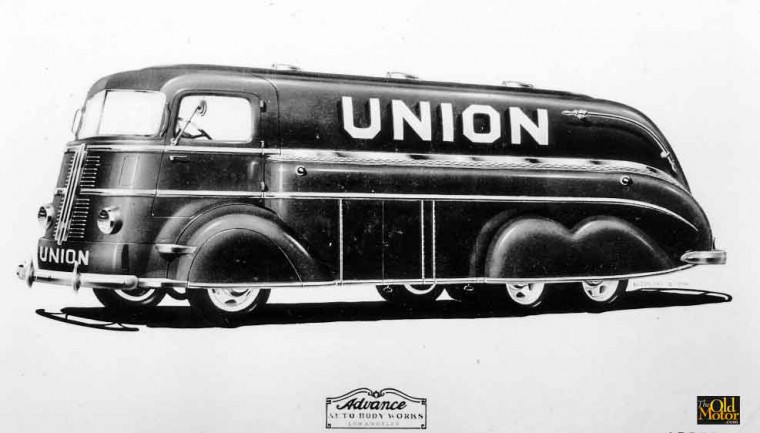 In late 1938, Miller proposed similar trucks to Shell and Union Oil, both with six-wheel fender skirts and integral cabs.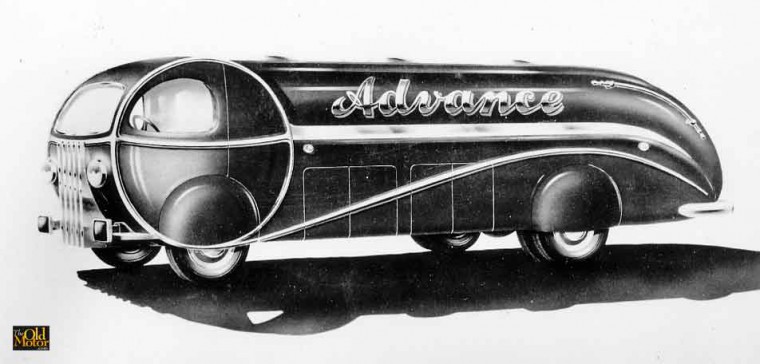 Some of Miller's designs were quite whimsical, like this rendering with circular trim around the doors and bold swooshes rushing back toward the rounded tail.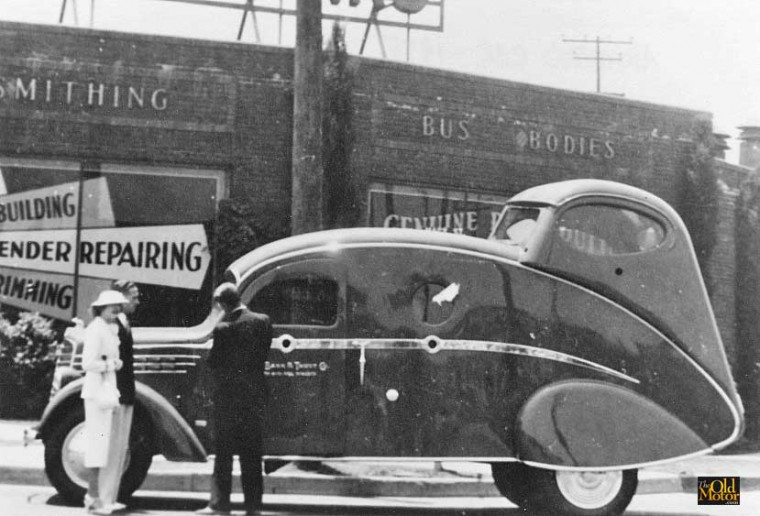 In a combination of the conventional and streamlined, Advance built a Miller-designed armored truck that carried guards in a rear turret. Courtesy Strother MacMinn.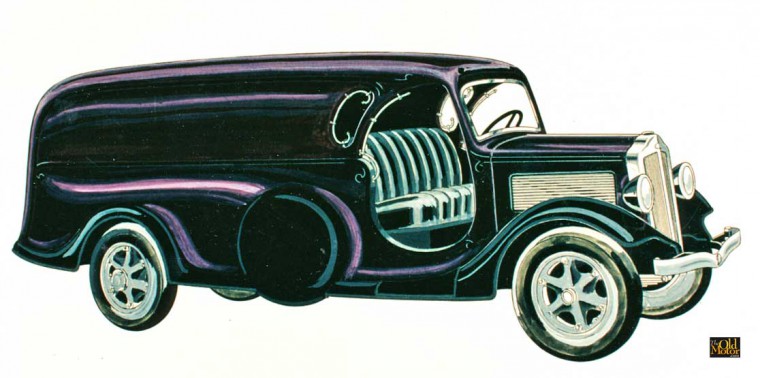 Other examples of whimsy (above and below) include these two delivery trucks. Especially interesting is the airfoil-shaped truck that appears finished in polished aluminum. Courtesy Blackhawk Automotive Museum.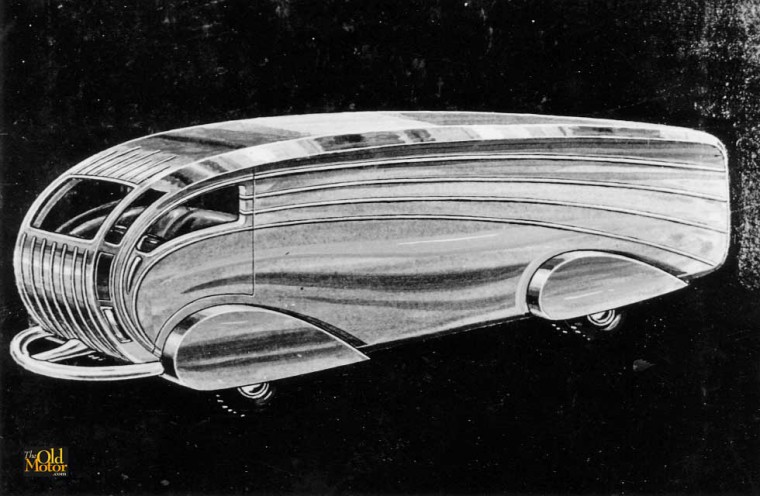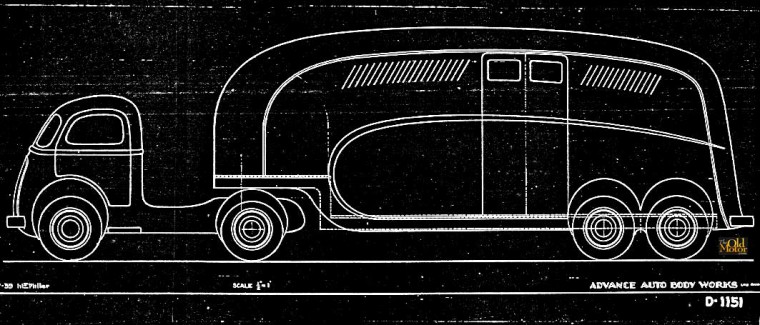 Rounded cab and trailer complement each other in their arched contours. This Miller truck/trailer combination was designed at Advance Auto-Body in 1939. Courtesy Blackhawk Automotive Museum.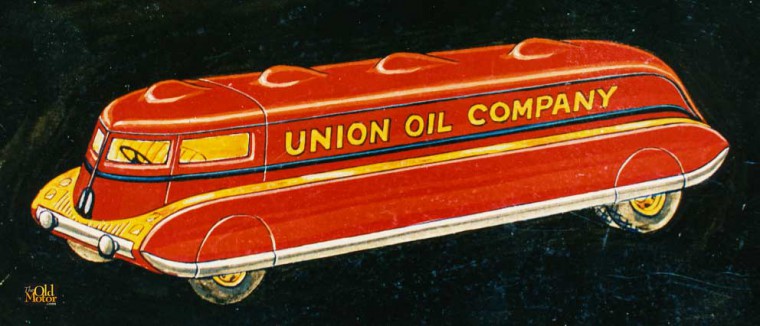 Another streamliner proposal for Union Oil featured through fenders and wraparound glass. Miller might have done some of these farther-out designs for his own amusement. Courtesy Blackhawk Automotive Museum.