By Michael Lamm:  The 1925 Julian contained many of the key elements of the Volkswagen Beetle: backbone chassis, rear engine, air cooling and swing axles.
Julian Brown used his first name to christen his radically different motorcar. He himself was called Jule by friends and, as a young man, he inherited $2.5 million from his industrialist father – money he had a hard time hanging onto. Julian Brown married four times, which didn't help, nor did the lawsuits and countersuits that plagued his many business ventures and bankruptcies.
Newspapers described Brown as a playboy, yachtsman, nightclub owner and inventor. Also noted were his careers involving electric boats, expensive engines and two stillborn automobiles.
In 1912-13, Brown built what he proudly heralded as "America's Highest Priced Motor," an engine he planned to sell to luxury carmakers. He found no takers, so his Julian Motor Co. promptly went bust.
Next, in 1918, Brown tried to launch an actual automobile – a roadster with a stylishly long hood, veed radiator and removable hardtop. For power, it used a "Twin Three" V6 engine that Brown designed, but this venture failed as well.
The lead photo (above). Multi-millionaire Julian Brown, whose father co-founded the Brown-Lipe Gear Co., began developing his unusual car in 1922. Brown designed the aluminum body, which Fleetwood built, finished and mounted in 1925. All color photos courtesy National Automobile Museum, Reno NV.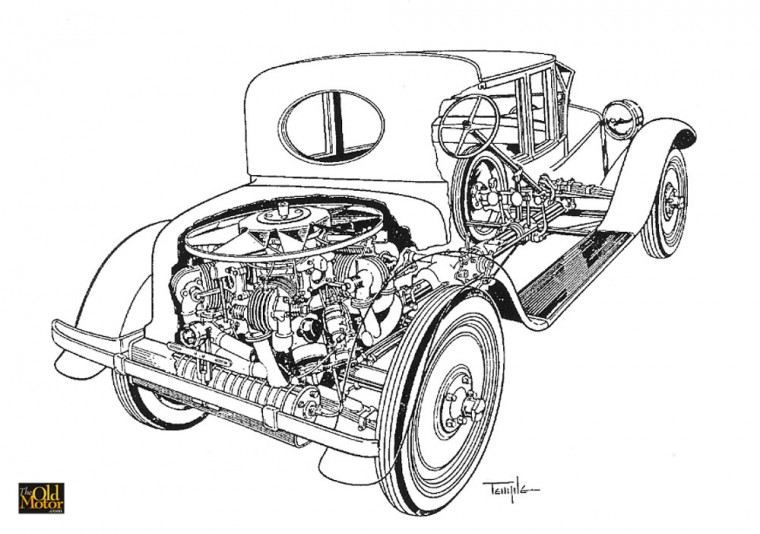 Robert Temple drawing shows backbone chassis, radial six-cylinder engine and seating arrangement. Courtesy Old Cars Weekly.
Finally, in 1922, he established the Julian Brown Development Corp. in his hometown, Syracuse, New York. There, over the next three years, he and a team of machinists and foundrymen from the C.E. Lipe Machine Shop and the Meldrum-Gabrielson Machine Co. created his masterpiece: the 1925 Julian. This car used a radial, flat, six-cylinder engine that lay horizontally behind the passenger compartment. The crankcase was aluminum, cast in two banks of three, one above the other, all cylinders being 120 degrees apart. Bore and stroke were 3.375 x 5.0 inches for a displacement of 268.4 cubic inches.
Using a Zenith sidedraft carburetor, the engine developed 60 bhp, thanks in part to hemispherical combustion chambers. Pistons were crowned, and the engine had a relatively high compression ratio for the day: 4.8:1. Three rings encircled the centers of each piston, not the tops, and valves were actuated by a two-lobe camshaft via pushrods and rocker arms that ran off pinion gears from the eight-inch-long, two-throw, two-bearing, hollow crankshaft. A 4.5-gallon remote oil sump helped cool the crank and connecting-rod bearings.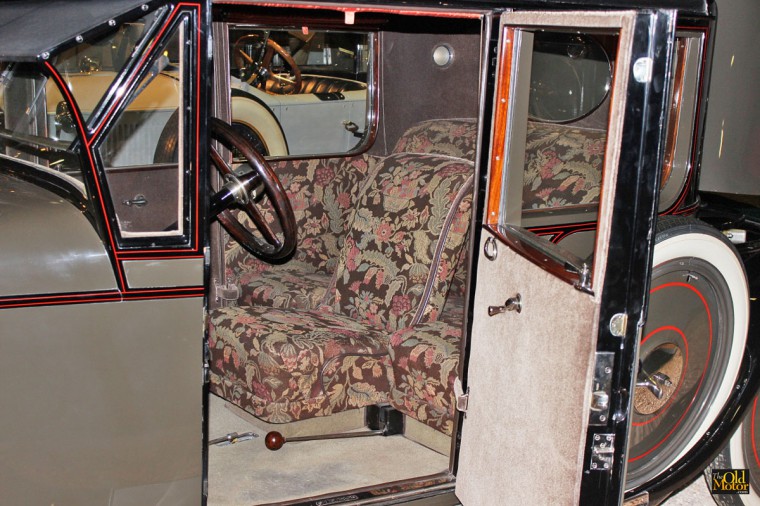 Front-opening doors reveal central steering position and brocaded upholstery. Not shown are two small, rear-facing jumpseats on either side of driver.
A large fan stood atop the engine and doubled as a secondary flywheel. The fan was driven by the crank via a clutch arrangement much like today's viscous-drive fan clutches. Beneath the engine stood the actual flywheel, then a wet cone clutch, and finally the three-speed transaxle, all housed in an aluminum case.
The transaxle contained a sliding-gear section, plus a conventional differential. Simple U-joints attached swing axles to the rear wheels, and the steel disc wheels contained the brake drums. Each brake had four shoes, two for the service brake and two for the emergency brake. Julian Brown calculated that the car needed no front brakes because weight distribution gave the rear tires plenty of grip.
The rear suspension used a single, transverse leaf spring, and the rear wheels were slightly cambered, as in the VW Beetle. Front suspension consisted of a tubular axle supported on another leaf spring.
The steel backbone frame used a 4.5-inch central tube, with two tangential, 2.0-inch crossmembers fixed fore and aft onto the main shaft. The crossmembers supported the aluminum, five-passenger coupe body.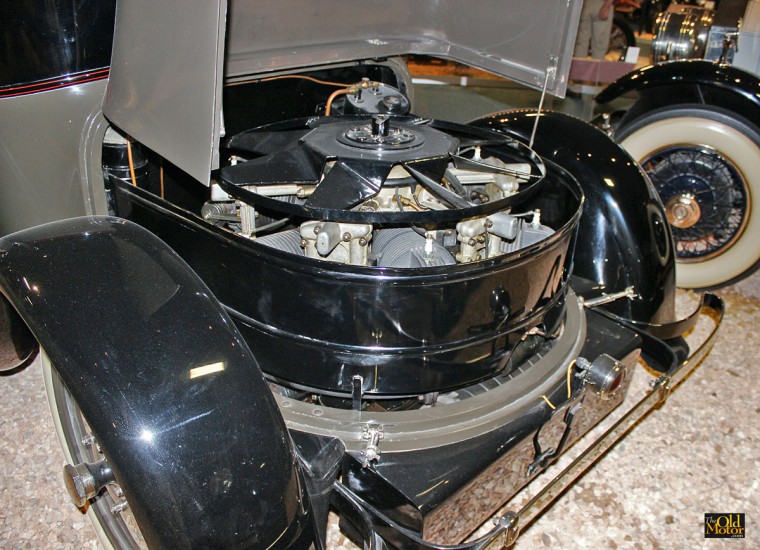 Cooling fan pushes air over two banks of finned cylinders. Hollow crankshaft is only eight inches long, housed in two bearings, has two throws. Camshaft has only two lobes.
The body was designed by Brown and built by Fleetwood, the Pennsylvania coachbuilder. Brown shipped the chassis to Fleetwood, had the painted and trimmed body installed and then drove the finished car back to Syracuse. By specifying that the body be made of aluminum, Brown had hoped to keep the Julian's weight to 2400 pounds. It ended up weighing 3450 pounds. Yet by placing 66% of the mass over the rear wheels, steering was much lighter than normal, and the car had good traction on snowy surfaces.
 "Automotive Industries" June 4, 1925, article with earlier technical specifications. Some of the described features were not used in the finished automobile.
Brown also pointed out that by going to air cooling and combining the engine, transmission and differential, his car contained 473 fewer parts than a typical 1925 sedan. Another advantage, he said, was that placing the engine in the rear left heat, smoke, odors and noise behind.
The Julian's interior had what Brown called a "reverse cloverleaf" seating arrangement. The driver sat up front in the center of the cabin, behind a swing-away steering wheel. There were two small, rear-facing jumpseats on either side of the driver, tucked up against the instrument panel and suitable for children. Then, behind the jumpseats and slightly aft of the driver stood two larger seats for adult passengers.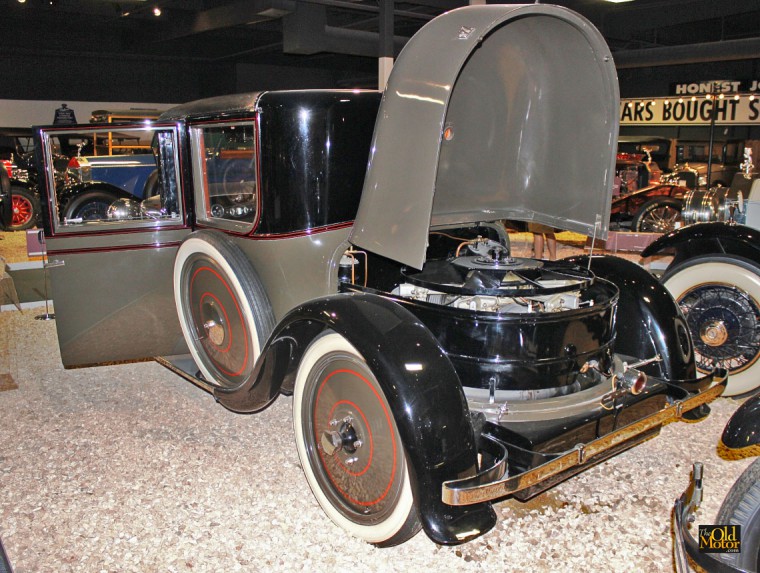 Gas tank rests up front, under hood, fills through radiator cap. Single spare rides near rear fender. With 66% of weight over rear wheels, Julian Brown felt the car needed no front brakes.
According to its June 1925 announcement, the Julian was due to go into production "soon," at a retail price of $2500—roughly what a six-cylinder Packard cost that year. Yet the Julian reputedly cost $60,000 to build (roughly $810,000 in 2014 dollars) and, like many of Brown's projects, ended up going nowhere. The prototype languished for 24 years in the Lincoln Garage in Syracuse after the Julian Brown Development Corp. declared bankruptcy.
In 1949, the garage owner, James Mahar, sold the car to recoup some of its storage fees. It was resold at least one more time before Harrah's Automobile Collection bought the Julian in 1966 and restored it, carefully reproducing such subtleties as the brocaded upholstery and painting the aluminum body in its original taupe and black color scheme. The National Automobile Museum in Reno, Nevada, successor to Harrah's, now owns and exhibits the car in like-new condition.
As for Julian Brown, he moved to California after World War II and finally retired to Daytona Beach, Florida, where he passed away in April 1964 at age 77. He's buried at the family mausoleum in Syracuse. Copyright Michael Lamm © 2015.