By Michael Lamm. Back in 1902-03, Walter C. Baker built three streamlined electric racing cars. Called Torpedos, these all-but-forgotten electrics should be remembered for four good reasons:
Number one and most important, they allowed Walter Baker to become the first man in history to break the 100-mph barrier in a motorcar. That was in 1902.
Second, the Torpedos' bodies were remarkably streamlined, decades ahead of anything similar.
Third, because Walter Baker regularly crashed his cars, none of his speed marks went into any record books. Even in his own day, he became known as Bad Luck Baker.
And finally, what probably saved his life in all those crashes were plain, simple shoulder harnesses, an idea again much too modern for the times.
The lead image shows Walter Baker's aerodynamic electric Torpedo race car ran 100 mph in 1902 but crashed and didn't make the record books.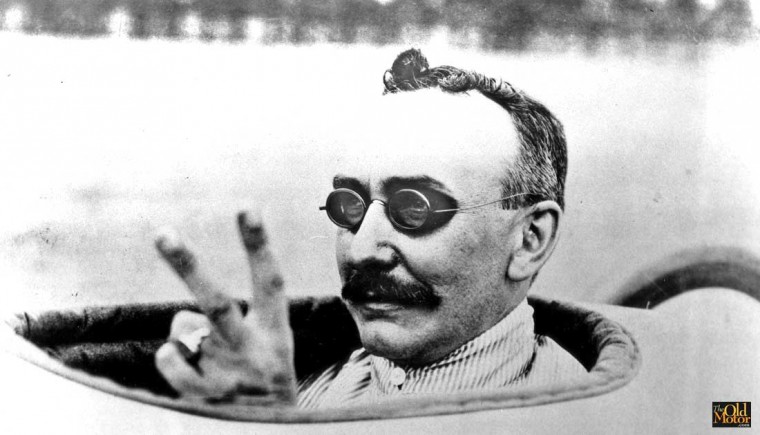 Baker's tinted goggles were his trademark. By 1906, Baker's company produced more electric passenger cars than any other American manufacturer.
At the beginning of the 20th century, electrics held most of the world's land speed records (WLSR). Two electrics in particular kept re-upping the international mark: the French-built Jeantaud and the Belgian Jenatzy. Until 1902, electrics remained infinitely faster than any car with a piston engine.
Walter Baker made his first fortune producing ball bearings for everything from bicycles to locomotives. In 1899, he founded the Baker Motor Vehicle Co. of Cleveland, Ohio, dedicated wholly to manufacturing electrics. In 1901, Baker sold Thomas Edison his (Edison's) first car. Edison told Baker that electrics, using Edison batteries, would one day put gasoline and steam buggies out of business. And for a time, that became Baker's mission, another being to go faster than any human on the planet.
Baker, like many early automakers, recognized the publicity value of speed and, thanks partly to his Torpedos, became the nation's leading manufacturer of electric vehicles by 1906. Even so, he produced only 800 cars that year.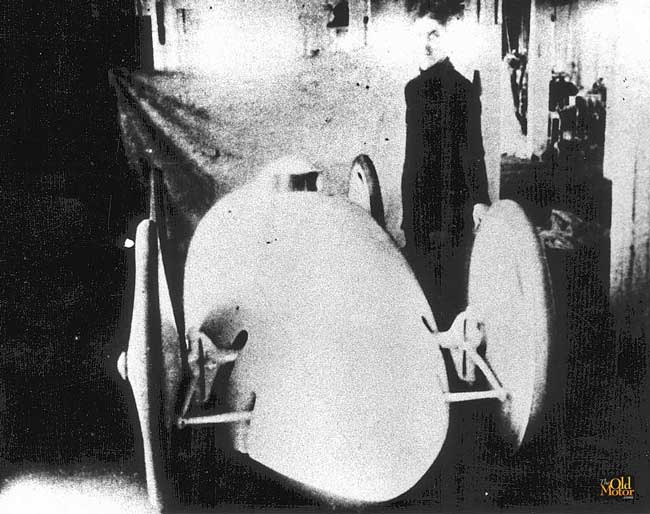 The original Torpedo was quite narrow. Metal discs covered wire wheels and probably added to car's instability at high speeds.
Tall, wiry, jaunty and with a Snidely Whiplash mustache, Walter Baker decided in 1901 to set the WLSR electrically. He believed that speed would mitigate the common perception that electric cars lacked performance. So he took $10,000 of his personal fortune (roughly $287,000 in today's money) and began to engineer an electric racer. But unlike most other builders, Baker recognized the value of aerodynamics. He also figured that a successful race car would impress the American public and help sales of his production electrics.
Most motorcars of that era stood tall and open, often with the driver seated above the engine. So the sleek, ultra-low, tapered 1902 electric Torpedo gave quite a jolt to everyone who saw it. The body, made up of thin strips of white pine skinned with oil cloth, stood a mere 48 inches tall—low even by today's standards. Aerodynamically, the Torpedo was far ahead of its time.
The Torpedo's driver and passenger sat in tandem on webbed, hammock-like seats, strapped in with four-inch canvas shoulder harnesses. Their heads poked up into an isinglass bubble lined with cork. Baker mounted 11 batteries plus a 14-horsepower Elwell-Parker electric motor behind the seats and ran double chains to the rear wheels.

Brakes were activated with a lever by the person at the rear. The driver steered, and both were held in place by one long shoulder harness.
Two lever-operated, mechanical, external-contracting drum brakes were set alongside the drive sprockets. Steering was by a seven-inch wheel, again unusual at a time when most cars still used tillers. The wheel was connected to the steering arms via steel cables that were held in tension by a spring. The steering system marked the Torpedo's weak link, as we'll see in a moment.
On Memorial Day 1902, May 31, the Automobile Club of America held speed trials on the public roads of Staten Island, New York. Baker brought his Torpedo, intending to set records that would overwhelm the manufacturers of steam- and piston-powered machines. Rumor had it that the Torpedo was good for 120 mph, which at that time was roughly double the WLSR. Baker elected to drive the Torpedo himself, accompanied by his mechanic and chief electrician, E.E. Denzer. Both men felt optimistic.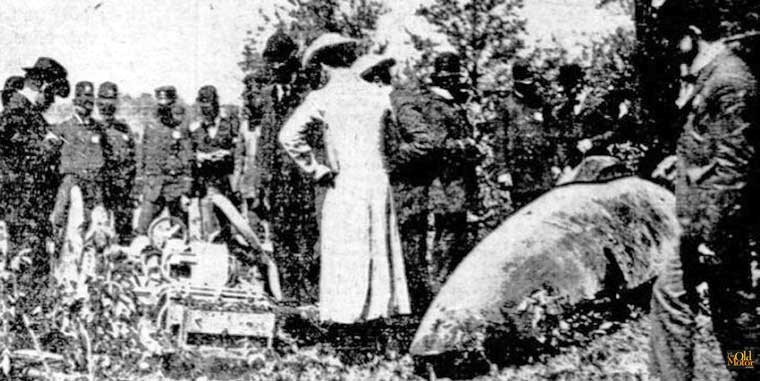 Long Island crash ripped body off chassis, killed one spectator and knocked two people over. Unhurt, Walter Baker and his co-pilot were immediately arrested but were let go because crowds hadn't respected barriers.
Baker knew the Torpedo couldn't compete in the mile trials, because his batteries wouldn't last that long. So he concentrated on the kilometer mark instead. Baker and Denzer covered the kilometer in 36 seconds, running about 70 mph, and they were still accelerating when Baker lost control crossing some trolley tracks. His steering went limp and, as Denzer yanked on the brake lever, the car careened off the road and smashed into the crowd.
Two spectators were knocked flat and one was not injured. A third had his chest gashed open by the Torpedo's spoked wheels and died instantly, another died later. The car spun around 180 degrees, shed its body, then stopped. Baker and Denzer stepped out of their seats unscathed and were immediately arrested for manslaughter. But the police quickly released them again, because the crowd had crossed protective barricades.
Despite the accident, Baker had set a new record for the flying kilometer, albeit unofficially. The Torpedo beat Jenatzy's WLSR by about 5 mph, and at that speed, aerodynamics definitely played a role. But due to the accident, the Torpedo's kilometer mark didn't enter any record books.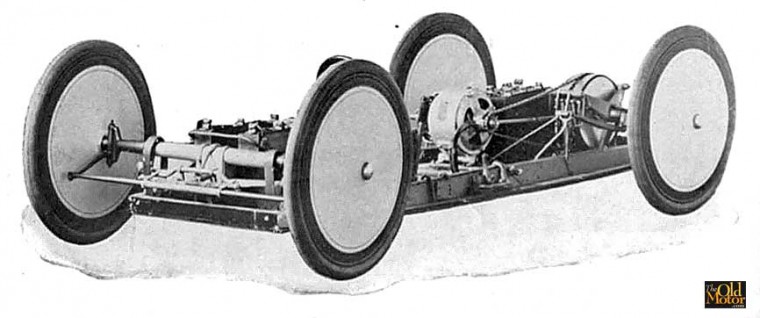 Chassis details of one of the two Torpedo Kid racing cars, "Motor Age" September, 1903. 
Walter Baker decided to rebuild the Torpedo. He raced it several times in 1902 and '03. He also constructed two smaller, lighter racers, both called Torpedo Kid. These were single seaters and again stood waist high. They were nicely streamlined, deeply underslung and used 1 1/2 -horse motors from Baker Electric passenger cars. In Oct. 1902, in Cleveland and Detroit, Walter Baker supposedly drove one Torpedo Kid to record speeds, but these also didn't show up in any books, so the actual figures remain uncertain.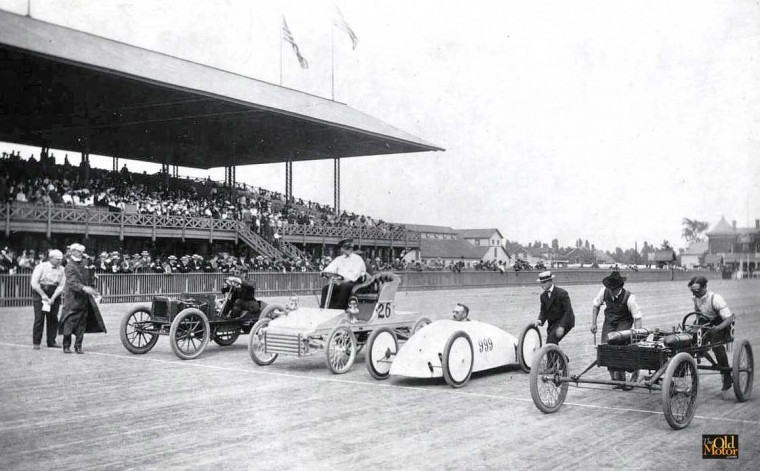 Baker built two more electric racers, called Torpedo Kids. One Kid is shown here in 1903 at a race in Clevland, OH involving various types of cars.
Then, in August 1903, Baker entered both Kids in a special event for electric cars at the Glenville circuit near Cleveland. His co-driver, a man named Chisholm, started on the pole and was doing fine until he got sideswiped by a Waverly Electric. Chisholm crashed and knocked down four spectators. No one was badly hurt, but Walter Baker, who'd been driving the second Kid, decided it was time to hang up his goggles and stop running into people.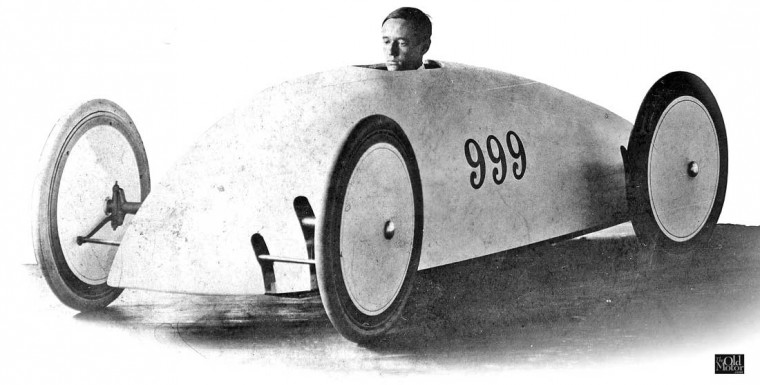 Kid stood taller than original Torpedo, was smaller and used a less powerful engine from one of Baker's passenger cars.
Baker briefly nursed a dream of setting a new WLSR at Ormond Beach, Florida, and stated to the press that one of his Torpedo Kids could easily run 120 mph. He admitted, though, that he wasn't brave enough to drive the car that fast, and considering the tire technology of 1903, he was probably wise.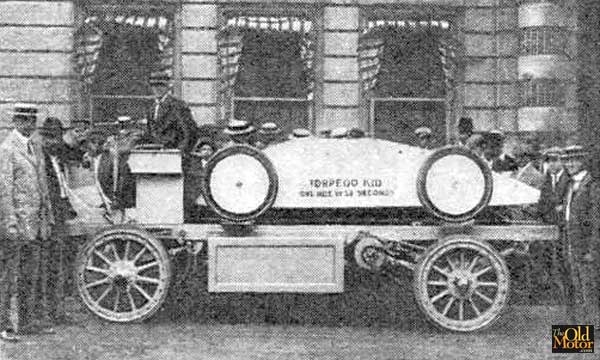 One of the two Torpedo Kids on a Baker Electric truck, "Horseless Age" August, 1903. 
In 1914-15, Walter Baker took over the R.M. Owen Co., maker of the Owen Magnetic, and merged his own auto firm with another producer of electric cars, Rausch & Lang. Soon afterward, he retired and devoted himself to his two principal hobbies: ham radio and piloting airplanes. He passed away in 1955. Michael Lamm © 2015.