Updated – Middleweight Boxing Champion Stanley Ketchel and his agent Britt Willis are seen here being photographed in a 1907 or 1908 American Underslung 40 h.p. model roadster. The machine was offered in 1907 on a short 106-inch w.b. and in 1908 on a longer 116-inch chassis. The location was in front of the Dana Photography Studio in San Francisco, CA, and the image was taken in 1908.
Update – Between the two lower images.
It appears that when driving Ketchel liked to be seen and heard because the car is fitted with a large horn on top of the cowl. In addition, on the drivers side below the cowl can be seen an added whistle that is piped to operate with gases from the exhaust system. The scorched paint on the side of the hood suggests that it has suffered from an under hood carburetor fire. The two enlargeable images below show the car in great detail. You can view many more underslung cars of all types here. 
The photo is from a glass plate negative and is courtesy of Shorpy. It was part of the collection of George Whitney Jr., owner of the famous San Francisco eatery, the Cliff House restaurant between 1937 and 1977.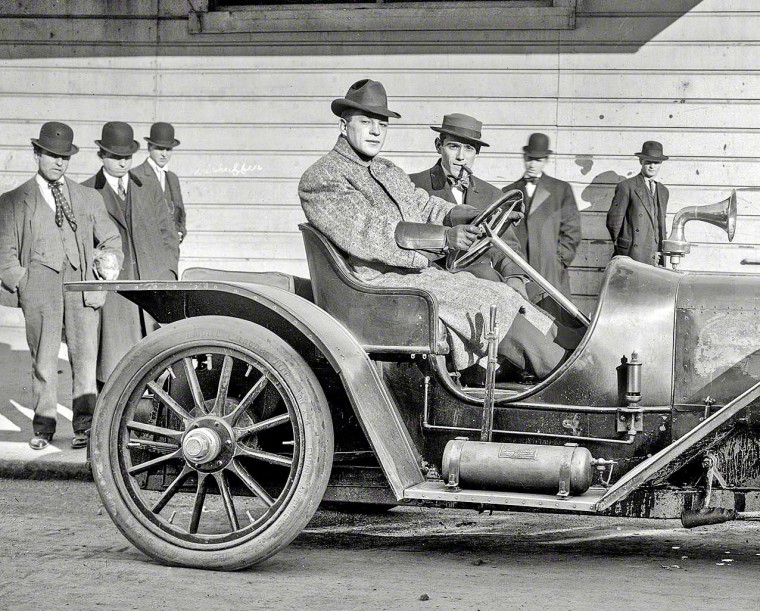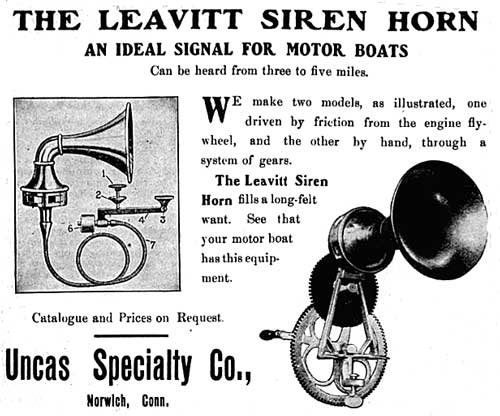 Update – Reader Jeff Harper asked if the horn on top of the American cowl was an electric horn or possibly a siren. Ariejan Bos sent in a couple of advertisements that lead us in the right direction to find the Leavitt Siren Horn, pictured (above) that was found in the Auto Trade Journal July 1906, issue. It appears to be an earlier version of the unit on Ketchel's car.  The design originated in France.