Editors note: Today's post is a look back to
By Hampton C. Wayt: In the mid-1960s, if you were a young boy or girl interested in becoming a car designer at General Motors, you might have written to them asking for some information on career opportunities. And if you did so, you might well have received a promotional slide set housed in a blue cardstock cover in reply. Embossed with the General Motors Styling Section symbol, the set consists of twelve different images of GM Styling's facilities at the corporation's Warren, Michigan Tech Center campus—each image individually captioned on the paper mount.
The lead photo shows the General Motors Technical Center in Warren Michigan, it covers an area of 335 acres with 16 staff buildings placed in a campus-like setting of water, trees and lawns.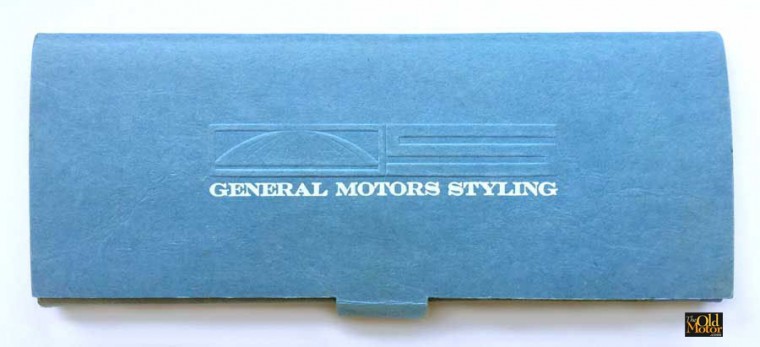 General Motors Styling Section promotional slide set.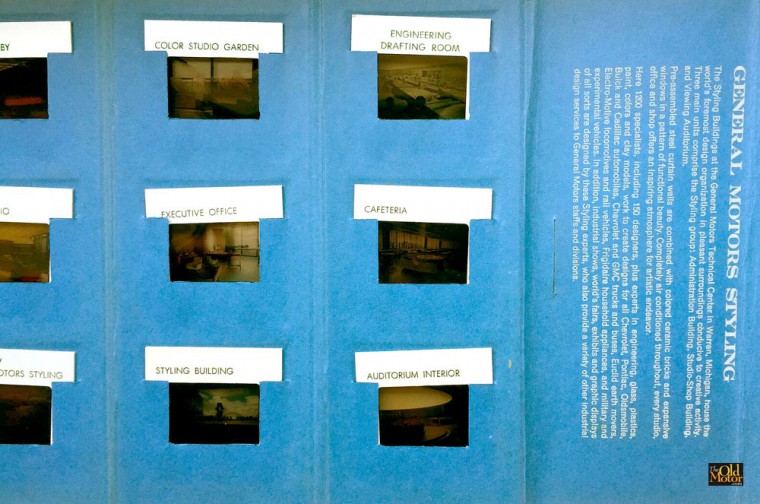 Some of the contents of the General Motors Styling Section promotional slide set.
Examining the contents closely, it is fascinating to note the imagery and messages the set contains. The majority focus on the Styling division's buildings, rather than to aspects of the design process. From Bill Mitchell's (formerly Harley Earl's) executive office replete with scale models of the first three Firebirds, all the way to the cafeteria with its "superlative industrial cuisine," the scenes were chosen to present Styling as "an inspiring atmosphere for artistic endeavor," as the accompanying text states.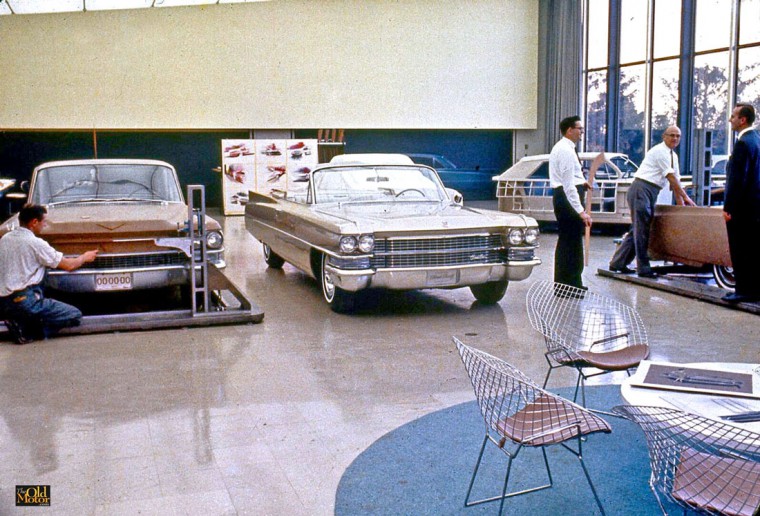 Separate studios are maintained by the Styling Staff for each car division client. Plastic light panels cover the entire ceiling for proper indoor lighting. Cadillac studio image centers on a '63 convertible.
Naturally, a trip through GM styling would not be complete without some cars. A photograph of the Cadillac studio centers on a '63 convertible surrounded by drawings, full size clay models and Harry Bertoia "Diamond" chairs fabricated by Knoll. Future VP of Styling Chuck Jordan can be seen on the far right speaking with a couple of designers, while on the left a sculptor works on a facelift design. Can any of our readers identify these individuals?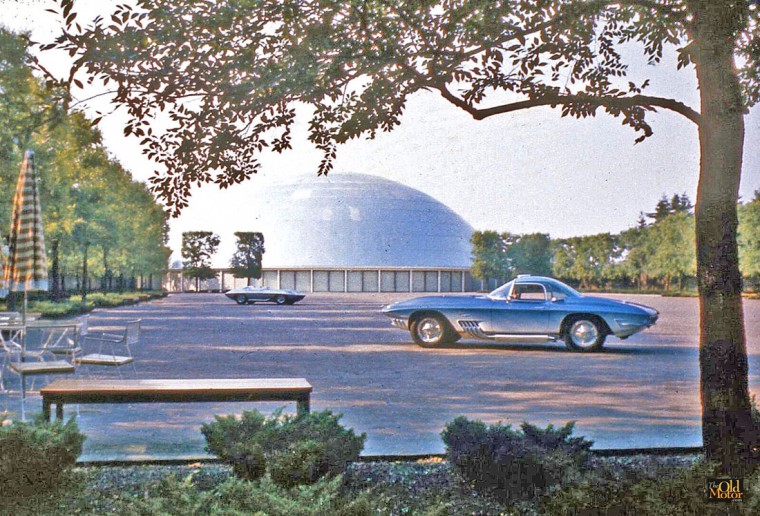 Adjacent to the Styling Auditorium, enclosed by a high brick wall and a border of tall trees for privacy, is an outdoor viewing yard where advance designs can be evaluated in natural daylight.
Other images feature some well-known concept cars. The "outdoor viewing yard" places both the Corvette Stingray racer and Shark prototypes in front of the Styling Auditorium's stately dome. Inside the auditorium itself is one of the 1954 Oldsmobile F88 show cars in red (as opposed to its better-known gold incarnation).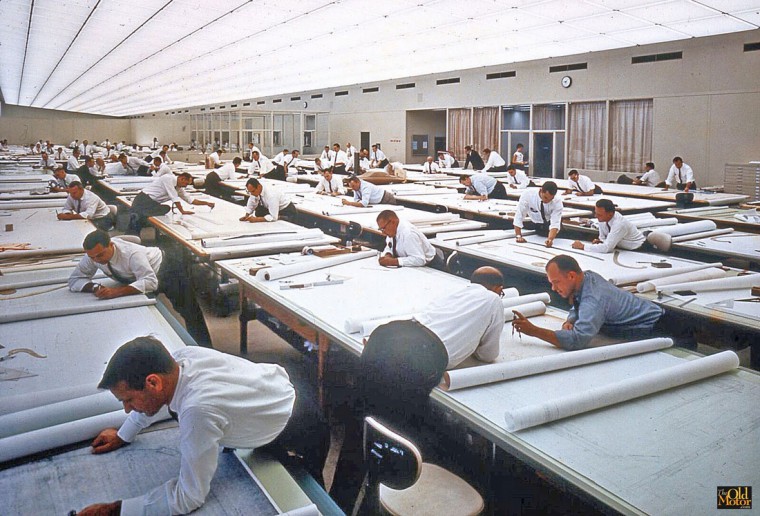 Finished designs are recorded on paper in the Styling Staff's Engineering Drafting Department by highly-skilled surface development experts, who carefully prepare precise full-size drawings.
The original text from the inside of the cover for the General Motors Styling Section promotional slide set follows:
"The Styling Buildings at the General Motors Technical Center in Warren, Michigan, house the world's foremost design organization in pleasant surroundings conducive to creative activity. Three main units comprise the Styling group: Administration Building, Studio-Shop Building, and Viewing Auditorium."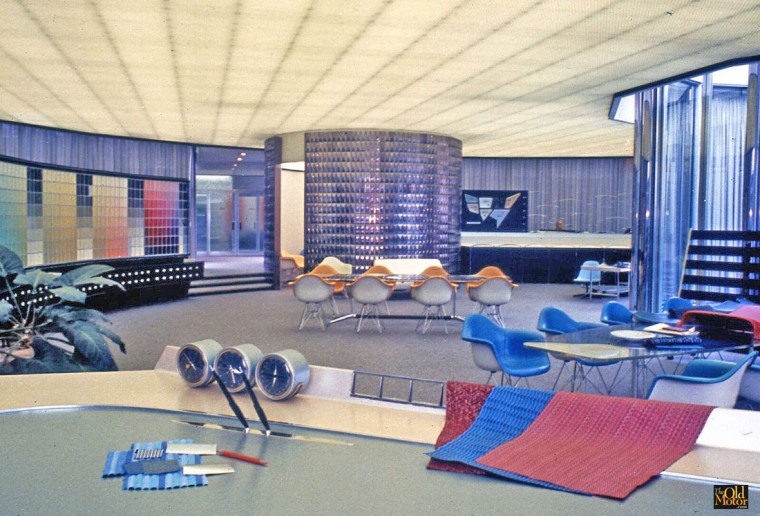 The Styling Color Studio is surrounded by floor-to-ceiling windows for optimum light balance. Designers select colors from 4,000 choices displayed at left.
"Pre-assembled steel curtain walls are combined with colored ceramic bricks and expansive windows in a pattern of functional beauty. Completely air-conditioned throughout, every studio, office and shop offers an inspiring atmosphere for artistic endeavor."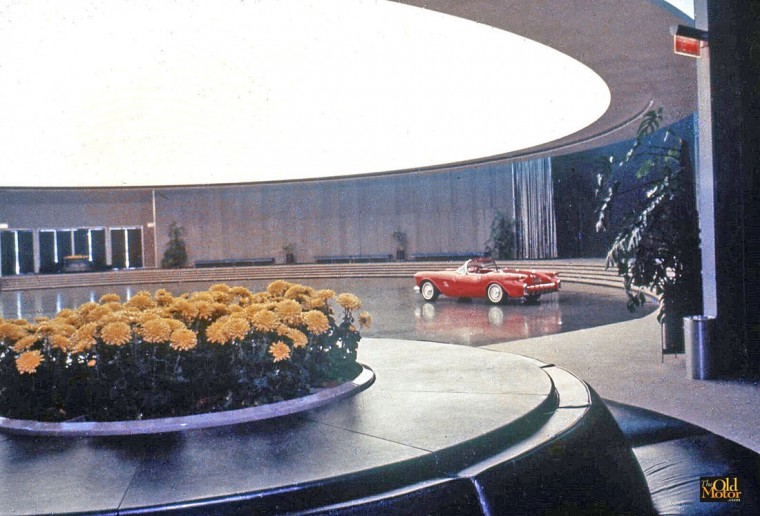 The interior of the Styling Auditorium has a viewing dais around the main floor. A self-supporting roof structure eliminates all pillars, posts and other viewing obstructions.
"Here, 1200 specialists, including 150 designers, plus experts in engineering, glass, plastics, paint, colors, and clay models, work to create designs for all Chevrolet, Pontiac, Oldsmobile, Buick and Cadillac automobiles. Chevrolet and GMC trucks and buses, Euclid earth movers, Electo-Motive locomotives and rail vehicles, Frigidaire household appliances, and military and experimental vehicles. In addition, industrial shows, World's Fairs, exhibits and graphic displays of all sorts are designed by these Styling experts, who also provide a variety of other industrial design services to General Motors staff and divisions."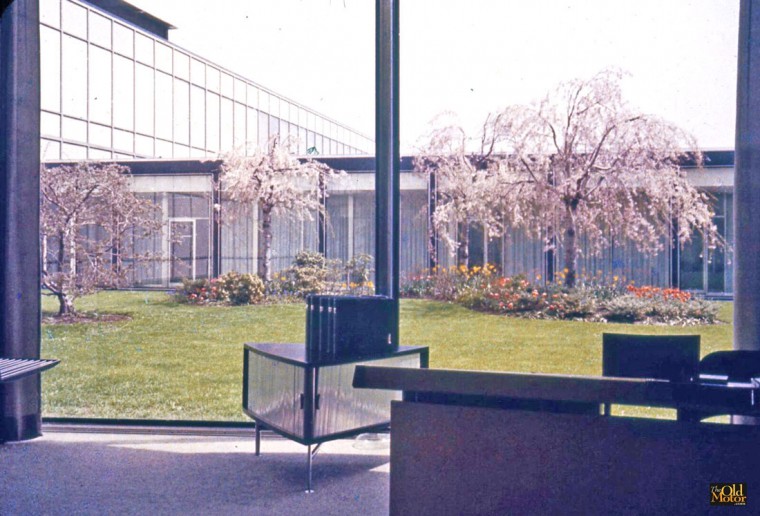 Surrounding the Styling Color Studio is an outdoor roof garden. Artificial heat warms the soil and melts snow in the wintertime.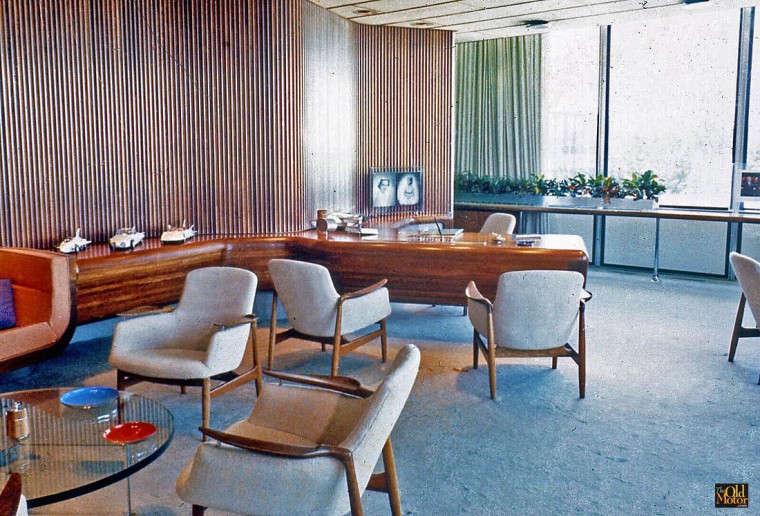 The office of the Styling Vice President has fluted cherry wood walls capped with aluminum. Recessed ceiling lights are clustered over work and conference areas.
So, what do you think? Do the images live up to the promotional hype of the descriptions and captions, which you have read? Would they have "inspired" you to pursue your dream of becoming a car designer? Let us know your thoughts.
Editor's note: I am pleased to welcome Hampton C. Wayt to the pages of The Old Motor. Hampton has been working in the automotive history field full-time for 15 years and has personally met a large number of automobile designers and viewed their collections. He has co-curated an automotive design art exhibit with Leslie Kendall at the Petersen Automotive Museum called "Driving Through Futures Past." He is a highly-trained historian with a master's degree in design history from the Bard Graduate Center in New York City.
We look forward to learning more about the design process and streamlining from its start in the early 1900s and on through the fifties with him.