Updated – We have not had an early mystery car for a while now, and this one fits the bill perfectly. This little coupe-roadster with a landaulet-like top oddly has side curtains instead of fully padded sides that are usually seen with this type of a roof. It is likely that the windshield and side windows are removable.
We will give you only one clue, the photo was taken in California. Tell us the make, model and if possible the name that was given to this model if possible.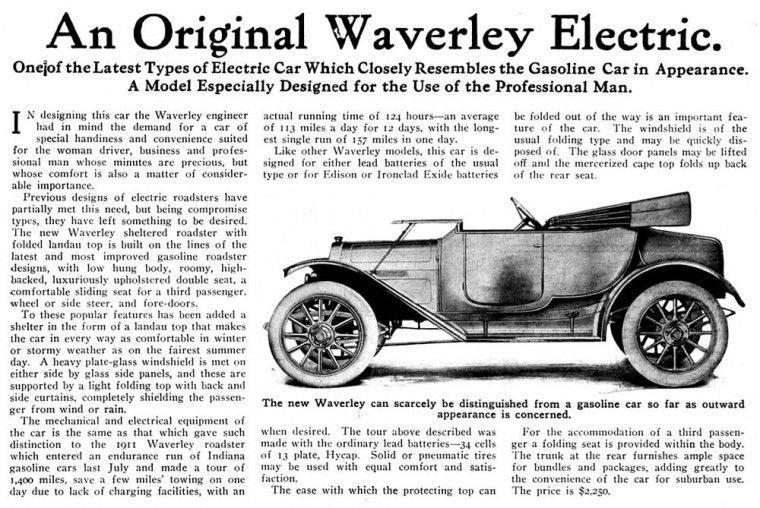 The "Motor" Magazine September 1912 advertisement of the "Sheltered Roadster."
Update – This mystery car is a Waverly Electric model 90, and the coachwork was named the "Sheltered Roadster." We knew this would be a tough one to identify for readers because despite its appearance it is not gasoline powered, but is an electric.
There was only one correct answer and it came from Ariejan Bos, who had this to say about it: This is an electric car in its ultimate disguise. The Horseless Age reported about this car on Jan 10, 1912, that ".. the Waverley has a model built to resemble a gasoline car so closely that even an imitation radiator mouthpiece is found on the forward part of the car." And besides on the earliest models a "gasoline tank" was mounted (like on this car), but in all advertisements I could find it already had disappeared again.
Layden Butler also noted: "Could the fact that there is no crankcase, flywheel or transmission hanging below the frame be a clue that is an electric?"