Updated – By Hampton C. Wayt: As someone who specializes in factory design artwork, I have heard many stories over the years of car drawings decorating the walls of car dealerships. These stories are usually given to me as a kind of "provenance" explaining the origin of an original drawing I am being shown, and the basic theme is always the same. The guy who owned the artwork, they say, had a car dealership and was friends with Harley Earl. While visiting Detroit (or Detroit visiting him), he was given the piece, and it hung in his office until he retired.
Update at the bottom of the article.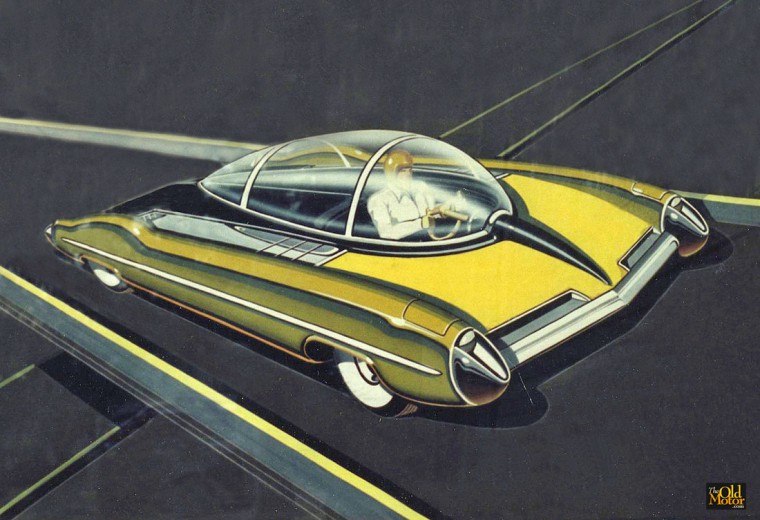 This factory design rendering seen in the vintage photo (below) survives in a private collection.
Although the details of these stories are often clearly incorrect (Harley Earl could not have had so many friends), there is little doubt that the basic premise of these accounts is likely true.   Until recently, however, I have never been able to prove a single case. Then came the following two photographs.
Found among many images from the archives of noted car designer William M. (Bill) Schmidt are these photographs of a Lincoln dealership in the early 1950s. Decorating the walls of what appears to be the service department is a whole host of fantastic factory styling renderings. In fact, very few of this level of quality of drawings survive today—although, by coincidence, I do know the whereabouts of one of these specific pieces.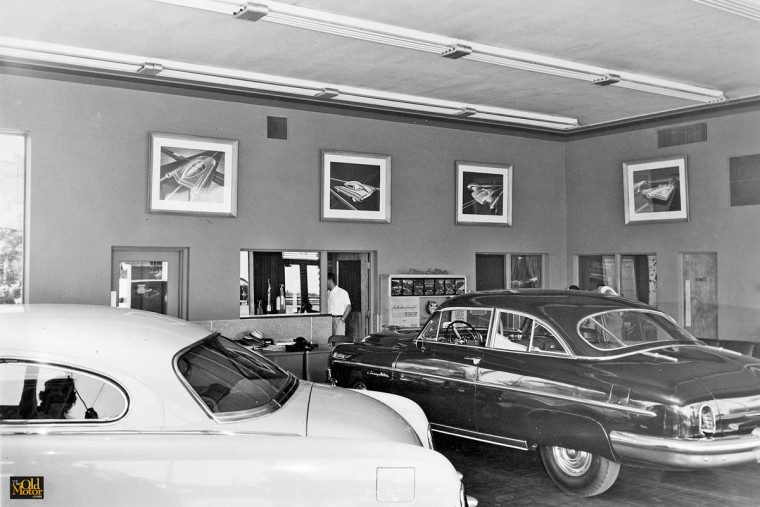 Futuristic auto design artwork decorates this unnamed Lincoln dealership in the early 1950s. Photographs are from the archives of noted car designer William L. (Bill) Schmidt of Lincoln Futura fame.
Unfortunately, Schmidt did not leave any record of what dealership this is, or even who created the artwork (which, we can assume, must include his own work). Can any Old Motor readers identify the location? And do any of you know the whereabouts or names of the artists of the pieces? If so, please let us know.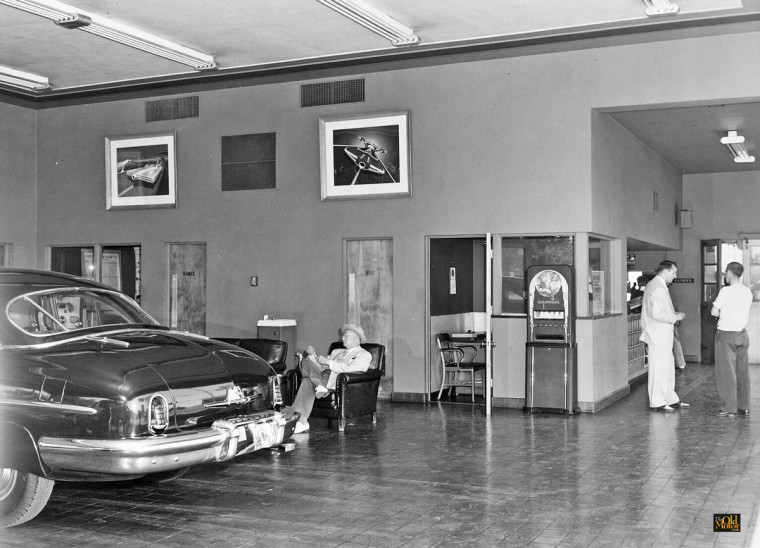 The names of the artist of these amazing renderings are not recorded.
Update – Sharp-eyed reader Ace Zenek has spotted what he thought might be the name of the dealership owner on top of the Mercury cabinet (enlarged below) in front of the dark-colored Lincoln Cosmopolitan. A likely possibility is that it reads: "Merc O Matic" and refers to the automatic transmission as a couple of readers have mentioned, which also sounds logical. What do you readers think?