The 1935 "Evans' Auto-Railer" was designed by the Evans Products Company of Plymouth, Michigan. The Company was headed by Edward S. Evans, who was a contemporary of William B. Stout. Evans' manufactured parts and equipment for: the automotive, railway,  freight, and aircraft industries. The company designed, patented and produced a number of products used for shipping new cars by rail, and according to Stout, built the first retractable landing gear used on an airplane.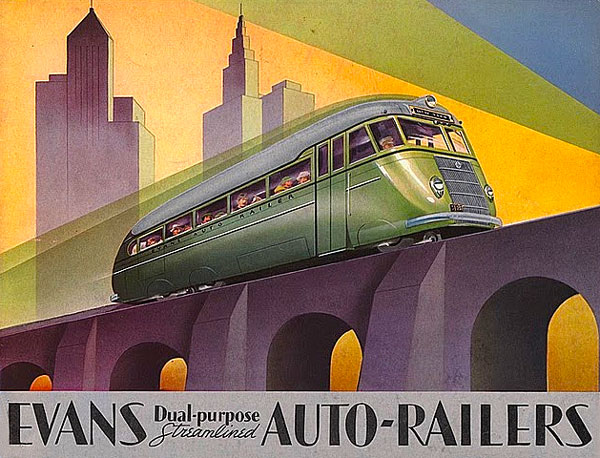 Advertisement from an August 1936 issue of "Life Magazine"
The "Auto-Railer" was designed for commuters to take advantage of both the use of roads and the rail. Shorpy, the source of the lead photo found an article in a Washington D.C. area newspaper dated June 26, 1935, that tells of the Evans Products Company negotiating to buy the Washington, Baltimore & Annapolis Railway. Evans' was planning "To operate 100 passenger and freight units between Washington, Baltimore and Annapolis."
The video is a part of the Chevrolet Leader News (Vol. 1, No. 2) from the Prelinger Archives. It demonstrates the "Auto-Railer" in use on the road and rail. The photo is from the Harris & Ewing Collection.