Dr. Hubert Eaton was a man of vision, in 1912 took over the management of Forest Lawn Cemetery in Glendale, CA. Five years later he changed it from being just a memorial to the deceased and began to turn it into a park-like atmosphere called the Forest Lawn Memorial–Park. His idea was a success that led to opening three more in the greater Los Angeles area.
Eaton, being a very successful businessman was able to see things differently, and when it came to selecting a traveling vehicle both for work and pleasure, he choose something sensational. Eaton had a custom built Reo tractor constructed by the Standard Carriage Works of Los Angeles that was reminiscent of the "Zephyr Land-Yacht" tractor designed by Brooks Stevens two years earlier. This tractor pulled a top of the line Curtiss Aerocar.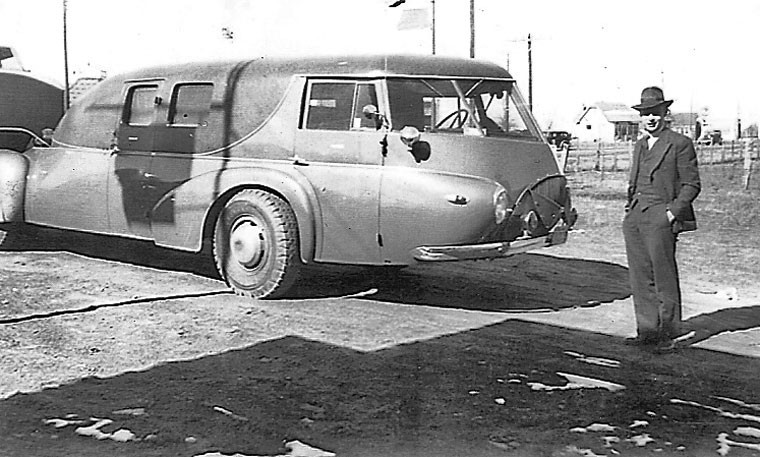 A second verion of the tractor that apparently was built for Augustus Post.
The tractor that Standard built was a sleek and aerodynamic modern cab forward design that has been reported to be designed by Harold H. Robinson. It was powered by a White flat-12 bus engine that was replaced after over a quarter of a million miles by a Cummins diesel. It is equipped with an onboard generator to power the trailer and living quarters for the driver.
The Aerocar has fitted with a deluxe cupola that Curtiss had been building for a few years that allows passengers a commanding view of the road. It features: intercom for communicating with the driver, rear view mirrors, windshield wipers, a speedometer and a compass. The Aerocar was named the "Vagabond" by Eaton and is equipped with: air conditioning, restroom, kitchen and can sleep six.
This unique combination was used by Forest Lawn until 1991, and is in the Peterson Museum collection in Los Angeles where you can view more images of the rig. All photos are courtesy of the Peterson.