Frank Lloyd Wright was acknowledged as "the greatest American architect of all time" by the American Institute of Architects in 1991, 32-years after he died in 1959. In 1958, he designed the advanced "Road Machine" that is the object of this post.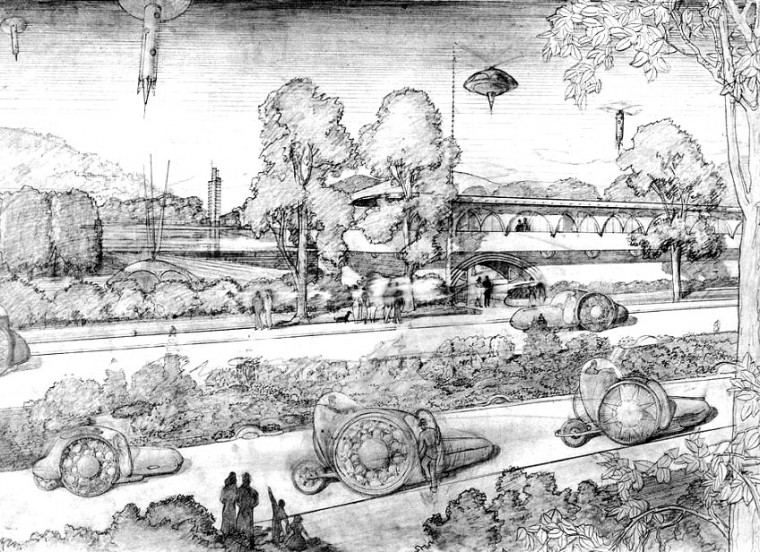 The 6-foot "Great Wheels" as Wright described them were mounted in the center of the car on the drive axle. The rear wheel was used to steer the vehicle by the operator with an old-fashioned tiller. The front wheel was a round ball in a socket that stabilized the vehicle. The engine and drive mechanism was just behind the center axle. The taxi cab version of the machine was larger, and the driver sat above it under a bubble window. The passengers sat in a separate compartment much like that used for the car version.
Noted automotive author Ralph Stein wrote an article titled "Mr. Wright's Wonderful Automobile" about the car in an issue of the United Newspapers Magazine in 1959 titled "Experimental Automobiles." The lead drawing in this post appeared in it. Highway scene in Broadacre City, Wright's design (above) for utopian urban and suburban developments.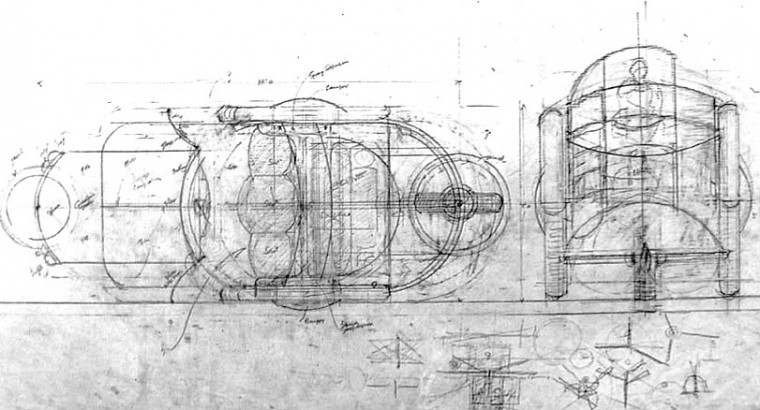 Frank Lloyd Wright's original front and plan view of the Taxi version of the "Road Machine."
Broadacre City was Wright's design for the utopian urban or suburban developments he first proposed in 1932, and continued work on until he died. The "Road Machine" would only be able to be used on the level roads and streets in Wright's proposed communities.

Drawings from Ralph Stein's "United Newspapers Magazine" article show that the futuristic machine could not operate on uneven terrain. The left drawing shows how the steering would not work if the rear wheel was off the ground. The right-hand drawing demonstrates how the vehicle could not be driven with the center wheels in the air – it could also tip over sideways.