Updated – This set of press photos was taken for the Austin Los Angeles Co. Ltd. with "Happy" Moore, a 500-pound man posing with the little American Austin car. The location was next to the Warner Brothers Theatre in Los Angeles, CA. This may have been a promotion involving Warner Brothers, and the Austin distributor – it was a common arrangement at the time as a way to sell cars.
Count Alexis de Sakhnoffsky of the Hayes Body Works, in Grand Rapids, MI, designed the coachwork for the cars, and the bodies were produced by Hayes. The chassis has a short 75-inch w.b. and is powered by 4-cylinder 45.6 c.i. engine with a 2.2 by 3 inches bore and stroke. Top speed was 47 miles per hour.
A brief search was not able to turn up anything about "Happy" Moore. You can learn the complete American Austin Bantam Story in a four-part series by Robert D. Cunningham here on The Old Motor. 
The images are courtesy of USC Libraries.
Updates – Thanks to Robert D. Cunningham (below) we now know more about "Happy" Moore. Thanks to David Berry we have included a humous and colorized scene of Laurel & Hardy in "Our Wife" (1931) at the bottom of the post. It includes the trio cramming themselves into an American Austin Sedan.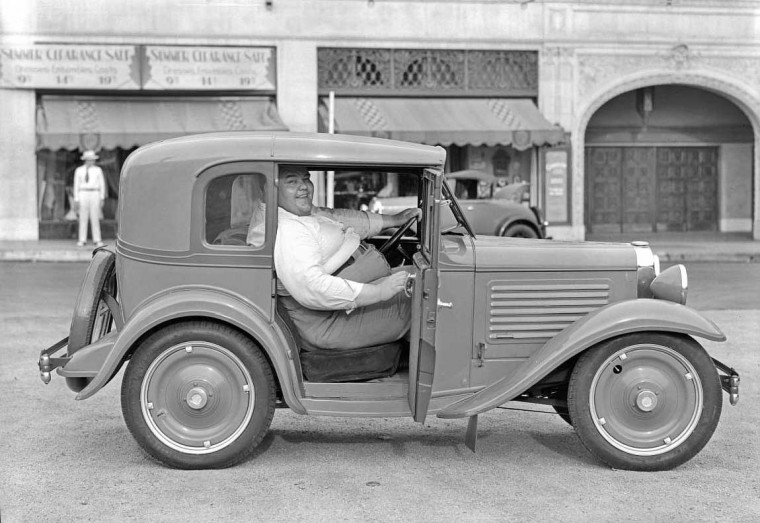 Part of Robert D. Cunningham's comment covering Moore: "It's doubtful that "Happy" Moore purchased one of the Austins, since he could barely squeeze in. His 500-pound weight would have topped the car's quarter-ton capacity. Moore was an aspiring comic whose star never rose as high as Jolson's or Keaton's."
"When the U.S. entered World War II, his draft card was marked "4F" and he was declared unfit for active service. Undeterred, he teamed up with 36-inch-tall "Stormy" Bergh and other "unfit" entertainers to entertain Allied troupes in Camp Show's Middle East Circuit. Their traveling production of Melody in 4F helped put smiles on the faces of exhausted servicemen at the far corners of the globe."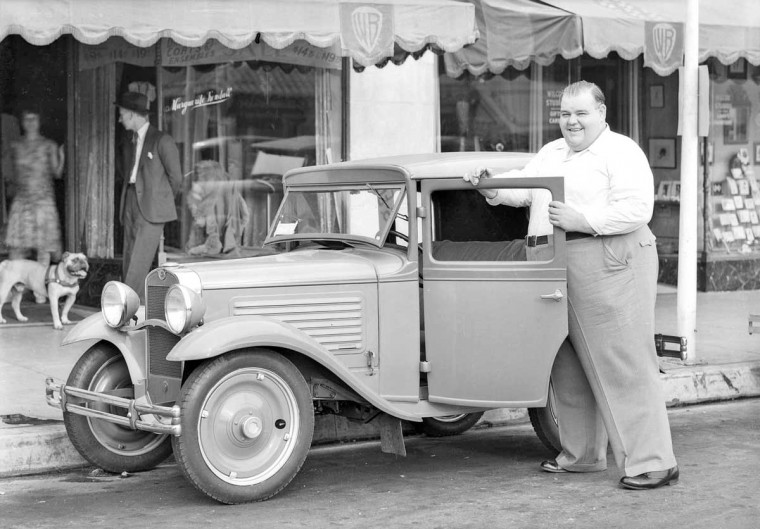 Laurel & Hardy in a colorized version of "Our Wife" (1931).