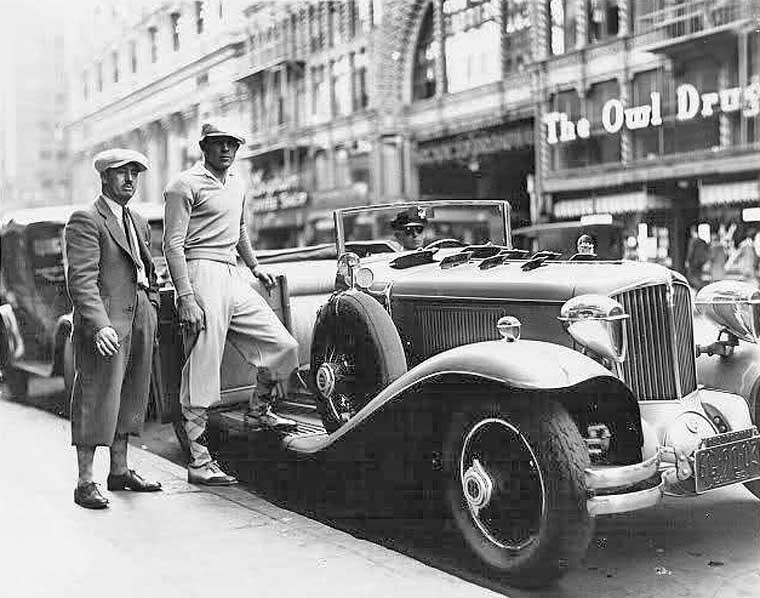 Updated – After the recent post: Customized Cord Sportsman Sells Postwar Used Cars showing a Cord at Omar Motors, this image of an L29 Cord was found thanks to reader Keith Sparks. The location where the photo was taken is not known, but the sleek machine is wearing a California license plate and may have been in Los Angeles.
In front of the standard cowl vents are three smaller sets that have been added on each side of the hood. If this was in LA, the additions might have been needed to help with cooling the straight-eight engine, as the small grille in front of the L29 radiator might have caused to overheating problems in traffic. A set of Woodlite head and parking lights have also been added.
The gentleman entering the Cord looks like he may have been either an athlete or a movie star, can anyone tell us who he is? Learn more about Woodlites here and the L29 Cord here.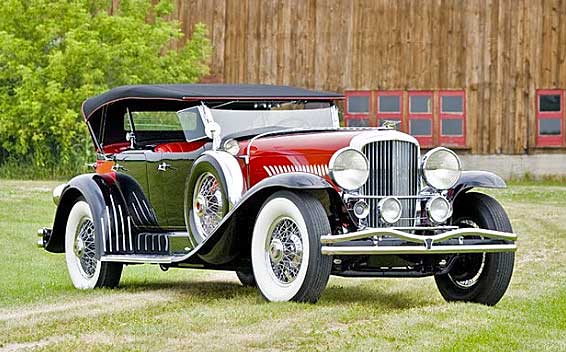 Update – Reader Robbie Marenzi was able to identify the dapper young man in the photo as being boxer Max Baer, to his left is Hamilton Lorimer, his manager at the time. He turned pro in 1929 and won the World Heavyweight Championship in 1934. The Cord apparently was parked in front of the Manhattan Gym on Spring St. The photo was likely taken between 1930 and '32.
Robbie also mentioned Baer's 1932 Duesenberg Model "J" LeBaron Sweep-Panel Dual Cowl Phaeton that has survived. It was also owned by theatrical showman and lyricist William "Billy" Rose, and later was a part of the late Rick Carroll's collection.