By Hampton C. Wayt:  Absent from the list of Gordon Buehrig's many masterpieces of automotive design is his 1948 Tasco. The designer, himself, referred to the prototype car as his "personal Edsel," and although intriguing, it does seem a bit out of place next to the many beautiful automobiles he is credited with. Perhaps it is for this reason that we must wonder how the designer even devised something resembling the Tasco to begin with?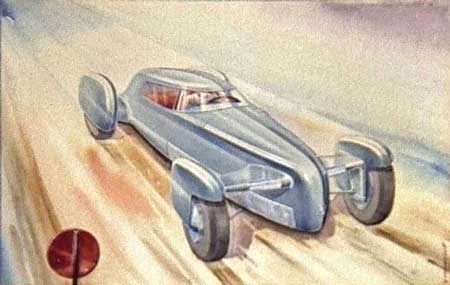 This very same Hodgman drawing likely set the design pace for Buehrig's Tasco. Taken in the late 1960s, this photograph is the only known color image of the original artwork, which is not believed to have survived.
Many years ago, designer Tucker Madawick formed a theory on that very subject. Madawick, who had been one of a team of designers who completed the Tucker '48's styling after Alex Tremulis was released from the project (Tremulis was later rehired), could not help but notice that in many ways the Tasco's looks seemed derivative of the original Tucker "Torpedo," designed by George S. Lawson. A photo comparison of the two cars, published by Madawick, reveals that both vehicles feature an overall boat shape with fully skirted cycle fenders, chrome vertical front bar, and a wrap-around backlight. The Tasco's famed "T-Tops" also reflect the Torpedo's high-cutting door line. Add in the fact that Buehrig patented the Tasco's design in November of 1946—nearly a year after the Torpedo first appeared in publications—and the similarities do support the idea that the Tasco owed some or much of its inspiration to Lawson's Tucker.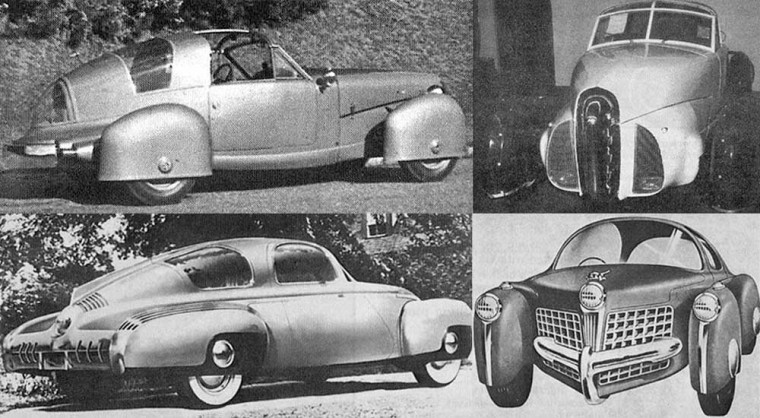 Tucker '48 designer Tucker Madawick theorized that Buehrig's Tasco was heavily influenced by the George Lawson-designed Tucker "Torpedo." Courtesy of the Studebaker Club's "Turning Wheel" magazine October 1998 issue.
Buehrig's book, Rolling Sculpture, provides few clues about the genesis of the car's appearance. The designer did, however, credit the cycle fenders not to the Torpedo, but to one of a group of drawings by Loewy designer Clare Hodgman that was published in the English magazine, Motor. Unfortunately, Buehrig's book did not include an image of the referenced Hodgman design, negating any possibility of a close look at this potentially crucial piece of the puzzle.
Curious to know if more could be learned about the Hodgman connection, I reached out to his family for help. Hodgman's daughter, Lee, was able to provide images of some of her father's drawings that must certainly be the ones Buehrig mentioned in his account. Hodgman, for his own pleasure while living in London on assignment from Raymond Loewy, had created a series of futuristic race car-inspired auto renderings—some with cycle fenders. The artwork also happened to have been printed in a well-known English magazine, The Autocar, in 1939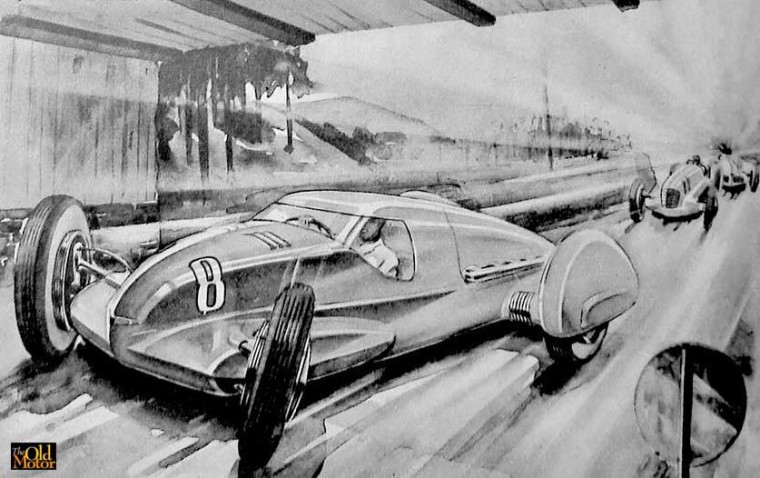 While designing the Tasco, Buehrig is believed to have referenced these very same race car-inspired Clare Hodgman design drawings (above and below) from 1938-1939. "The Autocar" June 9, 1939.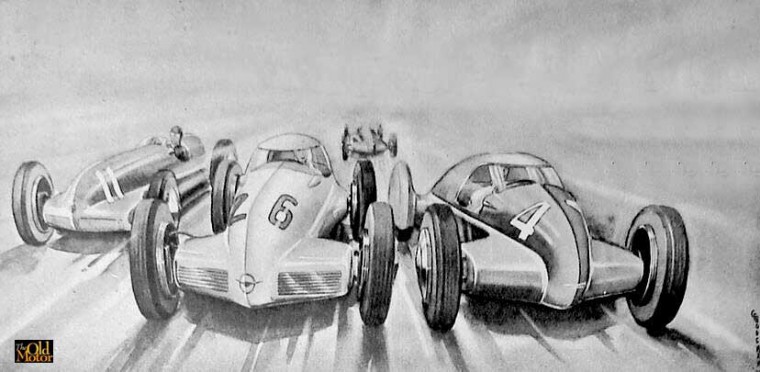 Examining these various Hodgman designs, one in particular does seem to anticipate Buehrig's car. As with the later Tasco, it features an enclosed body with a slender overall shape, (mostly) skirted cycle fenders separate from the body, as well as a sharp crease through the entire center of the car. These shared elements do suggest that Hodgman's fantasy car played a greater influence on Buehrig's Tasco than the designer acknowledged.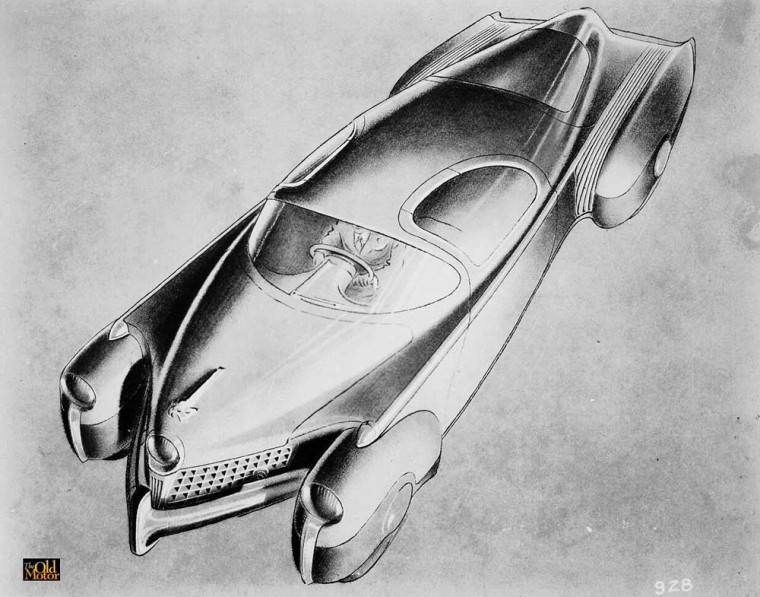 George Lawson's Tucker Torpedo first appeared in December of 1945—nearly a year before Buehrig patented his Tasco design—and was publicized consistently throughout the next year.
The Torpedo, on second glance, seems somewhat less influential than initially posited by Madawick. Still, those elements they do share seem to be more than coincidental, especially when one considers that it would have been impossible for Buehrig and his business associates to have avoided the headline-grabbing Tucker throughout 1946, the year the Tasco was being designed. So, my final estimate is one where the Tasco's design influence lies somewhere between Hodgman's race car and Lawson's Torpedo.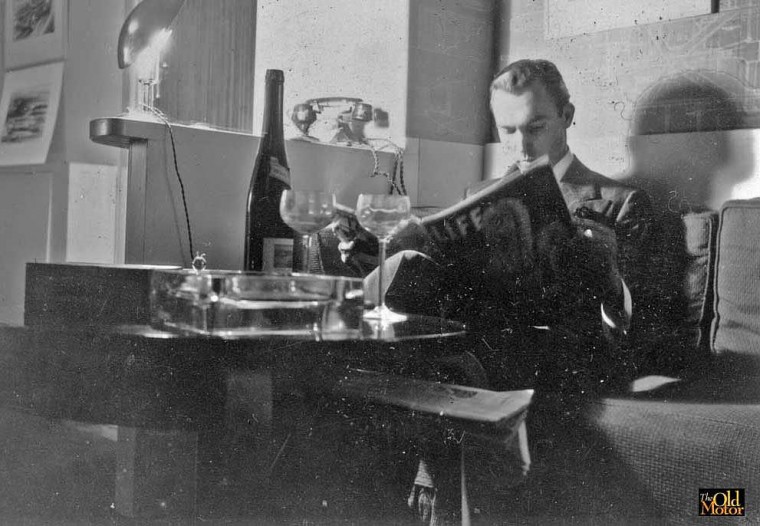 Loewy designer Clare Hodgman relaxes in his London apartment in 1938. Futuristic car renderings used as decoration can be seen on the left.
But what do your eyes tell you? Did Lawson's Tucker Torpedo influence the Tasco? And did Clare Hodgman's late-1930s fantasy race car play a more prevalent role in its styling development than credited? Or is the similarity of features common to the Tasco and the two designs in question merely a coincidence, or a natural conclusion to design problems the designer faced?
What do you think? Please let us know.