Since the early days, service and tow trucks operated by garages and sales agencies have long been a rolling billboard for such businesses. Freeman A. McKenzie's City Garage in Long Beach, California used this stylish Model TT Ford service truck to assist its customers.
The truck is equipped with a body of the type normally seen on service vehicles at the time. An unusual feature on this one was the addition of a "California Top." This type of accessory top was made coach builders and smaller companies, and many were removable for summer use. The shift lever seen next to the pedals indicates that it was fitted with a Ruckstell two-speed rear axle.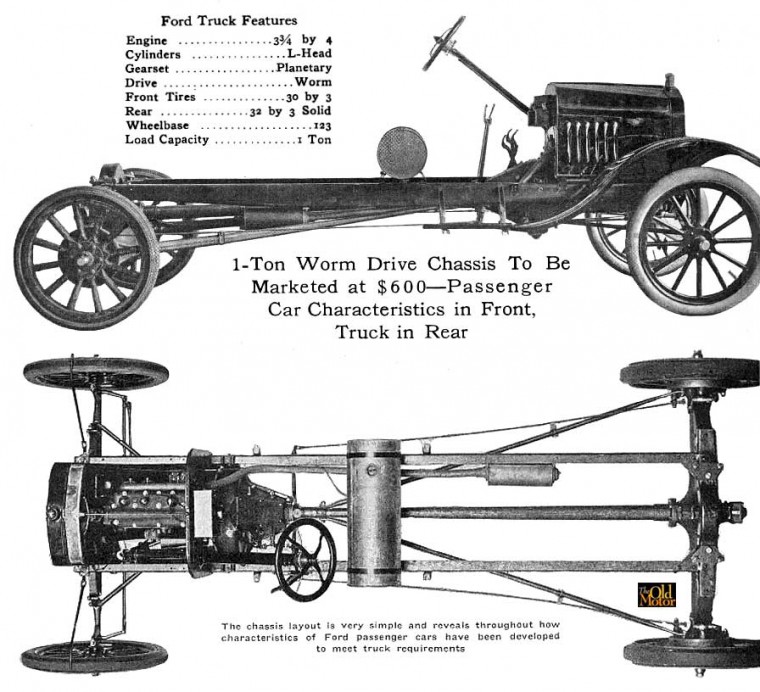 Ford "TT" chassis images from an article written by J. Edward Schipper shortly after the introduction of the truck by the Ford Motor Company – "Automotive Industries" July 26, 1917.
The earliest record found about McKenzie was a notice in the July 1906 Horseless Age stating that he was having a garage erected at 212 Locust Ave. in Long Beach. Motor Age reported on June 18, 1914, that the garage was handling the Menominee Truck that was manufactured in Wisconsin.
The next reference found pointed out that McKenzie knew the value of advertising and had hired a firm to handle it. The February 1919 issue of the Western Advertising magazine, also mentioned that City Garage Inc. had two other branches operating in Los Angeles and San Pedro. And finally Motor West reported in 1923 that Freeman A. McKenzie, Inc., Ford and Lincoln agency, was under new management.
The image is via the MTFCA and is posted by Jay on the Club's forum.
               Ruckstell two-speed axle advertisement – "Automobile Trade" Journal December 1924.