Updated – The Michael J. Semas Collection is primarily comprised of unique images of the California Central Valley that has long been an agricultural area. As soon as the motor truck was developed enough to be reliable it was put to work there. Today's feature contains four postcard images with the most interesting being the White truck in the lead image.
The White Motor Corp. started manufacturing its line of trucks in 1910 in addition to a popular line of automobiles. The unusual box chained down on the bed carries a political campaign sign for a candidate running for the County Tax Assessor position. Tell us your thoughts about this rig.
Update I – Thanks to reader Edwin Hayslip he believes the truck is a circa 1912 White five-ton model "TC."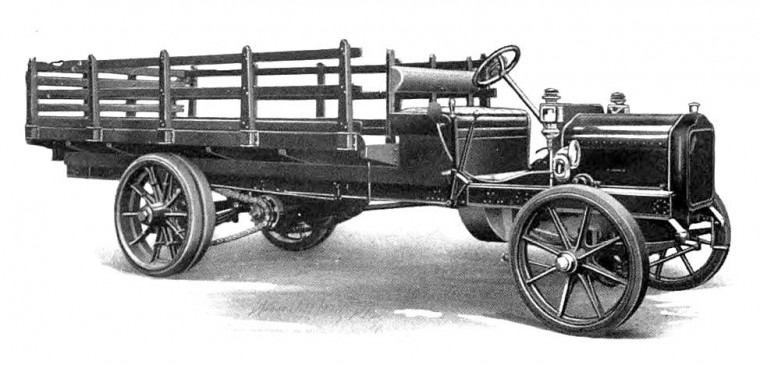 1911 White Three-Ton truck illustrated in the 1911 "Handbook of Gasoline Automobiles." 
Update III – Ariejan Bos has investigated the White truck in the lead photo further and appears to have identified it a 1911 Three-Ton model that is illustrated in the 1911 "Handbook of Gasoline Automobiles." The 1912 models used a round tubular bumper attached to the frame in front of the bottom of the radiator. The 1912 models used a U-shaped channel iron frame, with the front of the U-shape being the bumper that also protected the radiator.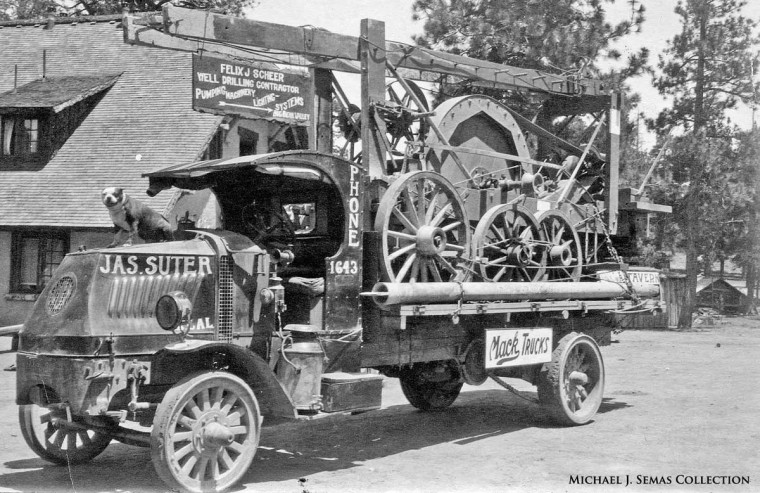 Jas. Suter's appears to have been a trucker, rigger and dog lover – note the bulldog on the hood of his Mack  truck. The location of the photo is in front of the local tavern and Felix J. Scheer's primitive well drilling rig is on the truck.
Update II – Thanks to reader Tin Indian: "See page 601 of the September 1921 issue of Oil Bulletin; Official Monthly Magazine, (google books) to see a slightly different view of the same Mack truck as seen in the second picture above. Interestingly the truck has the same load at the same location (identified as Big Bear Lake Tavern) but the Jas. Suter and other information on the cab is not there. The truck's owner is identified in the photo caption as a R.C Finley of San Bernardino County, and the well drilling rig is described as being used there. Which image is the unaltered image?"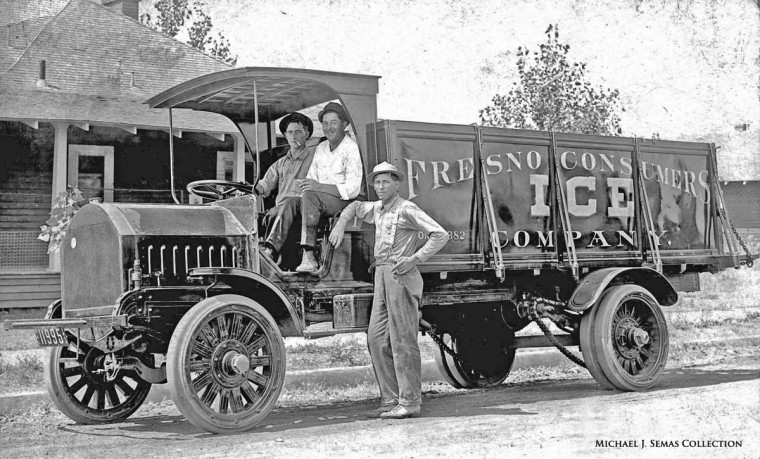 This Kissel 3 to 5 ton truck was part of the Fresno Consumers Ice Company's fleet, the license plate is dated 1914.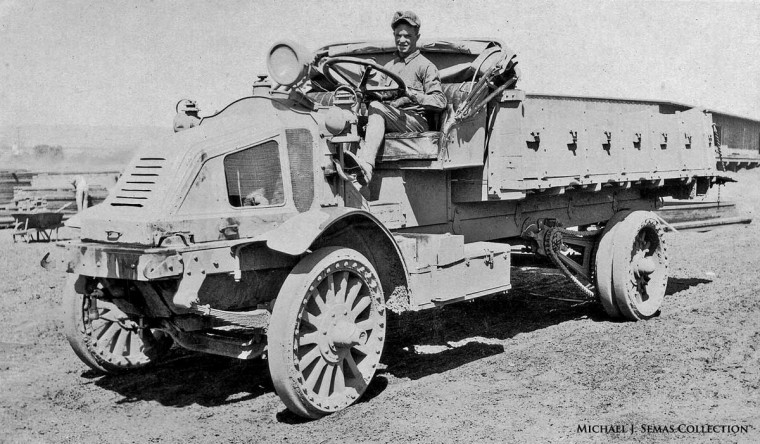 A heavy duty unit built by the Kelly-Springfield Motor Truck Co., of Springfield, Ohio.