By Jennifer Strong:  In 1930 a beautiful art deco building was built to house the showroom and offices of the Auburn Automobile Company. The company may not have survived the economic depression of the 1930s but the building still stands and is now home to the Auburn Cord Duesenberg Automobile Museum in Auburn, Indiana. A historic landmark, the building provides a wonderful backdrop for viewing a extraordinary collection of some of the finest and most attractive cars crafted in America during the twenties and thirties.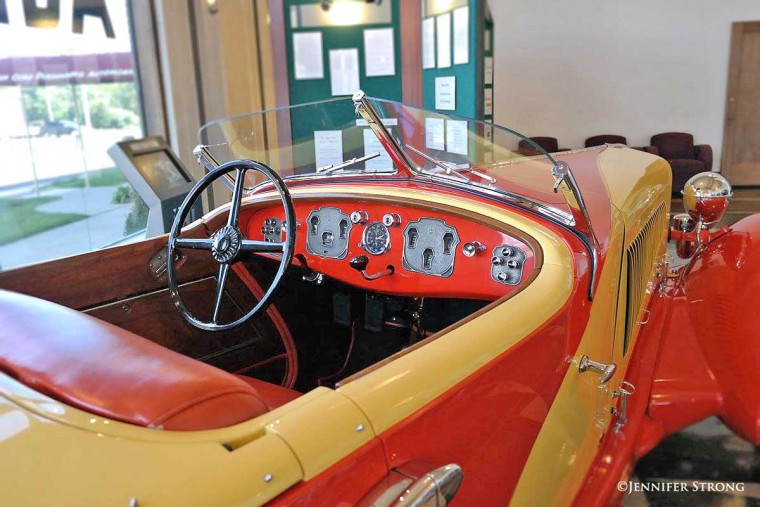 L29 Cord Speedster cockpit.
The art deco light fixtures, columns and flooring complement the curves and features of the classic era Auburns, custom Duesenbergs and the innovative Cord L-29s and 810/812s built from 1925 to '37 on display in the grand showroom. Once you can take your eyes off cars like the Duesenberg X, a rare boattail version of the mighty marque, you notice the grand staircase. Like the museum's brochure suggests, you can imagine Errett Lobban Cord bounding up the stairs to his office above.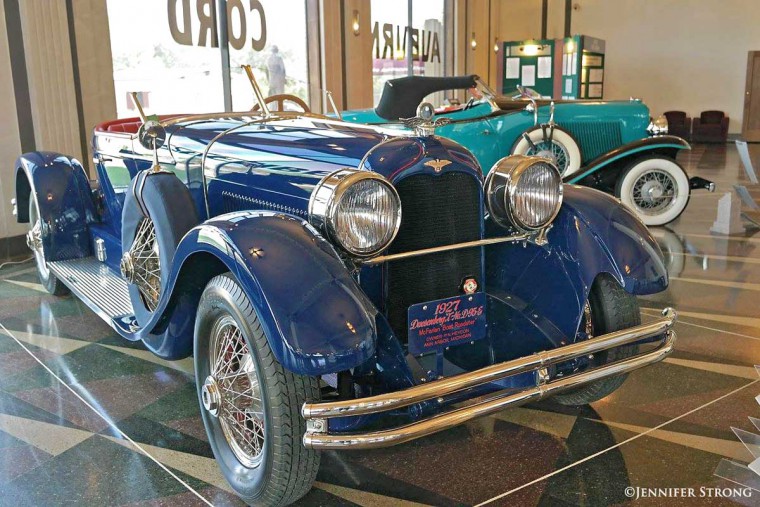 Model A Duesenberg McFarland Boattail Speedster.
Cord had a list of people allowed to use the front staircase, but it is now open to all to enjoy the carefully curated galleries upstairs. The main upstairs gallery has more Auburns, Cords, and Duesenbergs displayed with cars from their contemporary rival companies such as Ruxton, Lincoln, Packard, and Rolls Royce. Also upstairs are Auburns from 1903-'24, Gallery of Racers and Record Setters, cars manufactured in Indiana, and the Hall of Technology with lovely Duesenberg marine and aircraft engines.
Some of the many highlights upstairs include the Samuel B. Stevens Trophy Cord, Duesenberg Super-Charged Indianapolis Racing Car and the William Stout designed IMP cycle car. Also not to be missed are the recreated executive offices and the design studio with Gordon Buehrig's original model of the Cord 810 on display.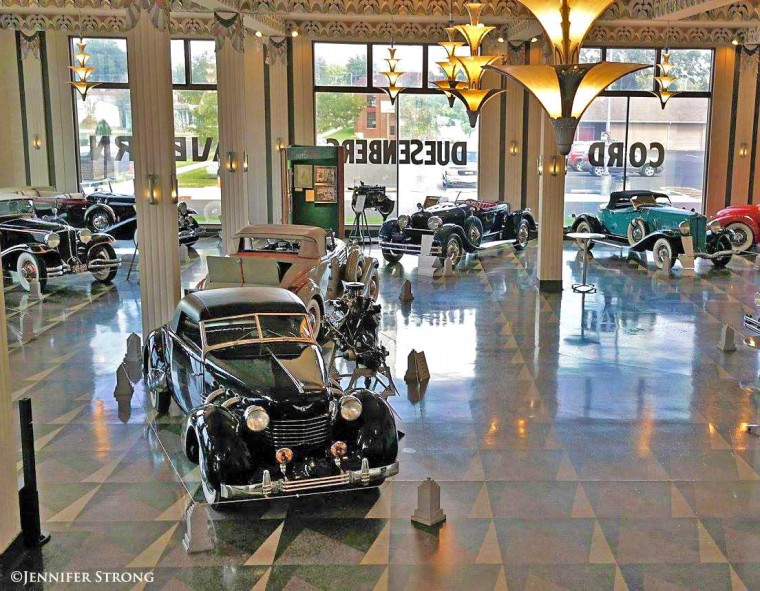 ACD Museum showroom from the grand staircase.
The attention to detail even extends outside museum. You can walk through the oldest building on the property that once housed Auburn's predecessor the Eckhart Carriage Company, take a picture with statues of Cord and Fred and Augie Duesenberg, and stage a shot of your classic car at the vintage gas station or row of period vacation cottages. The historic building, 125+ beautiful cars, expertly curated galleries and helpful staff make the museum a must see for all car enthusiasts. It is truly one of the country's great automotive destinations. Learn more at the Auburn Cord Duesenberg Museum. 
Editors Note: Jennifer Strong is a San Francisco, California based car aficionado with a great eye for interesting designs, coachwork, engineering, and vintage racing cars. View her earlier and popular article Fordite – Beauty Left Behind On The Factory Paint Line.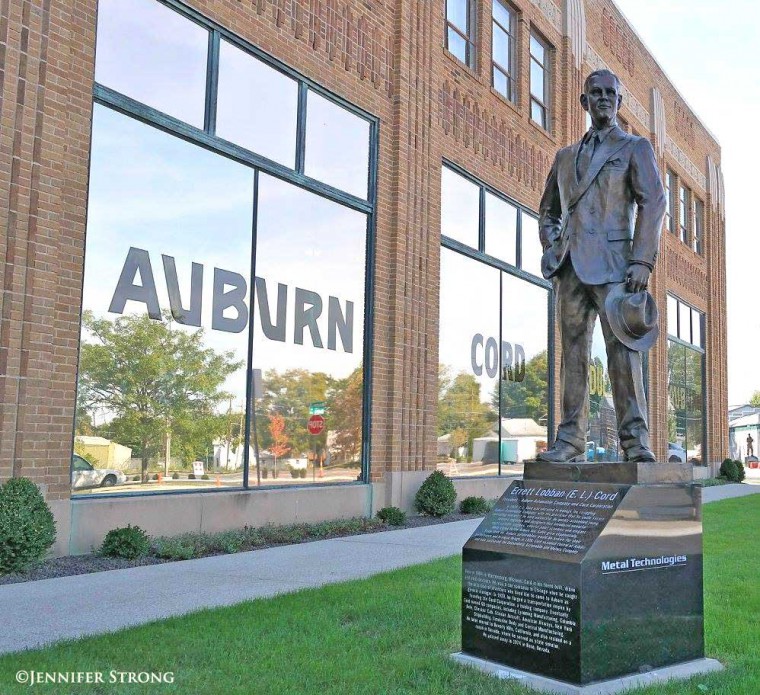 E.L. Cord moument outside the Auburn Cord Duesenberg building.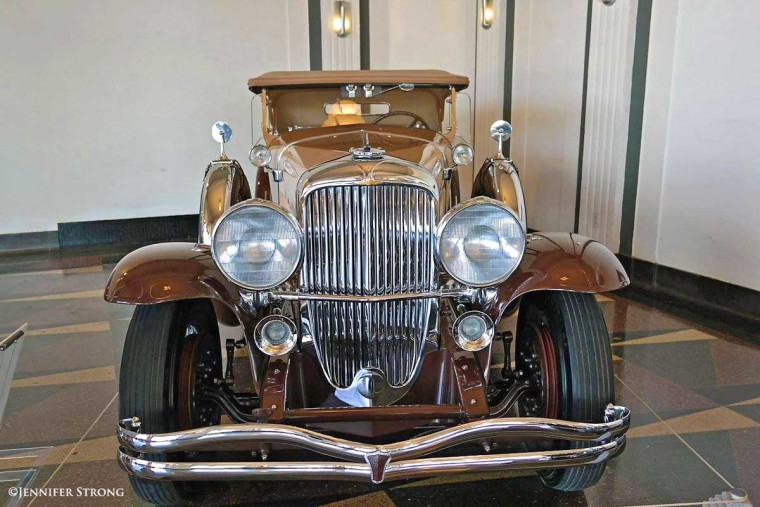 Duesenberg Model J Phaeton.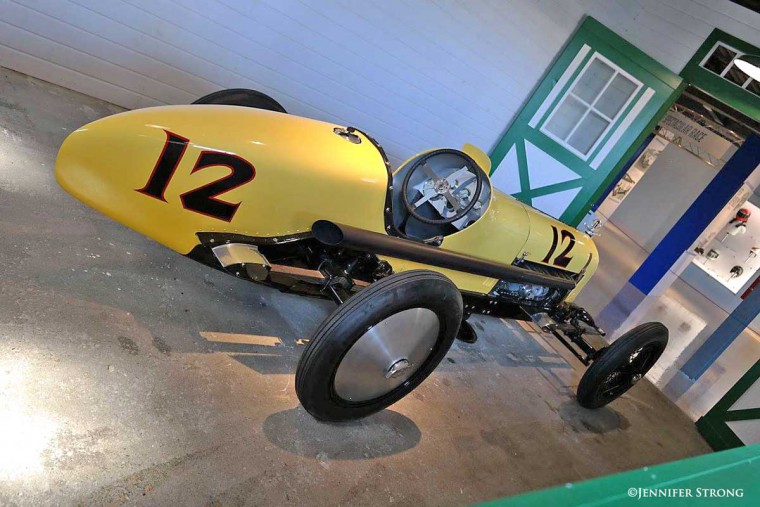 Peter De Paolo's 1925 Indy-winning Duesenberg  "Banana Wagon" with a side-mounted supercharger.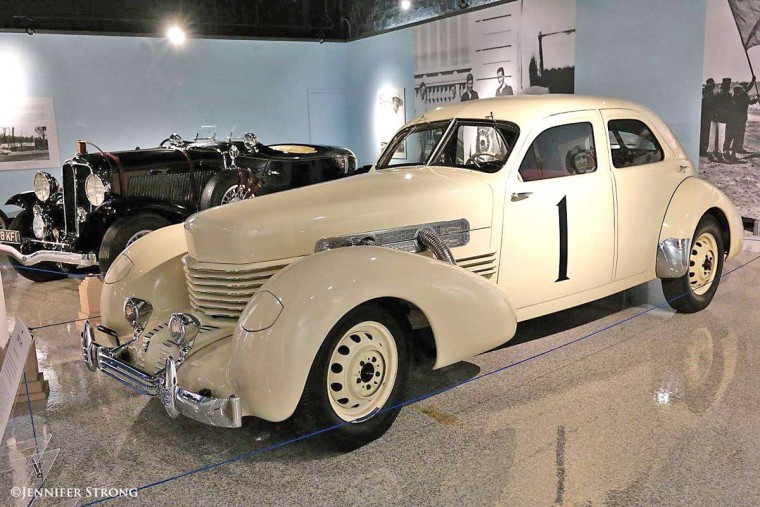 Ab Jenkins 1937 Cord,  Samuel B. Stevens Trophy 24-hour production car racing car.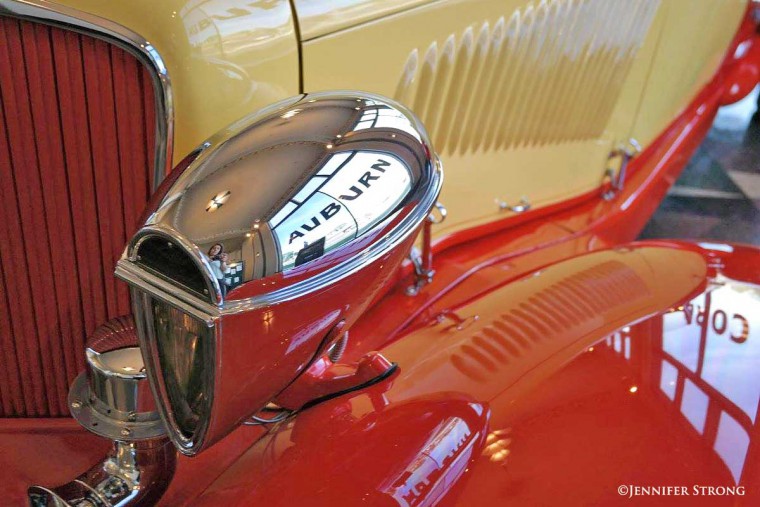 Woodlite headlamp on a L29 Cord Speedster.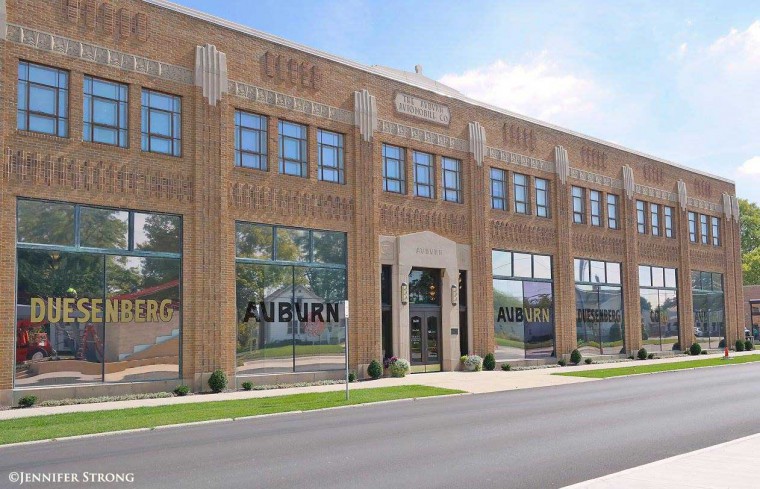 View of the Auburn Cord Duesenberg Automobile Museum.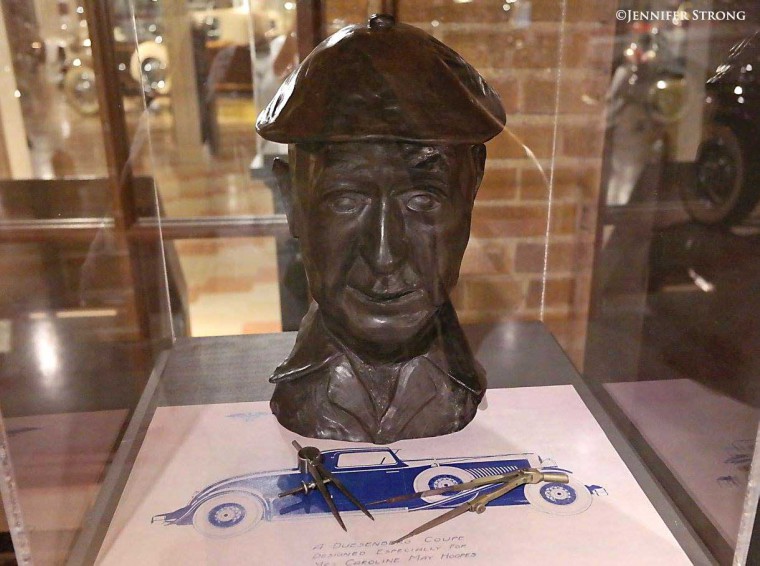 Gordon Buehrig Bronze with Custom Duesenberg Model J Coupe rendering.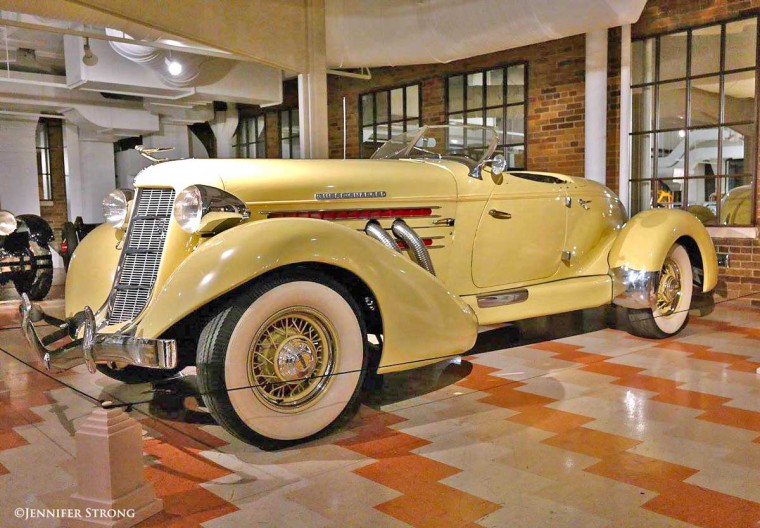 Super-Charged Auburn Boatail Roadster.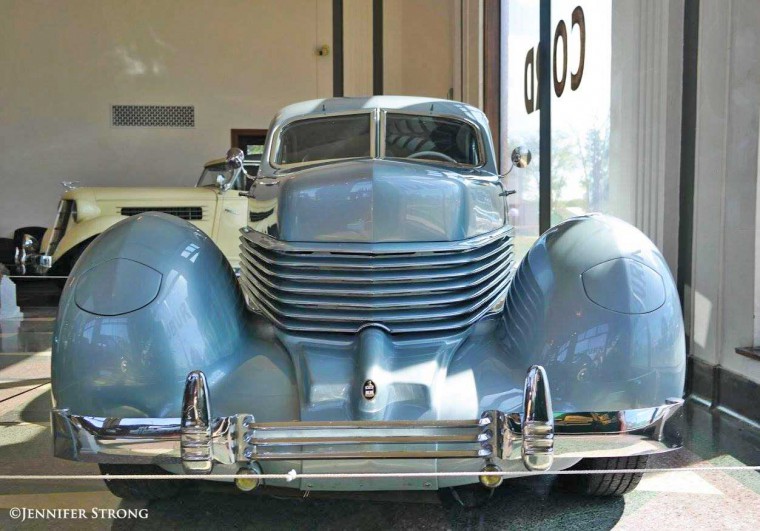 810 or 812 Cord frontend details.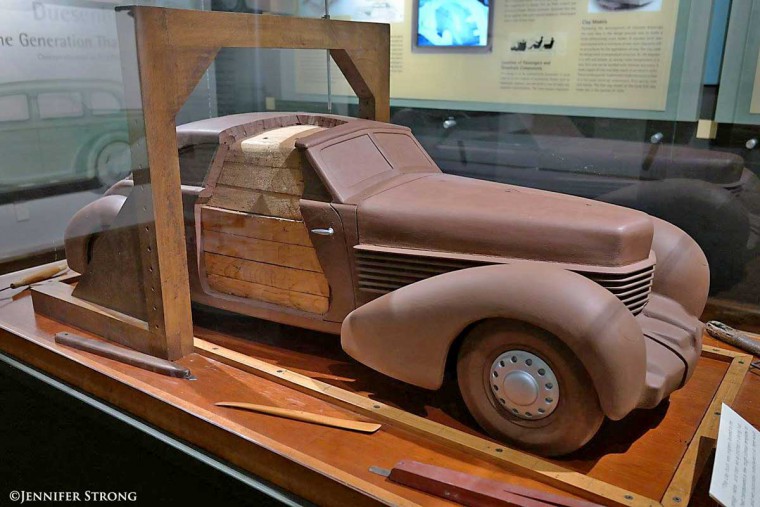 Replica Gordon Buehrig clay model tooling.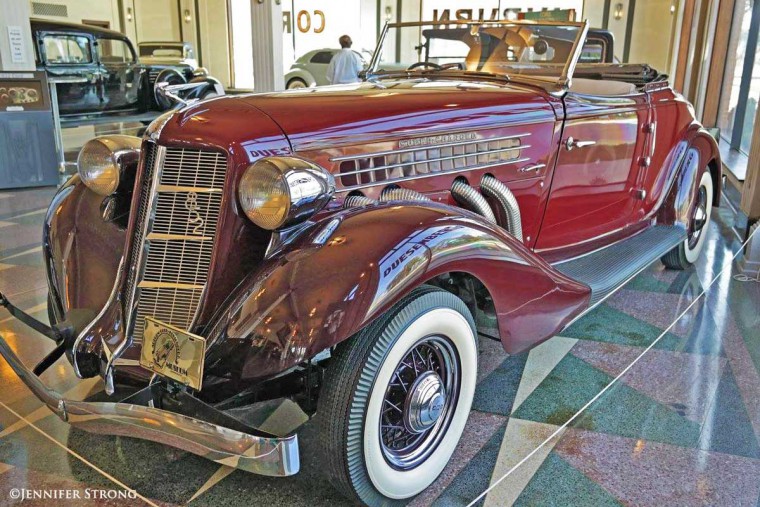 852 Auburn Convertible Coupe.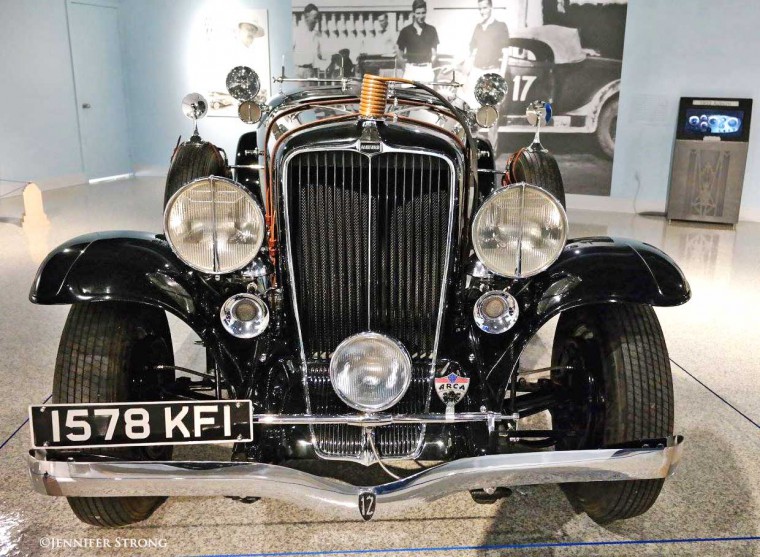 Auburn V-12 Automobile Racing Club of America car.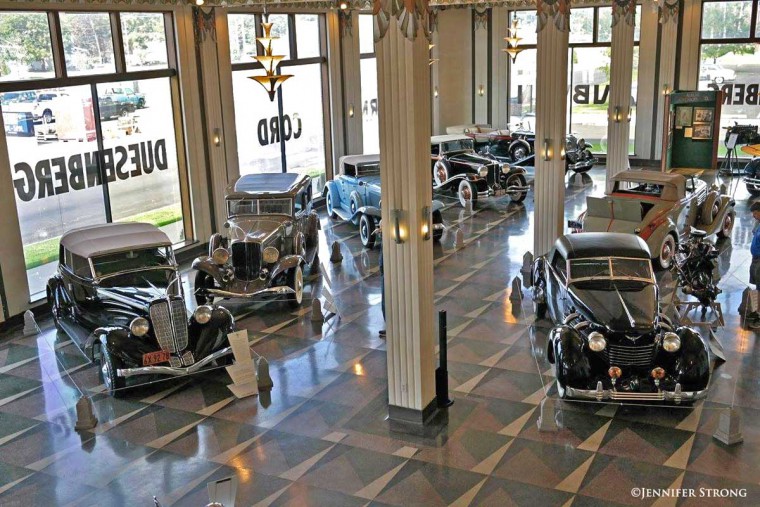 ACD Museum showroom from the grand staircase.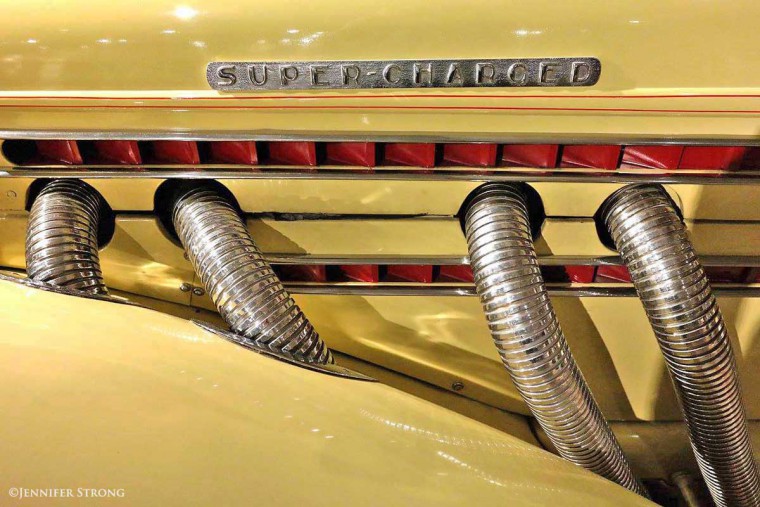 Super-Charged Auburn Speedster exhaust pipes.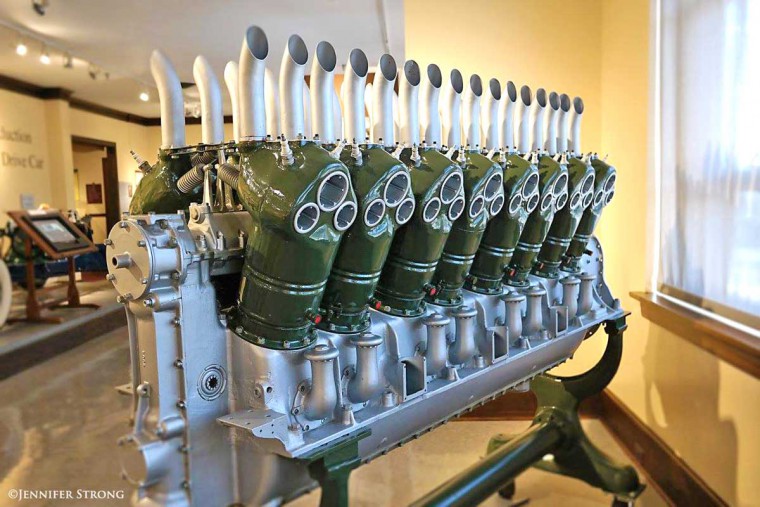 Duesenberg 48-valve V-16 aircraft engine.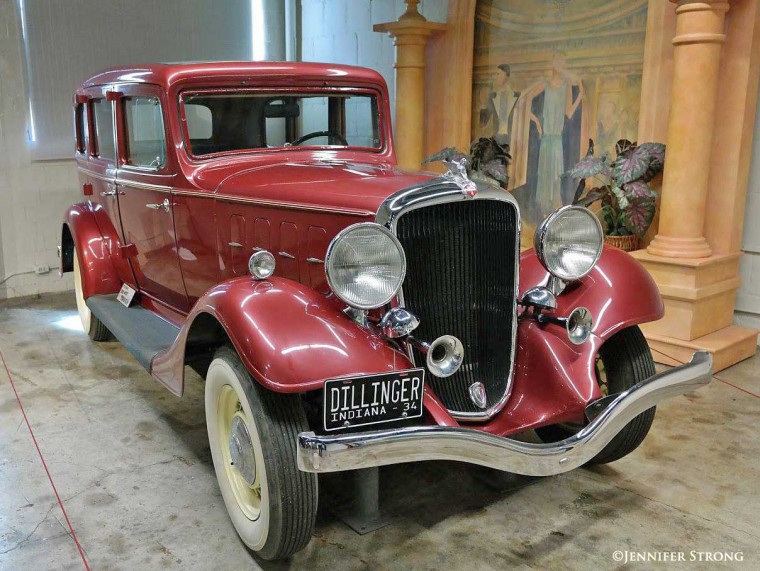 Gangster John Dillinger's 1933 Essex Terrplane.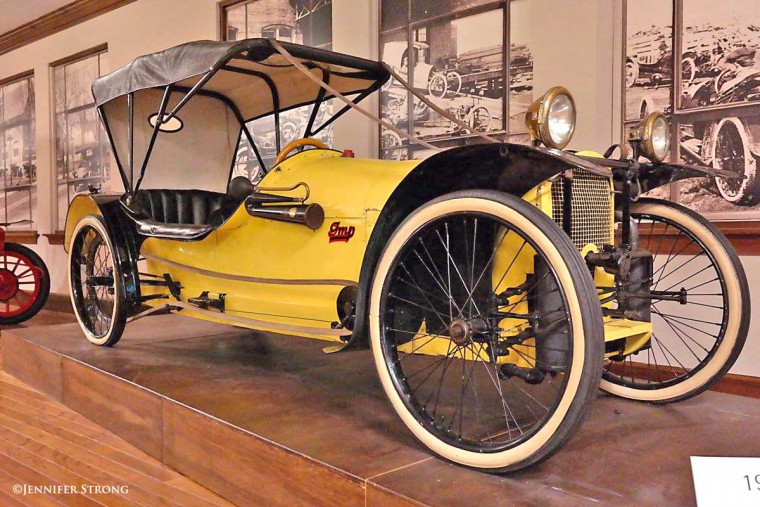 Imp Cycle Car

designed by William Stout

.