By Charlie Beesley: Although Southern California gets most of the attention when it comes to custom car culture, this prewar special shows that the San Francisco Bay Area had its share of inspired enthusiasts too. I believe the car in question is a 1933 Plymouth roadster, seen here in the Tenderloin District near San Francisco's Civic Center.
While the rear deck of the body remains fairly stock, the rest of the vehicle is something of a brain teaser. The windshield, cockpit surround and hardtop suggest Auburn Speedster and Cord 810/812 origins. The grille shell appears to be a reworked 1933 Ford unit fitted with a centerline divider and diagonal bars like those found on the 1933 Olds six. The handsome aftermarket Woodlites echo and complement the grille's shape.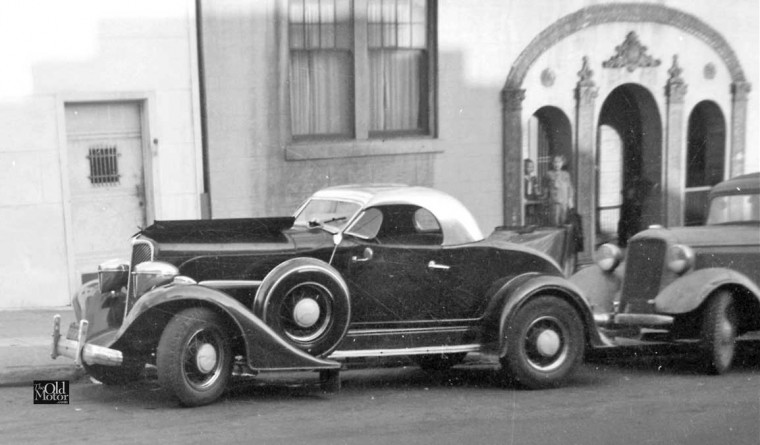 Unigue and fully customized roadster with a hardtop on a street in San Francisco.
The front bumper looks like a 1937 Graham, the front fenders look like scaled down 1933 Cadillac units, while the hood panels appear to be scratch-built. What is impressive is how skillfully all these bits and pieces are combined into a sleek, harmonious whole. California license plates used the V stickers as seen here in 1943, which appears to date the photos. Does anyone in the audience know what might have happened to this beauty?
Editor's note: Charlie Beesley has a large collection of interesting automobile images of all sorts. We welcome him along with his unique perception of the subject to the pages of The Old Motor and look forward to viewing more soon.