Updated – 1230 Majestic Boulevard in Detroit sounds like an unlikely location to build an automobile named the Hammer, but Henry Hammer chose just that spot for his factory. It was a fairly conventional car for the time with a hood and radiator styled much like that used on the Packard. The automaker was also an engine builder and stated in period ads that, "We build motor engines from 6-100 h.p." The company appears to have offered the power plants for cars, boats and possibly stationary use.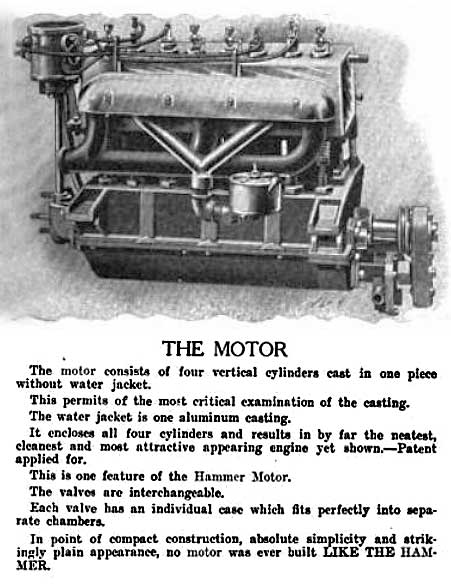 Details of the engine, "Motor Age January 5, 1905"
The illustration in the lead image, found in the "Motor" March 1905 issue, gives an excellent view of the car only produced in 1905-'06. An article in the March 1905 "Auto Trade Journal" states that it was available in two models: as 24 h.p. touring car, and a 32 h.p. suburban limousine.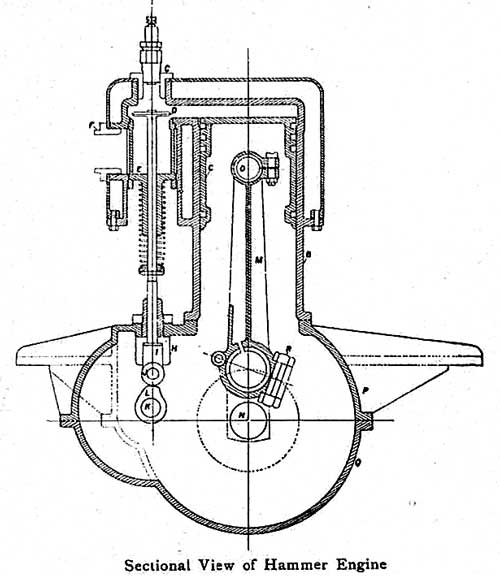 View of the 24 and 32 h.p. L-Head engine "Auto Trade Journal" March, 1905.
For the time, the four-cylinder Hammer engine block was built with some very advanced features. It was cast en bloc of grey iron without a water jacket cover. That cover was a "single aluminum casting" held in place with threaded fasteners, and inserts for the spark plug wells, intake and exhaust ports. The crankcase was an aluminum casting. The connecting rods featured wide webbing and a hinged cap with one bolt. The engine was backed up by a two-speed planetary transmission and shaft drive.
Harry Hammer's Motor Car Company was established after he left the Hammer-Sommer Auto Carriage Co. also located in Detroit; it continued on as the Sommer Motor Car Co., only lasting two years.
Thanks go out to Chris Ritter of the AACA Library, who found a Hammer brochure that reminded us of this short-lived automobile.