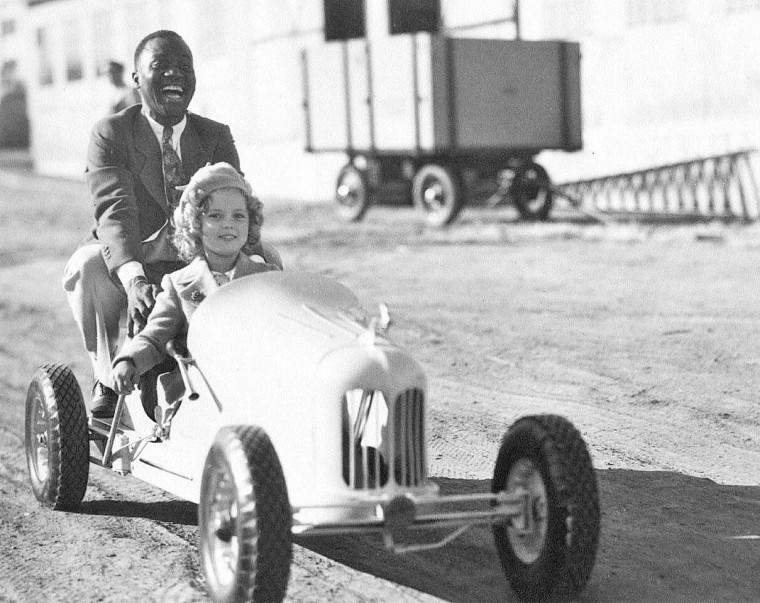 By Robert D. Cunningham: I've been researching off and on for ten years or so trying to identify the maker of these baby cars. When Shirley Temple's car came up for sale earlier this year, I thought I had the information: Knickerbocker Motors. But that turned out to be incorrect information, as a thorough search turned up a defunct truck manufacturing outfit from the 1920s and a couple of modern-day car dealerships.
I finally solved the mystery of who built the first two racers shown in the Three Stooges film from 1934 and the car that tap dancer and actor Bill "Bojangles" Robinson gifted to Shirley Temple. Shirley used to drive the car around the Fox Studio lot, but after a series of near misses, the engine was removed.
Shirley kept her car until she passed away, and her estate sold it earlier this year. A "Knickerbocker Motor Co." sticker on the back of the car prompted the auction company to credit Knickerbocker for building it. In fact, Knickerbocker may have been the retailer from whom Robinson bought the car, but Knickerbocker didn't build it.
 The lead photo and the image (below) both show Shirley Temple in her "Dreyer Racer" that was gifted to her by Bill "Bojangles" Robinson.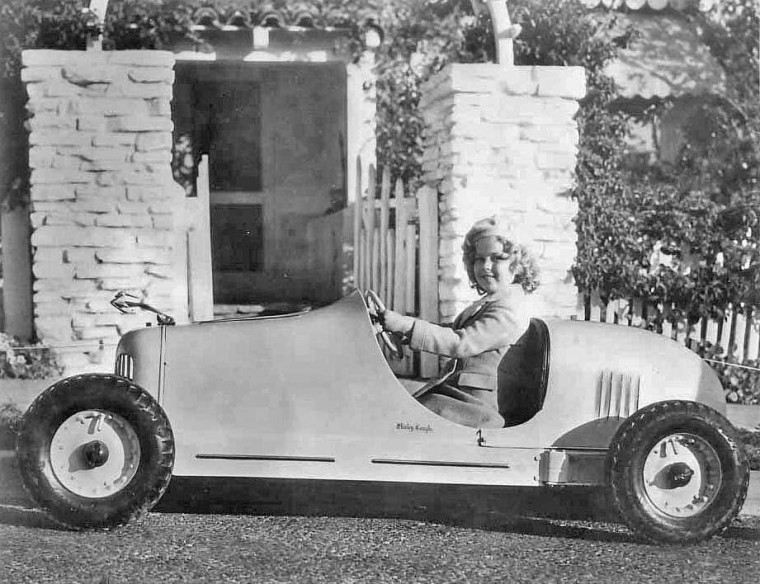 .
Shirley's and the first two cars in the Thee Stooges' film were "Dreyer Racers", manufactured by Dreyer Racing Equipment Company, located at 4164 W. Washington St., in Indianapolis. They were designed and built by Floyd "Pop" Dreyer, a legendary pioneer in motorcycle and sidecar racing who, in 1926, turned his attentions to building and racing full-size automobiles.
He began selling $1 plans for miniature racers sometime in the late 1920s or early 1930s for use as motorless "pushmobiles". By 1934 he was offering complete cars. Dreyer Racers had hand-formed aluminum bodies mounted on wooden frames with a cast, wrap-around front cross member and lever-actuated cast-aluminum engine mounts that slid back and forth to tighten or loosen a v-belt drive. Dreyer Racer specifications were: Wheelbase 50 inches; Tread 27 inches: Height 26 inches.
Dreyer also sold a larger version called the Cannonball Baker Junior Racer, named in honor of his friend and fellow driver, Cannonball Baker. The Cannonball specifications were: Wheelbase 67 inches; Tread 33 inches; Body width 17 inches; Body length 70 inches; overall length 82 inches. The Cannonball retailed for $350 in 1936. Cannonballs were easily distinguished from the smaller Dreyers by the large Cannonball Baker Junior Racer label on both sides of the cowl.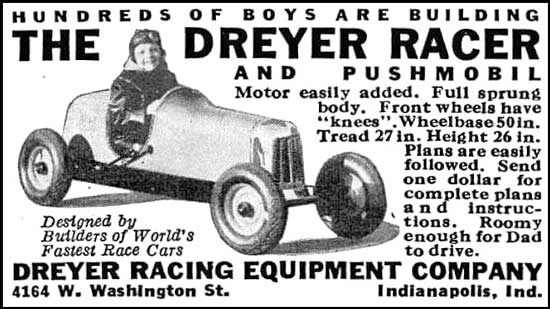 Early advertisement for the "Dreyer Racer and Pushmobil."
During the mid-1930s, Dreyer's cars were often given away as contest prizes by retail stores including The M.R. Herb Co. of Sandusky, Ohio; Crismond's Shoes and Hosiery of Fredericksburg, Virginia; Baylor-Nelms Furniture Co. Of Kingsport, Tennessee; and Himes Auto Supply Co. of Pottstown, Pennsylvania.
Dreyer actually made more money selling the plans for building the cars than from selling the cars themselves. In 1950, Dreyer marketed an updated version called the Dreyerette Drive-It-Yourself Car with a fiberglass or aluminum body and contemporary quarter midget styling. Dreyer advertising was directed toward fair managers and amusement park operators, saying: "Looking for a sure-fire promotion? Giveaway real miniature race cars! Proven crowd puller! Low Cost! A Hit with kids 6 to 60!"
Dreyerette specifications were: Wheelbase 58 inches; Length 77 inches; Weight 185 pounds; Engine 2-1/2 HP Continental; Top speed 35 mph. The 1950 price had escalated to $495–half the cost of an actual Crosley Hotshot sports car. Although Pop Dreyer passed away years ago, his business remains in the family and is now known as Dreyer Motorsports.
View many more interesting baby cars in our earlier posts. Top photo courtesy of MorristownGreen, the balance are courtesy of Robert D. Cunningham, who wrote our earlier American Austin Bantam Story.