The Rim of the World Drive is a 101-mile-long scenic highway on the South side of the San Bernardino Mountains, first dedicated in 1915. At the very crest of the highway, it reaches a height of 7000-feet and affords spectacular views of the Inland Empire region and on a clear day Los Angeles is visible.
This circa mid-1930s image by the Roscraft Studios & Camera Shop in Crestline, California, taken on the Drive, shows a very large California Highway Department Sno-Go snowblower. The machine was built along the lines of a 1928 design by Dan Wandscheer of Dubuque, Iowa, that he patented.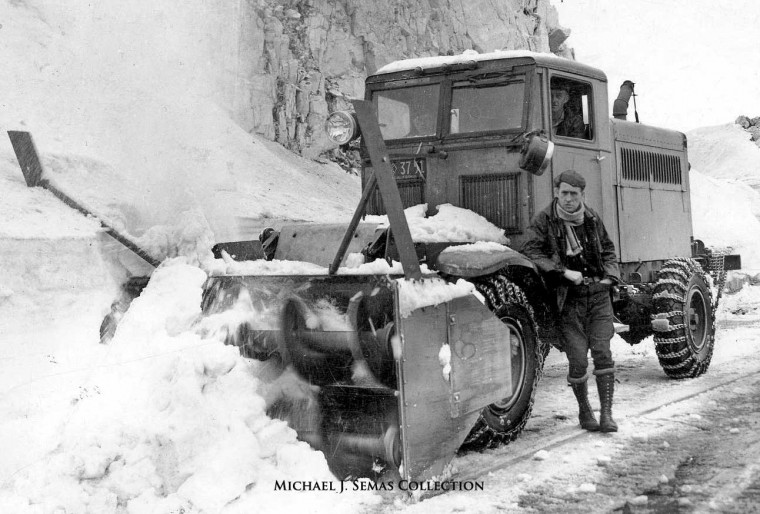 Enlargeable image of the California Highway Department Sno-Go snowblower. 
The Klauer Manufacturing Company, also of Dubuque bought the patent rights from Wandscheer and started manufacturing the Sno-Go in 1928. Information about the early machines is limited, but a reference to a three-auger 1928 model states that it is powered by a Climax R6U, 6-cylinder 1200 c.i. engine; it would consume 175 gallons of fuel every 2 to 2.5-hours.
The 1928 patent application drawings (below) of a two-auger machine gives a general overview of its construction. The rear-mounted engine powered a transfer case that drove the blowers and augers directly, and the rear wheels through a transmission.
You can view another later Sno-Go along with ten other interesting large snow removal machines in a series of earlier articles. The photo is courtesy of the Michael J. Semas collection.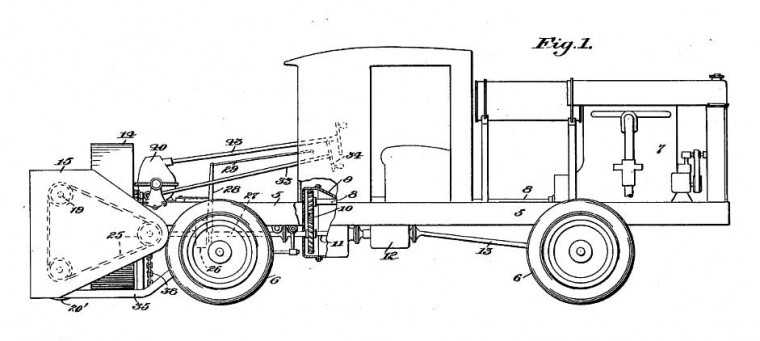 1928 patent application drawings of the Dan Wandscheer design that was granted on Nov. 1, 1932.