Updated – The innovative Hamlin "Front Drive Special" in the lead photo ran in the 1926 Indianapolis 500. It is a part of the Hamlin-Holmes Motor Co. story that is covered in today's feature.
Both Lee Stohr and your Editor went to work searching patents from the same period the "Mystery Car" was built in and honed in on the only patents to be found that appear to share the same DNA. Both originated from the Hamlin-Holmes Motor Co.
The Company was in business between 1919 -'29 in Chicago and Harvey, Illinois; the names of all of the principals are not known, but Edgar R. Holmes apparently had a stake in it. The company was renamed the Hamlin Motor Co. in 1930 during an attempt to bring out a new front wheel drive car.
Update – At the bottom of the post by historian Craig H. Trout about what he has learned about Hamlin-Holmes "Principals" and the story of E.R. Holmes. Craig is working on an upcoming book about the history of "Coleman Motors."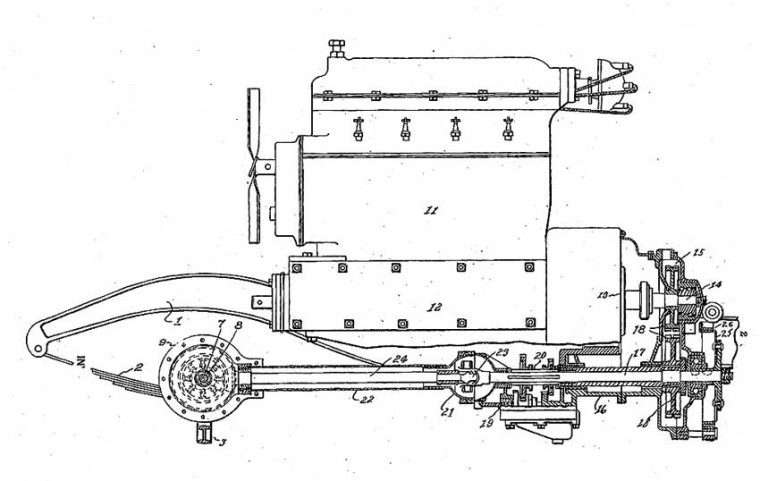 The side view drawing (above) and the front view (below) show the details of a Hamlin-Holmes Motor Co. design that originated as early as 1919. A patent application for it was filed by Edgar R. Holmes on Jan. 31, 1920, and was granted on April 3, 1923. Both drawings show the same basic type of construction as the "Mystery Car" front wheel drive and use a beam axle with yoked ends and conventional drag link-actuated steering with the spindles connected with a tie rod.
The application drawing (below) for a patent filed on Nov 12, 1921, by Clifton R. Roche and granted on Dec. 14, 1926, was assigned to the Hamlin-Holmes Motor Co. This second design also shares same the method of construction with a center-mounted differential (#25); its details are similar those used in the "Mystery Car."
Roche was granted over a dozen automotive patents between the mid-1920s and the early-1940s and he appears to have been a professional automotive engineer.
Nothing concrete has been found that ties these designs and the patents by Holmes and Roche together with the "Mystery Car." Hopefully someone with more time to research this might be able to connect the dots if there is some type of a connection?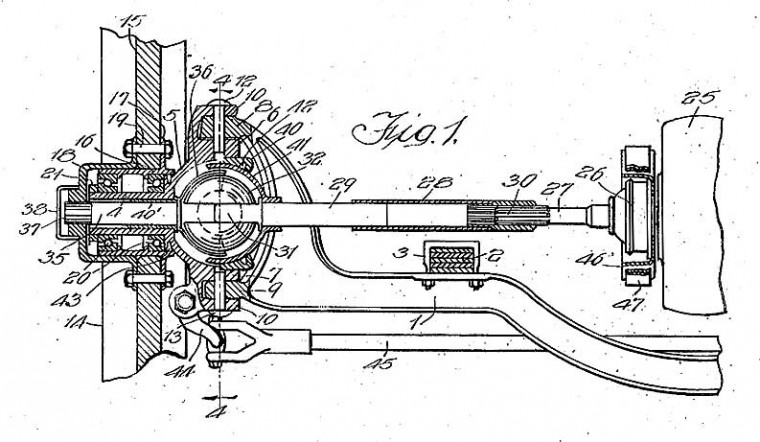 A few years later the Hamlin "Front Drive Special" was entered in the 1926 Indianapolis 500 race by the Hamlin-Holmes Motor Co. as a way to keep its design's and name before the public. It was built by Louis Chevrolet and his brother Arthur at the "Frontenac Ford" Company headquartered in Indianapolis, Indiana.
This racing car like other "Fronty" Fords was based on a Model "T" Ford chassis, and used a Ford engine block equipped with a special crankshaft, connecting rods and pistons. This supercharged engine used the new "Fronty"Ford d.o.h.c. 16-valve racing head and was backed up by a Ford transmission. The power plant connected to a stripped standard Ford rear axle differential center section that in turn drove the lightweight front wheel drive design through half shafts.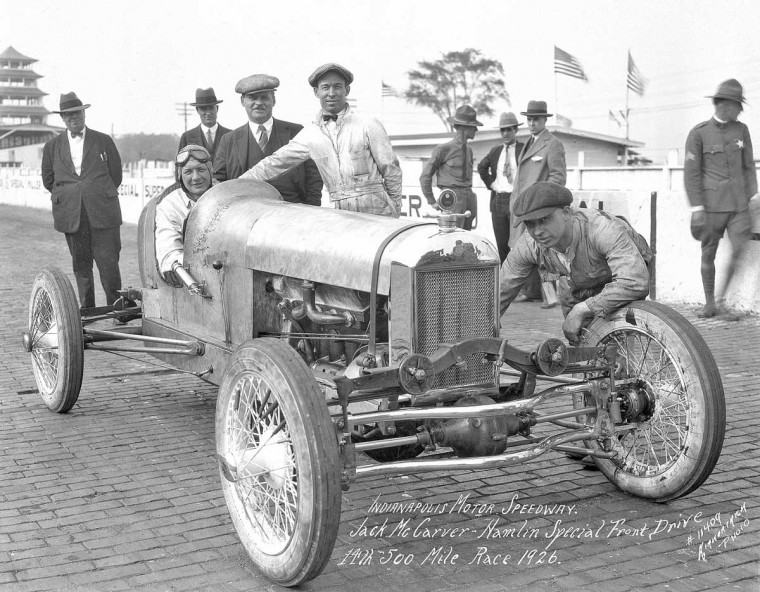 The Hamlin "Front Drive Special" at Indianapolis in 1926.
Press reports state that the "Special" retired from the 500 with an "engine failure" that may have been due to the "Fronty" 16-valve cylinder head casting's fragile nature. The new and undeveloped car and engine were outclassed and never really performed well due to these factors in the big "AAA" races. Earlier 8-valve "Fronty" Ford's had finished the 500 several times with one placing in the 5th position in 1923.
At a race meeting on the flat Hawthorne course in Chicago driven by Tom Alley, the car did manage to set a 53-second lap in contrast to Ralph DePalma's 48 1/5 second qualifying lap. That performance gave Ralph the pole position in the feature race that he won driving a Front Drive Miller racing car costing five times as much as the "Fronty" Ford.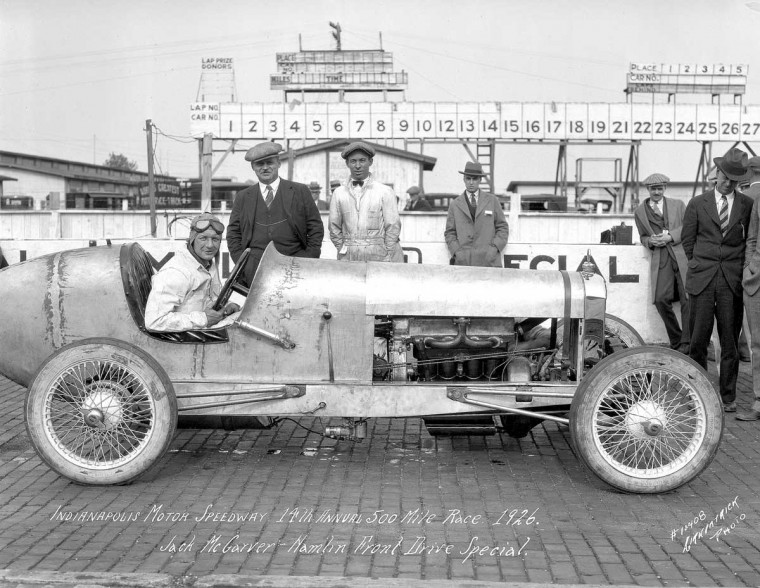 Note the low-hanging carburetor (changed later) that fed a "Rootes" type supercharger.
Hamlin-Holmes "Principals" and the story of E.R. Holmes
By Craig H. Trout: In terms of "who the principals were" in the Hamlin-Holmes Motor Company, it is my understanding from my own detailed research that skilled machinist/draftsman/self-taught mechanical engineer Edgar Rufus Holmes (1878-1951) of Denver, Colorado found an investor in the form of Frank Benjamin Hamlin (1866-1941) of Chicago, Illinois in September of 1919, and together, they incorporated the Hamlin-Holmes Motor Company. "E.R." Holmes, as he preferred to be called, contributed his own "front pull" (front drive) axle, and Frank B. Hamlin provided the financial backing.
E.R. Holmes had worked first as a machinist at the F.M. Davis Iron Works in Denver in 1902, by 1908 had become president of the Edben Engine Company (motorcycles), in 1909 designed a very light-weight rotary aircraft engine, and then in 1910, founded the "E.R. Holmes Motor Company," along with younger brother Harleigh Randall Holmes (1881-1963), who had also worked at F.M. Davis Iron works for a short time.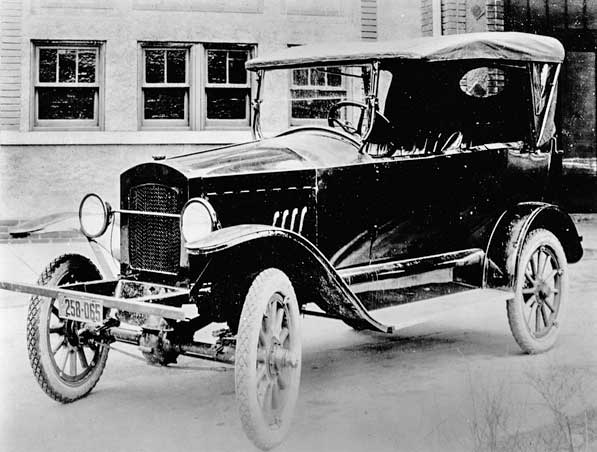 Hamlin-Holmes touring car prototype.
Getting back to our story, E.R. Holmes and Frank B. Hamlin formed the Hamlin-Holmes Motor Company in September 1919 (the investor, of course, got top billing!), and the first Hamlin-Holmes car was built in Denver and was touted as being one of the first "front pull" (their preferred term) cars, and used the front drive axle patented by E.R. Holmes in 1920. The operation soon moved to Detroit, and then eventually to Harvey, Illinois, building at least (12) prototypes between 1919 and 1929, to include the above -mentioned race car in 1926. At least one, if not more, of the Hamlin-Holmes car prototypes and a truck prototype was actually built back in Denver in 1922-23 at the Plains Iron Works, the new name of the old F.M. Davis Iron Works at 8th & Larimer streets.
E.R. Holmes was a man of varied and eclectic interests, and he continued to help his younger brother, inventor Harleigh R. Holmes with his own Holmes Motors Company in Littleton, Colorado (1920), which then moved to the Plains Iron Works (new investors) in 1922 to become the "Plains Truck," and ironically was then being built side-by-side with the Hamlin-Holmes car & truck prototypes. In 1923, the Plains Truck operation moved back to Littleton, and in 1924, became re-branded as the "Coleman Motors Company" (after investor A. E. Coleman) and then building the legendary "Coleman Truck," which remained in production until 1987.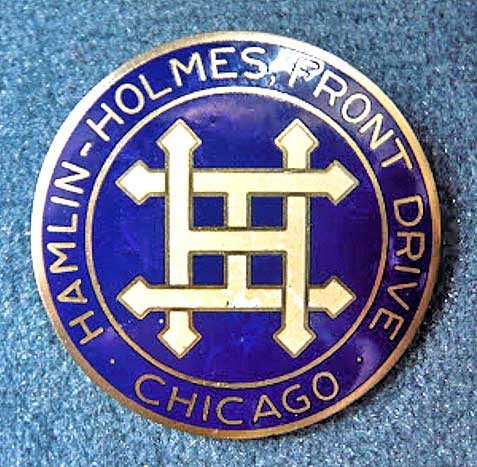 Hamlin-Holmes radiator emblem.
E.R. Holmes remained periodically on site at the Coleman plant in Littleton through much of the 1920s as a skilled machinist, mechanical engineer and draftsman, with his signature appearing on many of the very early Coleman mechanical drawings of time. So in addition to being an active "principal" in the Hamlin-Holmes Motor Company, he was simultaneously very much on staff at his younger brother's Holmes / Plains / Coleman truck building operations, sometimes in direct competition with himself and his own car & truck prototypes.
I don't know much about investor Frank B. Hamlin, but E.R. Holmes was literally a "human hat tree," wearing many different hats all at once – anything that would fully engage his very inventive mechanical skills and very active mind.
By the way, that "might" be E.R. Holmes on the far right in th top photo, it looks very much like him. I have always assumed that E.R. Holmes also contributed in some way to the "Coleman Specials" race cars of 1929.