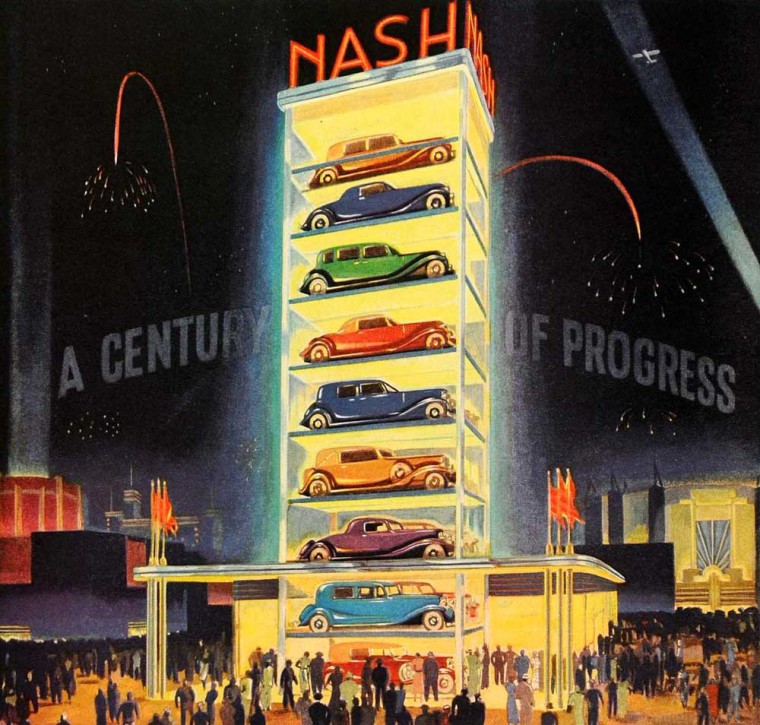 Updated – Manufacturers of all types including the automakers were struggling during the early-1930s to survive the Great Depression and the long and severe financial slump that was a part of it. The 1933-'34 "Century of Progress" (World's Fair) staged on the waterfront in Chicago, Illinois, proved to be a glimmer of hope to the nation during the trying economic times.
Seeking to keep or enlarge their market share, all of the automakers participated with many constructing lavish palaces showcasing their products. Nash, an independent with a small budget perhaps trumped some of the "Big Three" with an imaginative exhibit constructed by the Whiting Corporation. It was essentially similar to the new traveling "vertical parking lots" (see a video below) just beginning to be constructed at the time; it was surrounded by a lavish plate glass enclosure.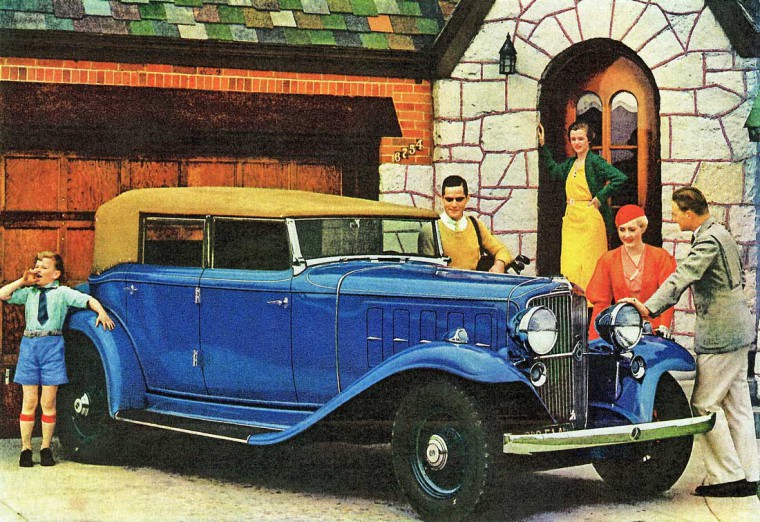 1933 Advanced Eight Convertible Sedan "Saturday Evening Post" ad courtesy of Alden Jewell. 
The double-sided exhibit was 80-feet tall and displayed a mixture of eight of the six and eight-cylinder Nash models on each side; the base of the "Tower" contained a showroom where visitors could view each car as it traveled on an endless loop through the display. At night, the brightly lit structure was accented by colored lights near the base.
1933 Nash Eight sales brochure illustrations courtesy of "The Old Car Manual Project."
Earlier "Century of Progress" coverage on The Old Motor of the vehicles and displays and our most recent article Harry Hartz Filmed At Speed at the Chrysler exhibit will give you more information about the exposition. The colored illustration (at the top) is via American Classic. The image (below) by Kaufmann & Fabry Co., Official Photographers at the Fair is courtesy of the Chicago History Museum where you can view and purchase 100s of interesting photos. View more of the 1933 Nash "Eight" sales brochure illustrations at The Old Car Manual Project.